By Mark Taylor
The local river is a trout river.
Sort of.
From October through May the state dumps thousands of hatchery-reared rainbows and brookies into it.
By summer those fish are long gone, caught and creeled by locals who are both dedicated and skilled. Then the river is back to what nature intended, which is a home for warmwater species.
Sure, even here in Virginia we have summertime trout. But mountain streams are low and clear, and in all but their upper reaches tailwaters are pushing temperature limits for responsible trout fishing. So it makes sense to give the salmonids a break for a couple of months.
The local river has smallmouth bass, but the river is pretty small so most of the bass are pretty small, too. Largemouths can be found in some of the stream's slower pools.
The most abundant fish are redbreast sunfish. And this is good.
Redbreasts look a lot like the most common sunfish here in the U.S., the bluegill. Like bluegills, they have a coppery colored breast. The gill flap is, in fact, blue, but it's a bit longer than on an actual bluegill. A redbreast is easily distinguishable by the squiggly blue lines on its cheeks.
It's a gorgeous fish, and somebody who is completely objective might say just as pretty as a trout.
When summer's sultry grip takes hold in these parts, lake bluegills slink to the depths.
But river-dwelling redbreasts don't retreat into deep water. Instead, they'll hug woody and rocky cover in shaded pockets along the shoreline.
Bless them.
From those hiding spots they always seem to be looking up, waiting for bugs to drop from streamside shrubs and trees.
Morning. Noon. Evening.
All the time is surface bug time.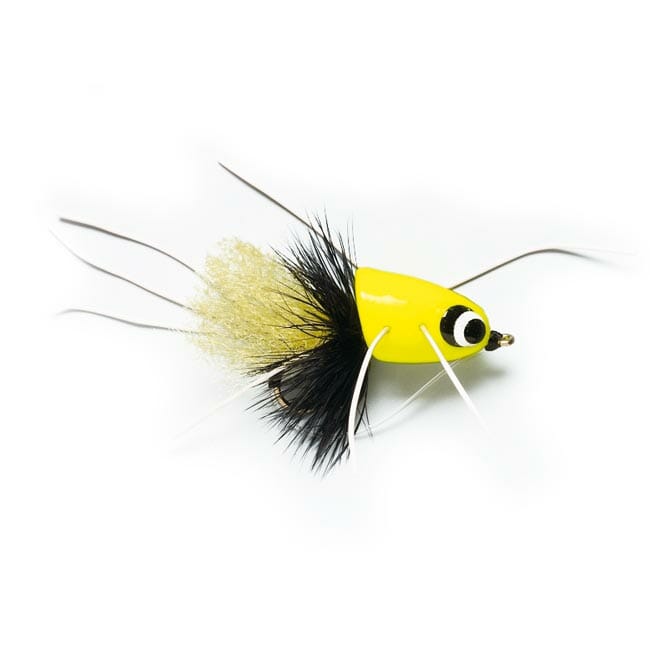 Orvis photo
Little foam or cork bugs work as well as anything. Cup-faced poppers are fun but redbreasts, at least those in this river, don't really need much action or noise to get interested. So pointed-nosed sliders like the Sneaky Pete (above) are just as good. Actually, maybe a bit better.
A whippy 3-weight will get the most out of scrappy, hand-sized sunfish. But a 6-weight isn't overkill. They are gear-friendly.
The fish aren't reckless pushovers, but they're eager enough that you won't have to spend hours trying to figure out the day's pattern. Yes, that's part of the fun of trout fishing, but the goal here is different. We want to make some casts, feel the tug of a strong (for its size) fish, and cool off a bit.
When you can get that fix during lunch or for an hour after work, summer passes quickly.
Mark Taylor is Trout Unlimited's eastern communication direction. He lives in Roanoke, Va., a mile from the river after which the city is named. He doesn't completely ignore the river's stocked trout in the cool months, but prefers its native sunfish in summer.