Greg Taylor of Roseburg, Ore., comes tight to a steelhead on the North Umpqua River.
By Mark Taylor
IDLEYLD PARK, Ore. — Knee deep in the chilly North Umpqua river, I pulled line off my reel and prepared for the first cast of the day into one of my favorite runs.
There was a "plop" in the water, 10 feet out.
I didn't look up. I knew what it was.
It was the sound a spinner makes when it hits the water.
Across the river a guy was using conventional tackle to fish the same run.
I'd actually gotten there first, just a couple minutes ahead of this guy. There are some who might think that river courtesy dictates that I own the spot until I leave. In some cases I abide by those principles, and expect my fellow anglers to do the same.
But this wasn't one of those situations.
Even though my brother and I were fishing on one of the Pacific Northwest's most iconic steelhead fly fishing rivers, we were actually in what we call the "bait water" — the section of river downstream from the famous fly-fishing-only stretch.
Just as we follow the written and unwritten rules when we fish the fly water upstream, we do the same downstream.
In the fly water, if someone's in the run, it's their run.
Downstream things are a bit more flexible.
Gear guys are used to fishing in fairly close proximity. Heck, for plenty, that's part of the fun. My dad is one of those guys who likes to be able to talk to his buddies while they fish.
Fly anglers tend to gravitate to solitude. My brother and I certainly do at times. But we also like to catch fish, and using big stoneflies under indicators is a good way to catch steelhead, including the hatchery-started North Umpqua fish that anglers are encouraged to keep.
So Greg divides his time between the bait water and the fly water on his home river, and I do the same when I'm visiting and fishing with him. With forest fires burning farther up the watershed the choice to fish low was pretty much made for us on this trip.
Hitting the bait water with long rods is usually all good, but a few years ago my brother did have a guy give him a little grief. The man had arrived at the run to see that my brother had beaten him to the exact spot he wanted.
"What are you doing here?" he complained. "You have your own 35 miles upstream."
My brother was polite.
"I'm nymphing with a heavy stonefly under a strike indicator" he shrugged. "So, it's pretty much exactly like what you're getting ready to do what that bobber and Corkie rig."
The guy had no answer.
Generally, the gear guys are more than welcoming. If anything they may pity us because they think we've deliberately put ourselves at a disadvantage. There may be something to that. At one spot in this particular stretch I'm certain a bobber rig on spinning gear or a centerpin setup would be much more effective at covering more water and making a better presentation.
Even handicapped with my fly rod I still got some good drifts. But I didn't touch anything, so I eventually moved downstream. The river narrows there and Greg was chatting it up with the gear guys across from him while working the run with a stonefly under an indicator.
Greg had spotted a fish and told the guys, who were fishing with egg clusters.
One of them got excited.
"Make him pay for it," he said, which is one we hadn't heard before.
A few minutes later my brother hooked the fish. The other anglers reeled in and watched the fight.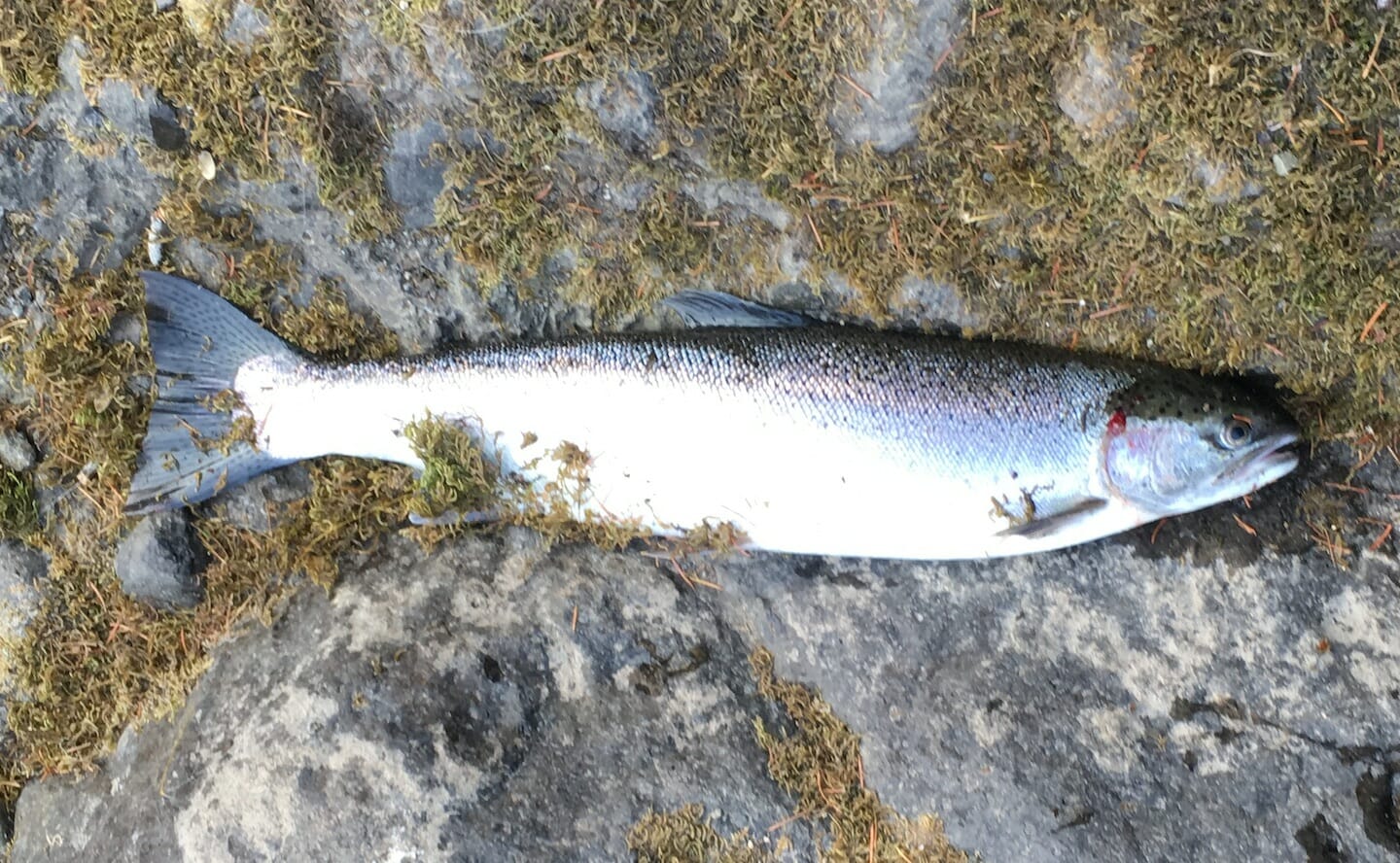 This 4-pound hatchery-started steelhead fell for a big, black stonefly nymph drifted through a deep run on the North Umpqua River's general regulation water. Angler Greg Taylor tagged and harvested the fish, as is encouraged with hatchery fish.
The steelie turned out to be a small hatchery hen of about 4 pounds, which I tailed and held up for Greg's new friends to see.
They cheered, happy for his success while still hopeful for some of their own.
Mark Taylor Trout Unlimited's eastern communications director. He lives in Virginia but grew up in Southern Oregon's Umpqua Valley, where his parents and brother still reside.