Al Kittredge of the Smith River chapter of Trout Unlimited displays a 24.8-inch brown trout collected from the river during an electroshock sampling trip in June. The fish was released after it was measured.
By Mark Taylor
We all know that one decision or event can radically alter our life's path.
Halfway through my senior year of high school I faced the dilemma of picking a college, and it came down to two schools that shared really only one thing in common: bad football teams.
Oregon State was known for engineering, agriculture, and fish and wildlife programs.
Northwestern had a good reputation for, among other things, its journalism, music and performing arts programs.
I ended up a Wildcat and not a Beaver, and don't regret it for a second. But I do sometimes wonder what might have happened had I gone to OSU and, possibly, a career as a fisheries biologist.
Fortunately my jobs in journalism and communications over the past two decades have allowed me to live the fish-squeezer life vicariously from time to time.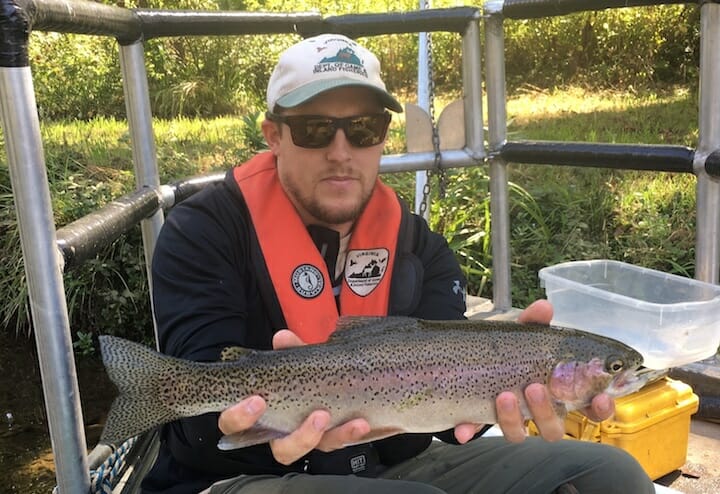 I was back at it on a recent warm September day, working up and down runs and riffles Virginia's Jackson River during an electroshocking mission with state fisheries biologist Steve Reeser and technician Colin George (above).
For the better part of the day we bounced around the river in an impossibly dented, heavy duty aluminum jonboat, collecting wild brown and rainbow trout from the river's cool, clear waters.
The time, as it always seems to on these outings, flew by.
One of the nuggets I provided for TU's recently released Trout Tips book is that anglers should, if possible, try to tag along on an electroshocking mission. It's fun and can be eye-opening. Importantly, it is always done with an eye toward making fishing better.
Trout Unlimited members are uniquely positioned to do this because our chapters often partner with state fisheries agencies, and we sometimes have access to volunteer opportunities during sampling outings.
In fact, that's how I came to participate in my first sampling trip.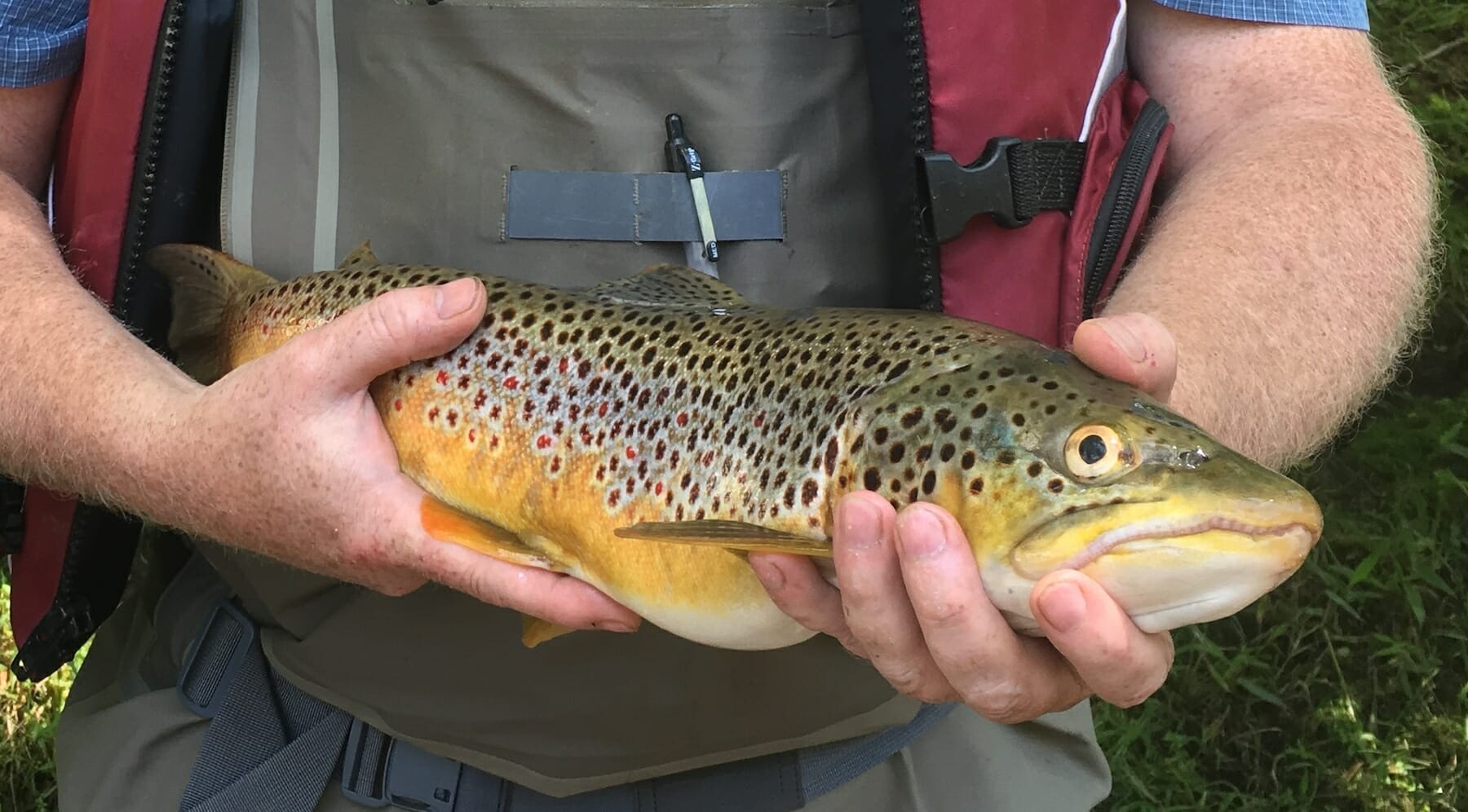 The Smith River is producing some nice browns these days, thanks to management efforts informed by years of electrocking data.
The Smith River chapter has for years been assisting the Virginia Department of Game and Inland Fisheries with sampling on the tailwater fishery near Martinsville, one of the more interesting trout fisheries in Virginia.
Decades ago the Smith, which is about an hour south of my home in Roanoke, was an amazing fishery, producing wild browns best measured in pounds, not inches. The state's historic state record, a fish topping 18 pounds, came from the river.
Alewives being washed through Philpott Dam helped, creating a fish soup and forming the foundation for an incredibly fertile aquatic ecosystem.
But then the alewife population in the lake above the dam crashed and the soup was no more. The river still produced lots of browns, but nearly all were small, rarely topping 12 inches.
The DGIF wanted to know what was going on the the Smith River TU chapter was eager to help.
These are not insignificant efforts, but rather labor-intensive "depletion" efforts where several state employees fan out across the stream with backpack shockers, volunteers with nets and buckets trailing. The idea is to collect most of the trout in the designated stretch.
The electrical current temporarily stuns the fish, which are scooped up, placed in buckets and aerated coolers, and later measured and weighed before release.
The ongoing initiative has produced an incredible amount of useful data and is helping with management decisions on the Smith, which is improving as a wild brown fishery.
That first trip on the Smith was, ahem, somewhat shocking to me for a couple of reasons.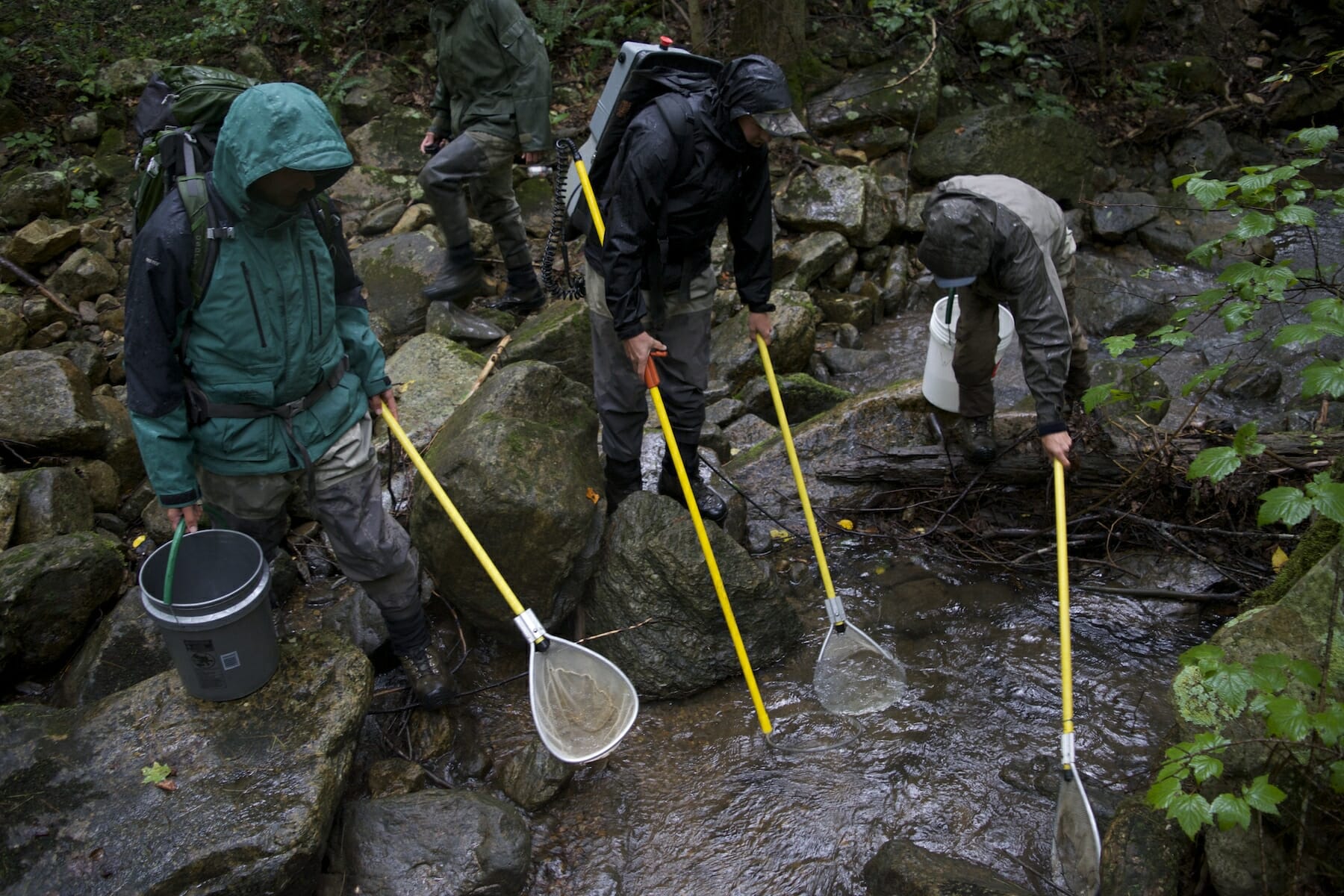 A Virginia Department of Inland Fisheries crew searches for brook trout in a small mountain stream.
One surprise was the sheer number of trout in the river. A newbie fly angler at the time, I had fished the Smith a few times and based on my results assumed it held maybe a few dozen trout. Total.
In fact the upper 20 miles of the tailwater holds about 2,400 trout per mile.
Fishing, or what I sometimes refer to as "hook and line sampling," can be a good way to get an idea of a trout population. But you really don't know for sure what's there until you run some electrical current into the water.
During a trip this spring to Red Brook in Massachusetts, I didn't catch a single salter brook trout. But as this video shows, there are plenty of fish in that stream.
While it can be humbling, it can also provide affirmation.
A number of years ago I stopped catching trout from a stream near Roanoke. A DGIF shocking expedition found that the creek no longer held wild trout, a change due to increasing water temperatures linked to development in the watershed.
The other thing that is surprising about shocking is seeing just where trout are found.
They come from water where you'd expect to find them. But they also come from other places, too, like shallow spots that many anglers would never think to fish, or froggy, slow-moving holes around woody cover. (If you have Trout Tips, you may have seen Beverly Smith's "Wood is Good" tip!)
Not that electroshocking has ever led me to identify a particular fish, which I then targeted and caught on a later trip. Admittedly, after that first trip I kind of hoped I could do that.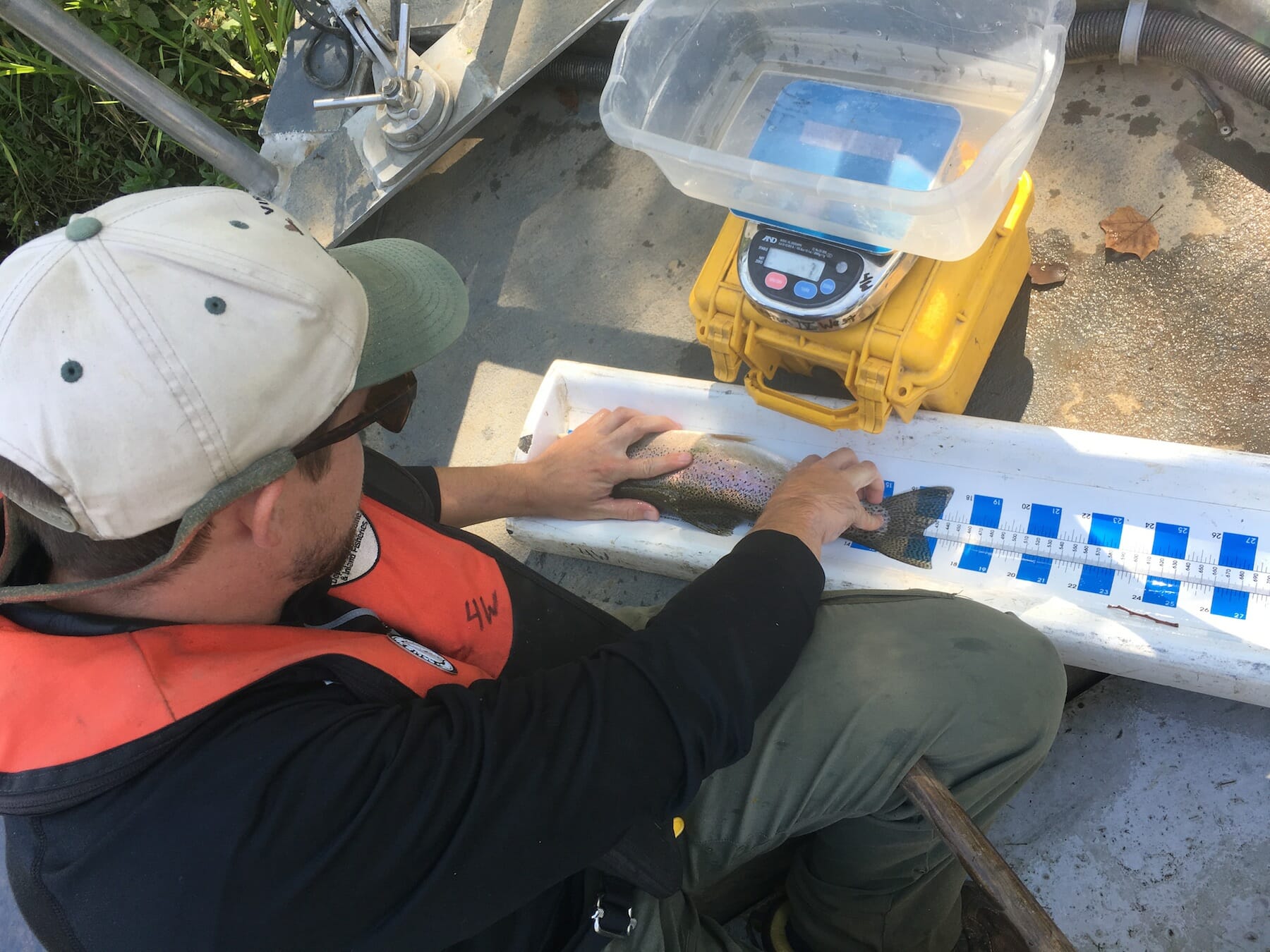 Colin George measures a Jackson River rainbow before releasing the fish.
But, in fact, the fish are usually worked up a distance, albeit a short one, from where they're collected, so when they are released they randomly disperse to new home haunts.
Instead, it has opened my eyes to the kinds of places trout will hold, so I am more bold about fishing water that I would previously have ignored.
Electroshocking also inspires me to remain confident and hopeful even when hook and line sampling is not going well. The fish are there. I just have to figure them out.
Finally, it's satisfying to play even a small part in work that provides solid scientific proof that the work groups like Trout Unlimited and state fisheries agencies are doing to improve fishing are working.
Mark Taylor is Trout Unlimited's eastern communications director. He lives in Roanoke Virginia and is glad both the Northwestern and Oregon State football teams have had some success since is college days.