Snapper over squid-ink risotto. In the middle of nowhere.
by Chris Hunt
My new friend Ed from Alabama told us, without hesitation, that we had to have at least one meal at the Leaky Palapa.
"It's a little oasis in the middle of nowhere," he said. "I can't describe it. You have to see it for yourself."
We were on the prowl for some local fly fishing intel—a sargassum bloom out at sea had pushed mats of the floating seaweed against the Caribbean coast of the Mayan Riviera near the Mexico-Belize border, effectively limiting the walk-and-wade fishing we could do on seaside flats. It didn't help that, once the floating algae hit the sun-drenched beach and began to decay, the stench that arrived with it was nothing short of noxious. Think low tide meets rancid meat mixed with the stench of a Forest Service outhouse in high summer.
It was bad.
But we got some good ideas from Ed, who had fished that week with an outfitter. We eventually bowed to the need to hire a guide for at least a day, if for no other reason than to get out onto Chetumal Bay, away from the algae bloom and into fish. That one day spent on the flats was nothing short of epic, but perhaps the best piece of advice Ed gave us was of the cullinary variety.
The Leaky Palapa, situated on the edges of the little fishing village of Xcalak, truly is a jungle oasis. Xcalak is … remote. It's a five-hour drive south of Cancun, well out of the spring-break atmosphere of the resorts and a more authentic representation of what life is really like on the rural Yucatan. Its streets aren't paved. Cruise ships sail on by, thankfully. Most of the 350 or so souls who live there get by on very little. They live modestly, collect their meals from the sea or from the livestock they raise and they are, from my perspective, truly happy.
So, imagine my surprise when I found a fresh snapper filet served over squid-ink risotto on the menu at this swank little restaurant carved from the Mayan jungle. Coupled with an Argentine wine and a uniquely presented Caesar salad, it made for a memorable meal.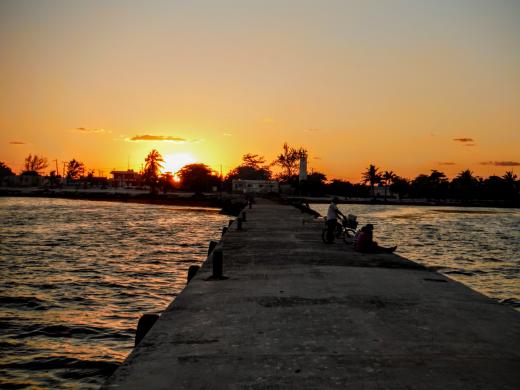 Sunset over Xcalak
The whole intent of the trip, of course, was to take a break from winter, get some sun and chill for a week while chasing fish on the flats. We cooked our own breakfasts, slapped together some PB and J sandwhiches for lunch, sucked down bottles of water, ice-cold Mexican beer and worked our way through a bottle of Cuban rum. But in the evenings, we "went out." And we enjoyed some wonderful food crafted by local cooks who turned raw ingredients cooked over an open fire into things like tortas, tostadas and camarones con coco that satisfied every craving a visiting tourist might have for authentic local fare.
No less delicious than the snapper, these artisan meals came with a modest price tag, face time with locals who grinned at generous tips and worked on their English while we struggled with our Spanish. It was fun to converse, even through the many "no hablas" and hand gestures and laughs. Succinctly put, it was fun to interact… fun to be a part, even for a short time, of a community so welcoming.
And, of course, it all started with the food. Between the tortas and squid ink, we found a great little vacation. I can't wait to go back.
Chris Hunt is the national digital director for Trout Media. He lives and works in Idaho Falls.