Outgoing president of the Southcentral Alaska TU Chapter, Shannon Carroll, waiting for the tug of a steelhead.
By Eric Booton
I tossed and turned all night. The image of the chrome sides of that fish on it's first jump forever etched on my brain and I fear, doomed to haunt me until I get redemption.
It's painful to say out loud. I live in Alaska, but I still haven't caught a steelhead. To my credit, I haven't tried very hard. I tend to get distracted by spring skiing or the bead hatch on river systems closer to home.
This was only my second steelhead trip ever. The first experience was a couple years ago, complete with heavy rains and blown-out rivers. One could label it a true steelhead experience… the only fish that I found was the one that bumped into my wading boot.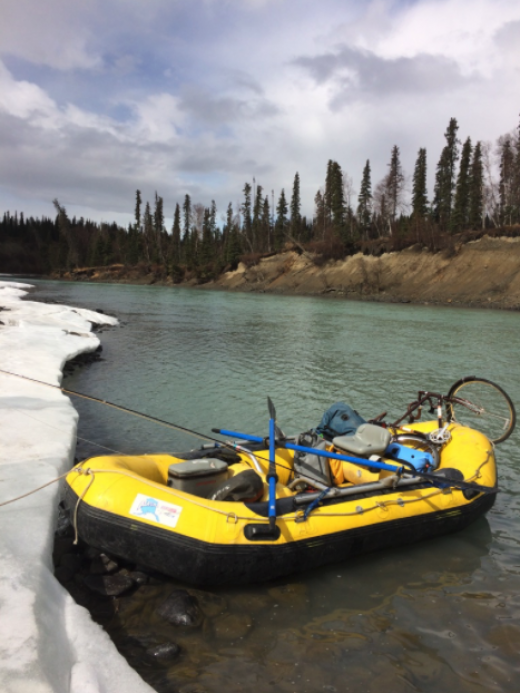 Like I said, still a newbie here, but I am aware that these elusive ghosts are labeled the fish of 1,000 casts. I haven't been counting, but I am pretty sure I have at least several hundred casts to make to reach the 1,000 cast mark.I guess that's why I was ill-prepared when, early on, in the day my spey rod erupted with life as a large fish took my fly.
Tug. Jump. Jump. Gone.
That's the way it went… and it was still awesome. I felt lucky the moment the fish hit. I also had the immediate thought of "I cannot lose this fish!" And then I did.
I still went home happy that day. Yes, I lost the steelhead. Yes, I was semi-devastated at the time. But, I hooked into a fish on my second-ever trip, which I am told is better than most, so I'll take it. With fall steelhead still a long five months away it appears I will be joining the ranks of other anglers, paying their dues and waiting for the next fish.
At least I am amongst good, fishy company.
Eric Booton is the sportsmen outreach coordinator for TU's Alaska Program.