By Sam Davidson
If given the choice between fishing while standing in water and fishing while sitting in it, I nearly always go for the upright option. Maybe that's because I didn't spend much time in boats, rafts or other flotation devices as a kid, wher
eas I spent plenty of time wading in rivers like the Big Wood in Idaho and the Carmel and Big Sur here on California's central coast.
But there are times when floating on a lake, especially early in the day, rod in hand, is sublime.
The other day my brother and I got a dose of this, on the small reservoir created by Los Padres Dam on the upper Carmel River. Word was that the fishing here thus far this season had been excellent. A few photos surfaced from long-time aficionados of this water caressing hefty brown and rainbow trout. One or two of these were large enough to be, perhaps, one of the half-dozen steelhead portaged by tanker-truck over the dam during the winter run.
The Carmel River used to be one of the best steelhead fisheries south of San Francisco. It also used to have two dams in its headwaters. These dams, and decades of increasing water diversions from this watershed, have reduced the river's steelhead run to a couple hundred fish—in a good year. However, as of late 2015 the lower of the two dams—San Clemente—has come down, in the largest dam removal project yet in California. This project dramatically improved fish access to some 25 miles of spawning and rearing habitat, so there is renewed hope for this river's sea-run O. mykiss.
With most trout streams in California blown out right now—possibly for some weeks due to runoff from last winter's record snow and rainfall—and gusty northwest winds roiling the beaches of late, fishing options have been limited. So Los Padres was the call.
Getting into the water on Los Padres requires a 20 minute walk down an unpaved dam maintenance road. We wanted to be on the water by eight, which would give us 2-3 hours before the inevitable breezes began to kick up, making a return to the launch in a float tube a much more rigorous exercise. So we pulled into the parking lot around 7, and found…no one else there.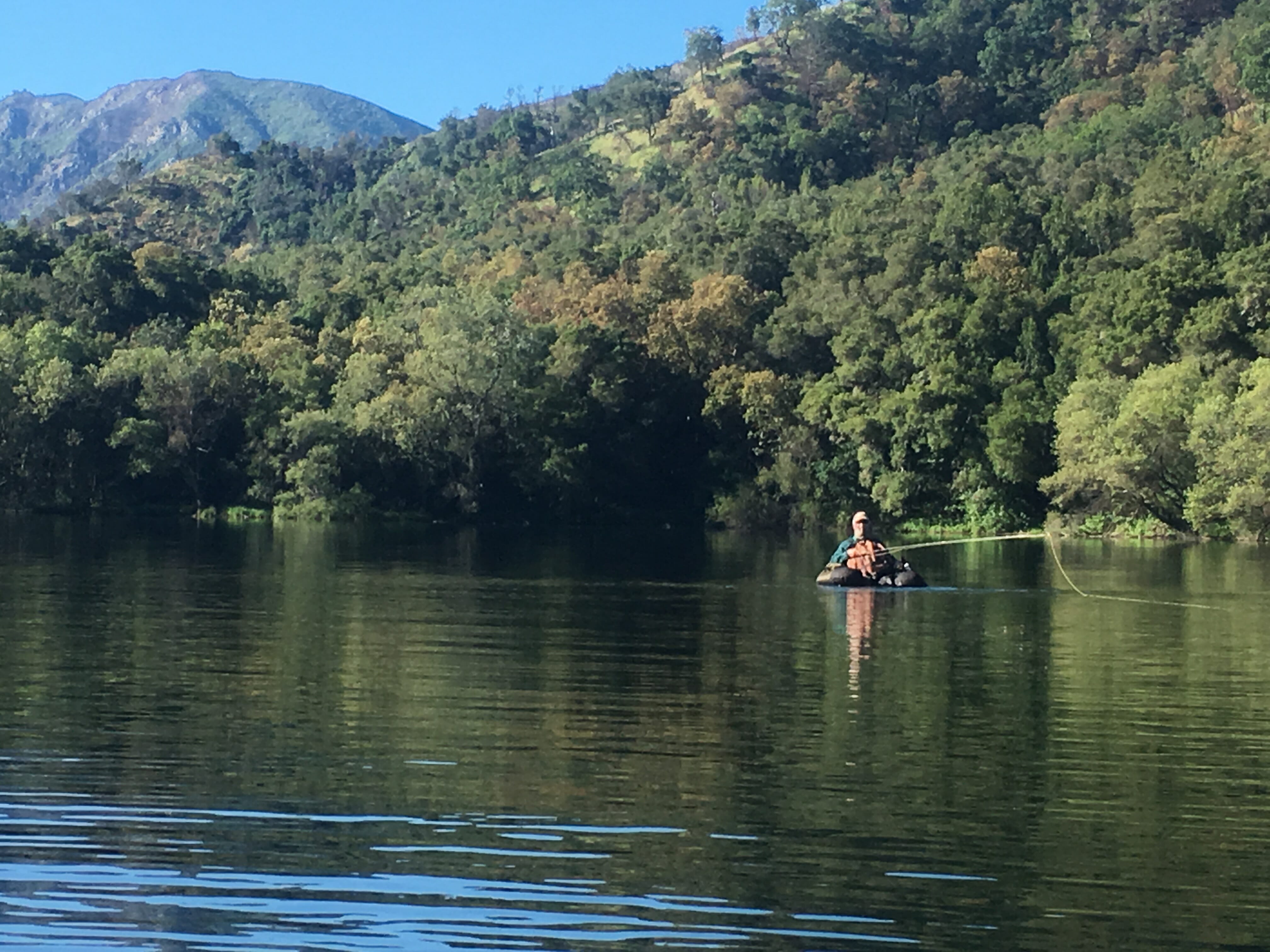 Few things are as satisfying for an angler as being first on the water. Unfortunately, that was more or less the high point of the day, fishing-wise.
Oh, there were plenty of fish, to be sure. We saw them, mostly out of the corners of our eyes, sipping spent midges or launching for small caddis wherever we were not. Some of them made a percussive sound upon re-entry suggesting significant girth. But over three gloriously quiet and scenic hours, under cloudless skies and angelic light, only three fish came to hand.
One of these, a four-inch dink, barely qualified. The other two were rainbows in the 12-14" class. They were sturdy and tugged hard, taking a rubberleg black stonefly and freshwater Clauser minnow, respectively, retrieved in small strips. But neither the action nor the size was even remotely heroic.
Still, as I staggered out of the water at the launch ramp, having raced a splitting seam and increasingly disgorged bladder (the float tube's, not mine) all the way back across the lake, I was satisfied. Floating for a while on water of good color, with herons cackling from cattails and your brother the only other person as far as you can see, delivering casts where you want even if they were unproductive, has a way of making things right again. I certainly felt rinsed of the residue of life's cares, if only for a bit.
Not to mention that I had been the one to get all of the grabs.
There has always been a competitive aspect to fishing. Unless you're a pro on the Bassmaster tour this aspect is mostly latent and not taken too seriously. Still. Over the years my brother has earned bragging rights more than I care to admit.
There was an ad on TV a short time ago, plugging some sort of Mother's Day gift—flowers, I think. It was pretty funny. Two brothers dutifully show up at their mother's home, each with some flowers. One brother's arrangement is far more impressive than the other's. The brother with the inferior bouquet mutters, "It's not a competition." The brother with the superior flowers retorts, "It's always a competition."
So it is when fishing with your brother in beautiful conditions for a paltry number of fish. A day on the water plying a fishing rod in such conditions is reward unto itself. And to best your brother in fish brought to hand, well, that is icing on the cake.
Sam Davidson is the communications director for TU's California program. He lives and works on the banks of the Carmel River.