Photo by Mike Sepelak
By Chris Hunt
FOLKSTON, Ga.— I've never been a boat guy, choosing instead to find my best fly fishing
using my two feet, usually after driving to the end of the road, and then wandering on a bit farther to the water few others bother to reach. It's a preference thing. I admire those who do pilot drift boats down big western rivers, and while I can man the oars on occasion, I'm much more comfortable wading or wandering a streambank in search of trout.
But there are times and places where boats aren't just preferred, but absolutely necessary. Here, where I'm fishing the Okefenokee Swamp in southern Georgia with two of my fishing buddies, angling from shore is largely impractical. The water isn't very deep, but it's dark, stained the color of strong coffee with tannins from the peat and vegetation that filters the rainwater as it fills the swamp. There's no mud, honestly, but the peat that filters the water can be 12 feet thick—there's really no walking on it. And you can't see the bottom, anyway, even though it might only be two or three feet beneath you.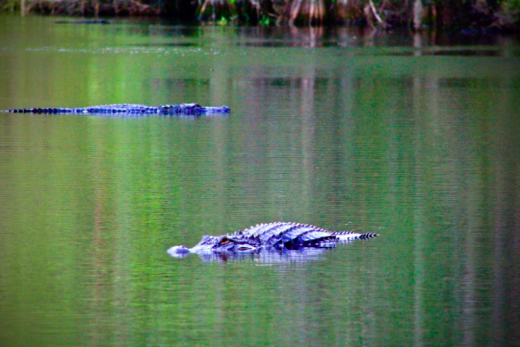 Photo by Chris Hunt
Oh, and there are alligators. Literally thousands of them. This isn't for the wading angler. Or the float-tube angler. At the very least, you need a kayak. For more than one angler, you need a jon boat.
"Do y'all want a jon boat?" That was the question from the proprietor at the rental counter at Stephen C. Foster State Park, where visiting anglers can rent anything from a kayak or a canoe to a jon boat … or a skiff. "Or would y'all like a skiff. It's only $10 more."
My buddy Steve looked at me, questioning. I did the quick fishing equations in my head. Jon boat. Two anglers. Skiff. We could probably do three, and all our gear. And, as luck would have it, there were three of us.
"Skiff? I asked, looking at Steve. He nodded. "Yeah. A skiff."
That sealed the deal. A skiff with a 6-horsepower outboard motor. We wouldn't be motoring through the swamp very quickly, but we'd be motoring through the swamp in relative style. And that's important, right?
But fishing the Okefenokee for the big bowfin we were after isn't about just launching a boat, finding some deep water and casting. It's about getting out there… experiencing the swamp. Just pulling out into the main channel and casting isn't how it's done. Bowfin hole up where there's cover. They like shade. Cypress knees. Gator water.
Did I mention that there are thousands of gators in the swamp? And if you want to catch bowfin, you have to motor your way into some tight spots, carve a path among the lily pads and the cypress and go where maybe you wouldn't normally go.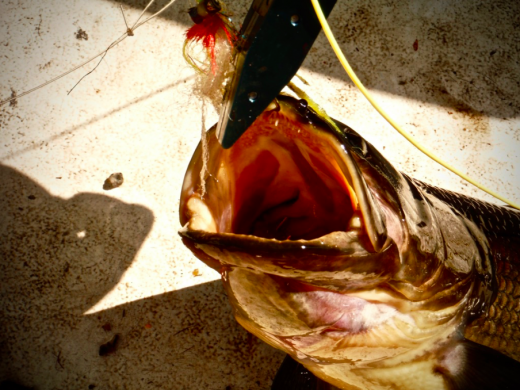 Photo by Chris Hunt
And we got into fish, and out of the traffic of more casual visitors—families paddling kayaks and enjoying one of those perfect Southern spring days, or folks just out to shoot a few photos of the wildlife. We ventured away from the "end of the road," or as far as we dared with the roomy skiff. It was a bit unnerving—sliding between two cypress trees with six inches to spare on either side, as a 10-foot gator hissed at us for interrupting his mid-morning nap, all with a downstream current at our back (the swamp drains into both the Atlantic, via the St. Mary's River, and the Gulf of Mexico, via the Suwannee River).
We found the wilderness amidst the wild, if you will. This sliver of Georgia just north of the Florida border is an oasis, a relic wisely protected some 80 years during the FDR administration. Here, prehistoric reptiles (gators) share the water with prehistoric fish—bowfin swam the waters of this continent when dinosaurs walked the earth.
That the boat rubbed gently against some second-growth cypress (that's my story, and I'm sticking to it), and that we might have pushed the tiller over a soft stump or two, is immaterial.
We found wild country. We found wild fish.
And, as it turns out, I am a boat guy.
Chris Hunt is the national digital director for Trout Media. He lives and works in Idaho Falls, but this corner of south Georgia "ain't too shabby."