By Dustin Wichterman
As I crested the edge of Swago Mountain at daybreak, I couldn't help but feel a sense of nostalgia. Thinking back to excerpts from GD McNeil's The Last Forest, his accounts from the early 1900s of brook trout by the hundreds and fish as big as 18 inches made me yearn for those experiences.
I was in my home watershed in West Virginia, the place where I cut my teeth on brook trout, and it felt as though the mountain had embraced me with her strong ridgelines and her severe, deep valleys. I basked in the never-ending green foliage of a June morning. The mist-filled valley made me think of a bowl of cereal, or maybe my stomach did.
I was headed off the mountain from camp, leaving the spot where my wife, 2-year-old daughter, and I had arrived around midnight a short six hours before. The only reason I had left camp was glaring at me as I watched the fuel gauge in the car drop to zero. I coasted toward the gas station in the valley below.
My dad had a small engine repair shop there when I was 6, and I remember playing in the creek and trying all summer to catch the one wild trout that lived next to our house. That fish lived on in infamy, darting out from under his rock ledge only 1 out of 100 casts.
At the gas station, I grabbed the essentials to cover our small family for the rest of the day and headed to the counter. A familiar voice rumbled in front of me, and I looked up to see a smile curling out from under a big ole handlebar mustache. There stood a good friend I had known from days past, when I was bumming around on another trout stream, of which we will not speak. We recounted a few old times, spoke of mutual friends, gave a quick hug, and back up the mountain I went.
I made it back to camp at the base of Black Mountain, a sacred place where my wife and I had first camped together. This was just below the Scenic Highway, where I proposed in the middle of the pouring rain next to one of earth's finest vistas, and the same place that we spent our fifth anniversary. My ladies were patiently awaiting my arrival. Coffee, which I originally told her I had forgotten, gained me an extra smile and a kiss on the cheek.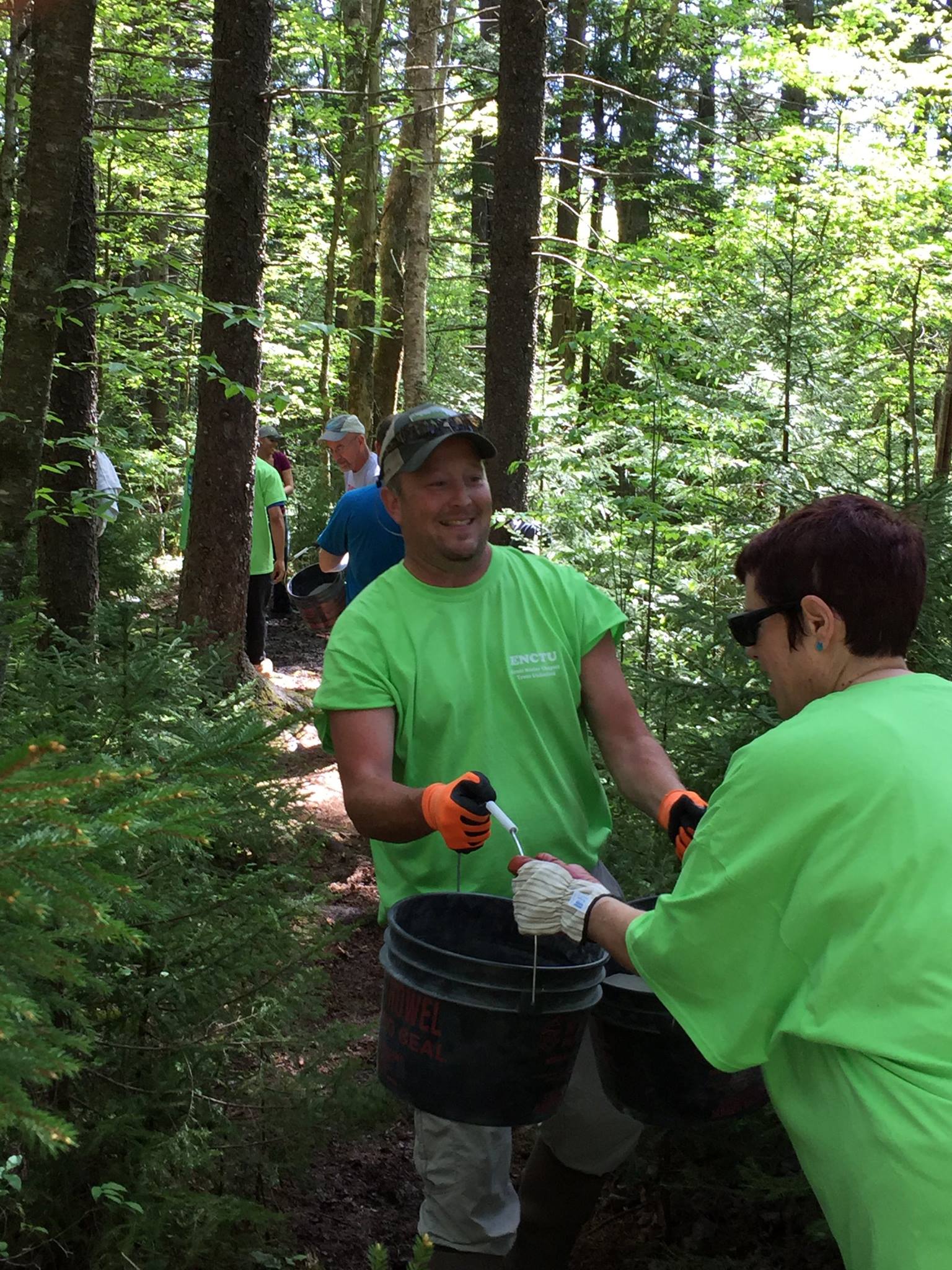 Photo courtesy of Ernie Nester Chapter, Trout Unlimited.
It had been a few years since we had had been part of The Bucket Brigade, a West Virginia Division of Natural Resources and Trout Unlimited partnership effort to hand deliver limestone sand into the Cranberry Wilderness Area in the headwaters of the Williams River.
Acid precipitation plagues the headwaters of the Williams, which is a main vein of the famous Gauley River, and limestone sand improves the William's water quality just well enough to allow it to hold trout and bugs.
It's not the long-term answer to acid deposition and comes with its own potential issues, but limestone sands keep many streams alive in this neck of the woods.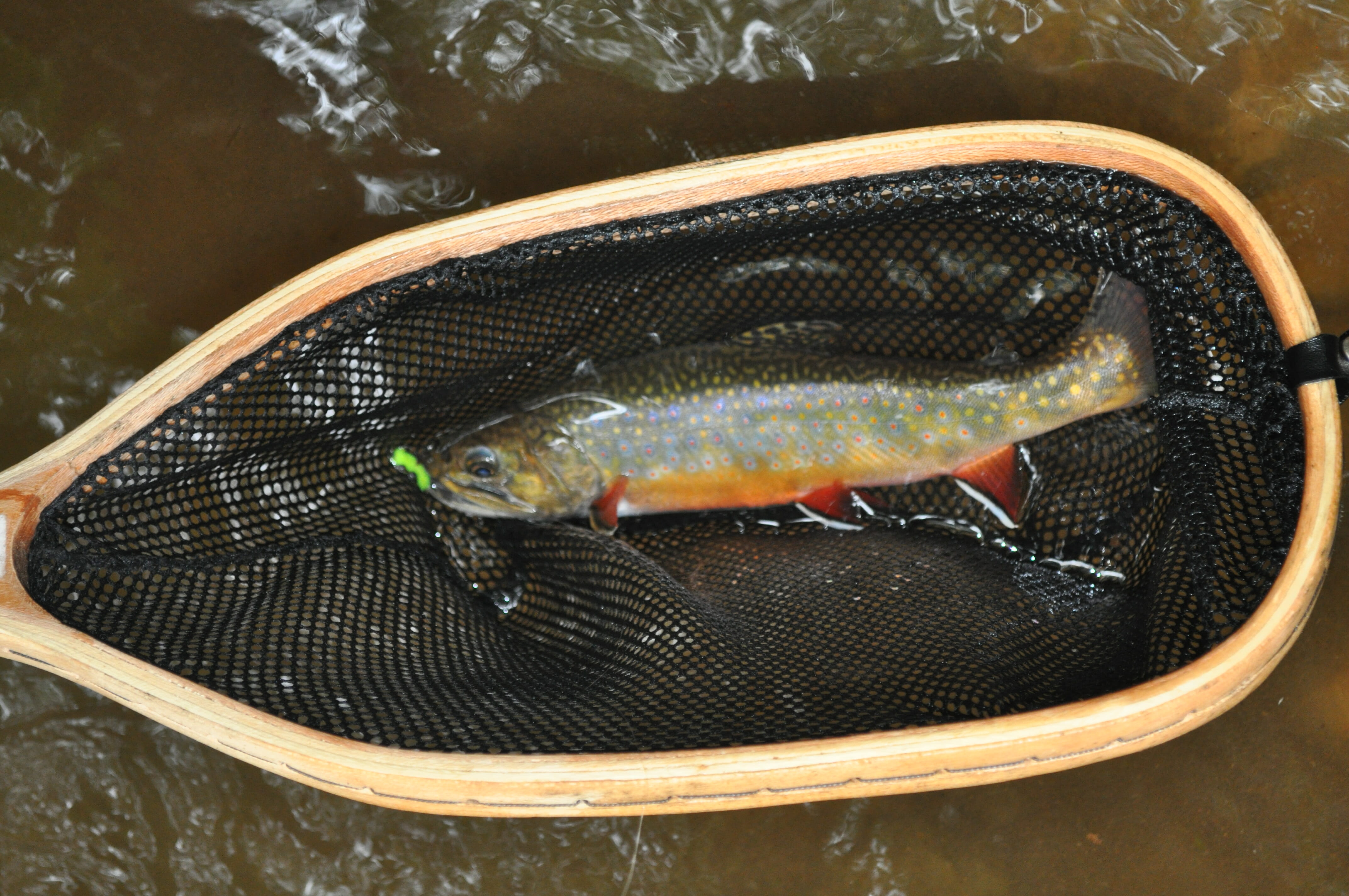 This event, the Bucket Brigade, is just that: People fill and pass 5-gallon buckets of sand down the line to the stream. It's incredible.
The people involved and the brook trout results of the project helped fuel my passion for cold water fisheries restoration work, well before I knew I'd be a staffer here at TU. We've been participating in this effort on and off for around 10 years, and now my daughter is old enough to help out, too.
We made our way up through West Virginia's Highland Scenic highway, passed the vista where I proposed, and on to the Brigade's meeting location.
As the cars pulled in by the dozens, I couldn't help but feel a sense of pride and empowerment, the same feeling you get when you enter a packed football stadium for the first game of the season to watch your favorite team. Together with these folks, we would do something that would hold this next generation of trout on for another year to come. Together with a new member of our family, we would carry on a tradition.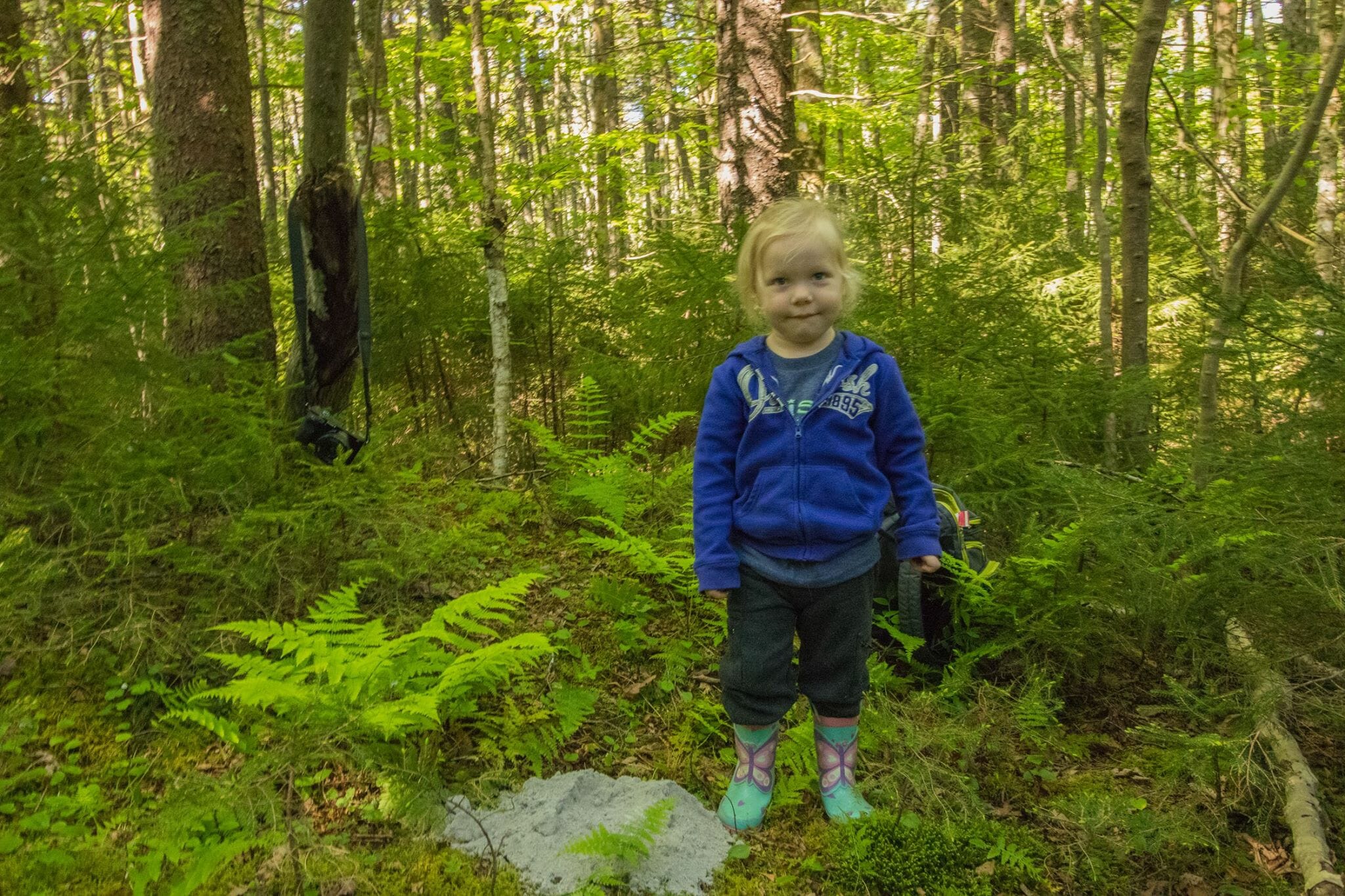 Photo courtesy of Ernie Nester Chapter, Trout Unlimited.
Our daughter stuck it out for the entire event as we hand delivered 12 tons of limestone sand one five-gallon bucket at a time. Volunteer events, like this one and the many others that TU offers, are wonderful ways to spend a weekend meeting good people, doing meaningful work, spending time giving back to beloved resource and creating your own family traditions.
Dustin Wichterman oversees Trout Unlimited's brook trout restoration work in West Virginia's Potomac River headwaters.