By Jenny Weis
The familiar routine of hooking up the boat to the hitch took only a couple minutes. By the time I was done, my friend Sam had met me at Eric's house and I was pleased, but not surprised, to see him holding a box of donuts. We had a couple-hour drive ahead of us to meet up with Eric, our third compadre for the day, whose boat I pulled behind my Outback.
Sam and I caught up with one another as we drove the Seward highway—a ride we've both done dozens of times before. Even Alaskans never stop noticing the stunning beauty of the route. We look forward to the view we know comes next even as we observe what's out the window at the moment.
As we made our way around the Turnagain arm, over Turnagian and then Summit passes, eventually taking the only turn—a right onto the Sterling Highway, we caught up on Sam's kids, our work, summer plans and, as always, each pausing conversation a few times to point out the beauty of the place we live and how lucky we are that life has taken us here—despite many literal and figurative turns in the road along the way.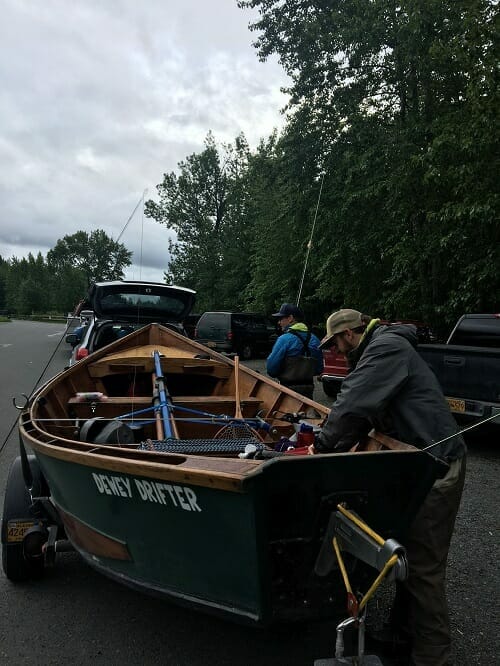 Finally, we found ourselves in Cooper Landing, the launching point to the Kenai River. We met up with Eric at Wildman's— our trusted spot for the last flushing toilet, a semi-decent cup of coffee, and Eric's lucky apple fritter. After that, we were off to Sportsman's landing to set up the rods and launch the boat.
Eric, Sam and I rolled through the routine of fishing the Kenai as we've all done dozens of times. We've fished in each other's boats with various combination of friend groups and guests. We've done it on rainy days, windy days, high and low water days. We've battled the crowds on weekends and played hooky on Tuesdays. We've gone way too late in the season and shivered our butts off all day. You name it, we've probably fished it. The turns of the river are familiar no matter the day, and recounting them has become part of the tradition.
"Remember the time when Sam fell in there?"
"Last time, there was a sow and two cubs swimming in that bend."
"Did you see that photo of Mason with a massive red on that gravel bar?"
The water was high this day, and the sky gray. The float went fast and the few gravel bars that were left to stop on due to high water were mostly already filled with visitors. Though it was a weekday, the post-summer-Solstice Kenai rarely has a lull in traffic.
Still, plenty of quiet moments were had, and lots of stories were told and, probably, re-told. Sam and Eric both hooked into two small trout. After Eric caught his second one, the sky opened up and dumped on us – none of us were phased. We drank two beers each and ate sandwiches in the anchored boat once it cleared. I got skunked, but it sure wasn't due to a lack of trying. It wasn't the first time I'd said that, either.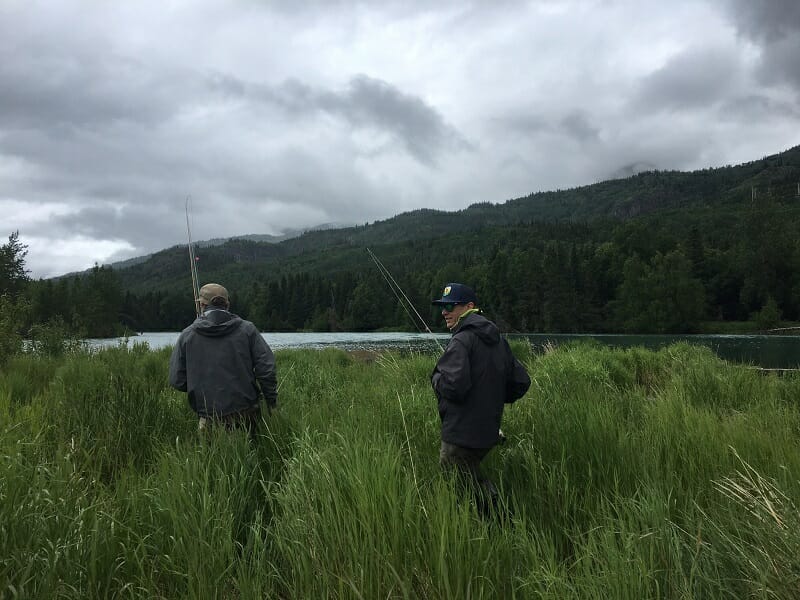 Catching fish is fun, but the familiarity of floating the Kenai with friends is even better. To some degree, when you take that first seat on the diftboat, you never know what the day will bring – be it a trophy rainbow or Chinook. Or maybe you'll get skunked.
But no matter what the fish are doing that day, there are lots of things on the Kenai that will always be, among the tops of which is gratitude. There's never a shortage of quiet, grateful moments simply for the ability spend a day on a boat with friends in one of the world's most beautiful places, on a weekday.
In that regard, fish or not, the routine of a day on the Kenai never lets you down.
Jenny Weis is Trout Unlimited's Alaska communications director. She lives in Anchorage.