Director and producer Robert Redford eyes a shot during filming of "A River Runs Through It". Courtesy photo.
By Brett Prettyman
While most people talk about Brad Pitt's shadow casting and the family drama the troubled soul Paul brought to his clan, I have different memories of "A River Runs Through It."
Like so many other fly fishers — and unbeknownst to them, future fly fishers, I headed to a theater soon after the movie was released in 1992.
I had done some fly fishing prior to the movie and it is safe to say I was on my way to more, but there is little doubt "A River Runs Through It" hastened my interest.
I had a chance to relive the past recently when Robert Redford, director and producer of the movie that changed fly fishing forever, held a special 25th anniversary screening at Sundance Resort – the resort he founded and still owns in Utah.
After an introduction to the movie by Redford, we settled in to watch it like I had all those years ago – on a big screen and surrounded by other fly fishers.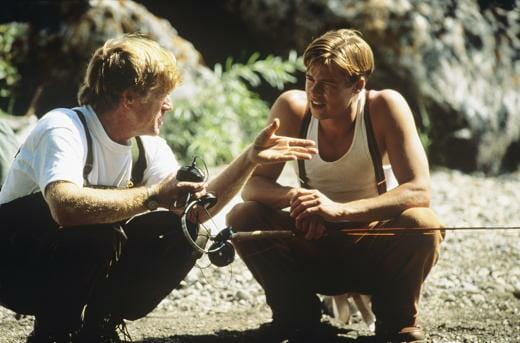 "A River Runs Through It" producer and director Robert Redford talks to actor Brad Pitt about a fishing scene. Courtesy photo.
Of course, there are those who complain the movie brought too much attention to fly fishing and the increased interest put too much pressure on fragile rivers.
Regardless of your take on how it impacted fishing, there is little doubt the film resonated with a lot of people and got them to enjoy the outdoors. I'm all for that.
So take some time to relive the first time you watched the movie or watch it for the first time. You won't be disappointed.
—
Brett Prettyman is the Intermountain Communications Director for Trout Unlimited. He can be reached at bprettyman@tu.org