By Eric Booton
The countdown begins every winter when I receive my Trout Unlimited calendar (thanks TU!).
I immediately spend several minutes noting the important dates, trips and plans that need to be remembered; several of which are the closures and openers of my favorite Alaska fishing holes. I am surrounded by, or just a flight away from, numerous notorious fisheries including the Kenai, Kasilof, Naknek, Nushagak, and the Kvichak Rivers, whose openers my fellow Alaska anglers are literally counting down to on social media.
But the opener that gets me giddy is the one no one else is talking about, the urban Anchorage Bowl opener—my local water. Home to stocked rainbow trout and Dolly Varden, you won't find the fish of a lifetime, but you'll still see moose, sometimes bears, and enjoy some of the steadiest streams of hungry fish that can be found within city limits all to yourself. Four to eight-inch fish are the standard, and much larger fish can also be found. They may not be the 30-inch trout Alaska is known for, but every fish is fun on a fiberglass 3 weight.
The night before the opener I pull out my gear, tie on a new leader, pack a box with freshly tied flies (even though I never have to change my pattern), and prep the coffee maker to reserve as much time on the creek as possible before having to catch a 9:00 a.m. meeting with my director. My sister and I are the first ones on the creek to celebrate the opener—not that the competition is stiff for the accolade (I'd wager that we were the only anglers on the creek that whole day).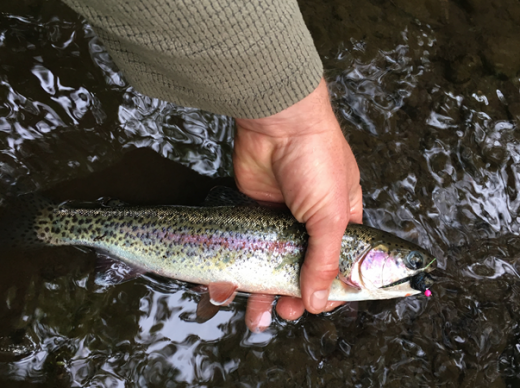 First hole, first cast, and Shauna and I are both hooked into our first fish of the day. The morning is off to the start I anticipated. Both trout released back to their homes and time to move upstream to the next hole or pocket where experience tells me a fish will be waiting. Several strikes, hooksets, battles and releases later, the duck tone alarm in my pocket starts quacking and I know it's time to find one more fish without being late to meet the boss.
My odds are more than favorable. Though the fishing is great and the surroundings far better than concrete, there are aspects of urban fishing that can use improvement, which I take upon myself when I go out. Trash is to be expected on these creeks. It's an unfortunate reality but the annual creek clean-ups have a noticeable impact, and I still fill a bag with trash on each outing. The seriously dreamy slices of water that can be discovered only a 10-minute bike ride from my house and mere steps from Anchorage's bike paths are worth a little trash pick up.
The need to fly fish has evolved into a personal necessity and a quick morning outing or lunch trip to Anchorage's urban waters make for a satisfactory fix. Fishable water is everywhere, and it doesn't have to be famous to be cherished. So, may I recommend that next time you have an afternoon to kill, head to the nearby creek, wet a line, and find your water.
P.S. Consider bringing a trash bag too.
Eric Booton is the sportsmen's outreach coordinator for TU's Alaska Program. He lives and works in Anchorage.