Sam Weis, the author's late husband.
By Jenny Weis
My late husband had the fishing bug. He grew up fishing musky, walleye and panfish in the lakes of northern Wisconsin with his dad and grandpa. He eventually expanded his waters to Lake Superior, the Gulf of Mexico, and the driftless region of Wisconsin, picking up a fly rod somewhere along the way. (These are the kinds of details I'd love to ask him to clarify, but now of course can't.)
Eventually, we moved to Alaska, where his mind exploded with the opportunity and size of the fish. But he didn't just go fishing, he was preoccupied by fish. Many of you will relate to this. He scanned the internet for flies, gear and new waters. He planned trips. He watched the nerdiest of documentaries. He made "suicide runs" down to the Kenai River—playing hooky on workdays for just a few hours of fishing and five hours of driving. Or my personal favorite—when we'd go on road bike rides, he'd routinely make us stop on bridges, peering over the side.
"I've gotta' see if there are fish in there, Jenny!"
A bug, a sickness, a personality trait—whatever you want to call it, he had it. I rolled my eyes, but I knew it was just part of who he was, inseparable from the rest of his personality. I accepted that, and thus, also accepted lessons from him on fly fishing. Though I questioned the intentions behind that first fly rod he gave me for my 23rd birthday, I grew to genuinely like the sport for the places it brought us and the time together it granted us, which I now know was more precious than I realized then.
I remember my first few outings. More time was spent untying knots or slowly eating PB&Js than actually fishing. Later, I wised up and would bring a hammock to string between two trees, a book, and on days I'd really planned ahead, a gin and tonic in a Nalgene.
Once I got additional instruction though, I'd eventually stick it out and fish the whole time he did. Perhaps it was because my competitive side would come out and I'd want to out-fish him, who's to say? He pretended not to care, but I'm pretty sure he was happy to see me catching onto the sport and the lifestyle he so loved.
We fished dries in small Wisconsin streams with horses grazing nearby. We floated the silty blue Kenai in the shadow of the Chugach mountains, drifting flesh and egg patterns for Dollies. We hiked to alpine lakes and caught tiny trout buddies among fields of fireweed from breakfast until dinner time, unharried thanks to the long Alaskan summer light.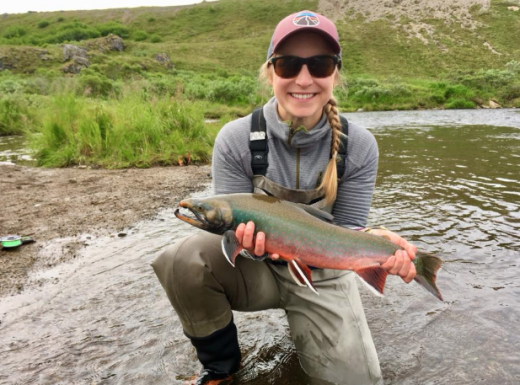 The author with a sweet Dolly.
Finally, with more experience, we started planning trips together and I eagerly participated. Still, I didn't feel that I had "the bug."
The year he died of leukemia, I scarcely picked up a fly rod.
Now though, just over a year later, ironically I've never fished more. I've gotten to fish incredible, world-class rivers where I know he daydreamed of one day wetting a line. I recently sat on the bow of a boat riding up a small, winding river, watching red sockeye dart around me, knowing that he was the reason I was there—though at surface level, he had nothing to do with the trip. Maybe, working now to figure out all the things there are to love about this sport is a way both that I can remember him, and find new ways to connect with him even now that he's gone.
There's no denying that standing in a river with only the sound of the water, the wind in the trees, and the line whizzing past your ear doesn't deliver you precipitately into the present, and leave you to reflect on whatever it was you did to be lucky enough to get you there. Still, just having that deep-rooted appreciation doesn't mean you've got the bug. …Or does it?
Recently, I was hiking with friends in an Alaska state park. We took a break for snacks aside a small bridge crossing a freezing alpine stream. Before I thought much of it, our dog and I wandered apart from the group toward the water. I had to see if there were fish in there.
Maybe the bug can be given. Even posthumously. I'm glad to have caught it—to keep him with me, and to continue out-fishing him. I know he still wouldn't mind it.
Jenny Weis is the communications director for TU's Alaska program. She lives and works in Anchorage.