By Eric Booton
It's like watching magic happen, or so it seems.
Fifteen short minutes and the wood finish stripper has performed its intimidating chemical magic and one stroke of the scraper removes the shabby finish and once adored princess stickers that have previously defined this forgotten piece of furniture. The hours spent with the electric sander and fine grit sand paper clutched in my hand are solidifying my fate of future carpal tunnel. Getting to the point of actually staining the wood feels like freedom and immediately comes with the reminder that a little bit of stain goes a long way. In the end, what Google tells me is a 10-hour project was more accurately a fulfilling 10-evening distraction and multiple trips to the hardware store.
Fly tying stations are perpetually messy. There are hundreds of suggestions and tips online to improve storage of materials and tools, but try as I might, I can't keep my tying station clean, organized, or free of what appears to be debris from the perfect storm that ripped through a craft store and a poultry farm. It's a fact of life and I cannot escape it. My wife and I each have our own signature messes routinely found in the house and the static charged feather trimmings that stick to your shirt and loose dubbing bedazzling your socks are mine. Guilty.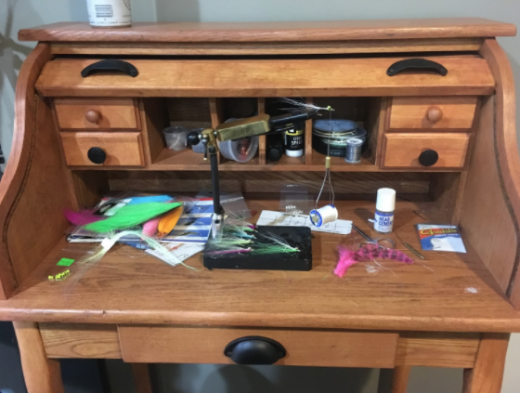 A roll top desk has always appeared to be a practical solution to combating my fly tying mess. It's so simple. Sit down and twist up a few flies in my spare time, drop down the roll top and, boom! No more mess, at least for the guests to see. Less time cleaning, more time tying. A real "win-win" as they say. So, by my wife's suggestion, I bit the bullet and bought the cheapest roll top desk on craigslist to better quarantine the chaos in our new house.
Tying the inaugural fly at my newly re-finished desk felt appropriately ceremonious. I popped open a cold beer, cued up my favorite record, and began cranking out a woolly bugger variant and begin recalling all of the fine fish this trusty pattern has brought to hand.
I quickly notice the mistakes in the finish, just like I see the mistakes in the fly I am tying. You may not notice, but I know they are there. I note the extra thread wraps crowding the eye of the fly and the excess dubbing that are making this fly a bit bulky and resolve to tie the next pattern on the diet. The dried remains of a tiny pool of excess stain and miniature streaks where the stain ran ever so slightly will be easily avoidable next time. Small faults are the unique touches, correct or incorrect, that come with completing a project with your own two hands and are what make them a product of our own.
My wife and I have already started restoring a second antique piece of furniture, a sewing desk to fulfill her crafting needs, and my list of lessons abounds.
Eric Booton is the sportsmen's outreach coordinator for TU's Alaska Program. He lives and works in Anchorage.