By Eric Booten
Excuse the grip and grin, but this fish and smile come with a story.
I enjoyed talking fish with Sam, my fishing buddy and coworker. Several hours of the work week were routinely lost to these discussions, but when you work to protect fish and their habitat, sometimes you just take some time to talk fish.
Topics varied from exotic species to 30-inch resident trout, urban fishing, and beyond. But you can bet that during early spring and late fall, steelhead were the primary matter of conversation. Since both of us were new to Alaska, and with neither of us having tangoed with a chromer, our conversation mostly consisted of sizing up rainforest adventures in the Tongass National Forest, admiring photos of some fine specimens caught by other anglers, and a whole lot of "I NEED to catch one someday."
Originally from Wisconsin, Sam had taken shots at Great Lakes steelhead before, finding little more than muddy, high water and inconclusive "bumps." A recent Colorado transplant, I considered myself uneducated on the matter, and had only recently been introduced to the allure of anadromous rainbow trout.
Sam had dreamed of catching a steelhead longer than I know. He was a passionate angler, and even more dedicated conservationist who no doubt had earned a hearty piggy bank full of fish karma. Sam deserved to catch a steelhead.
In the spring of 2017 it became clear that Sam wouldn't win his third battle with Leukemia. When Sam called to tell me his time was limited, my initial instinct was to jump the first flight to Seattle, bust him out of the hospital — gown and all — press the pedal to the metal and head straight to the famed Olympic Peninsula. (I'm pretty positive his wife, Jenny, wouldn't have spoiled the plan and I suspect may have been a willing accomplice in the escape.)
The escape never happened and Sam never landed a steelhead.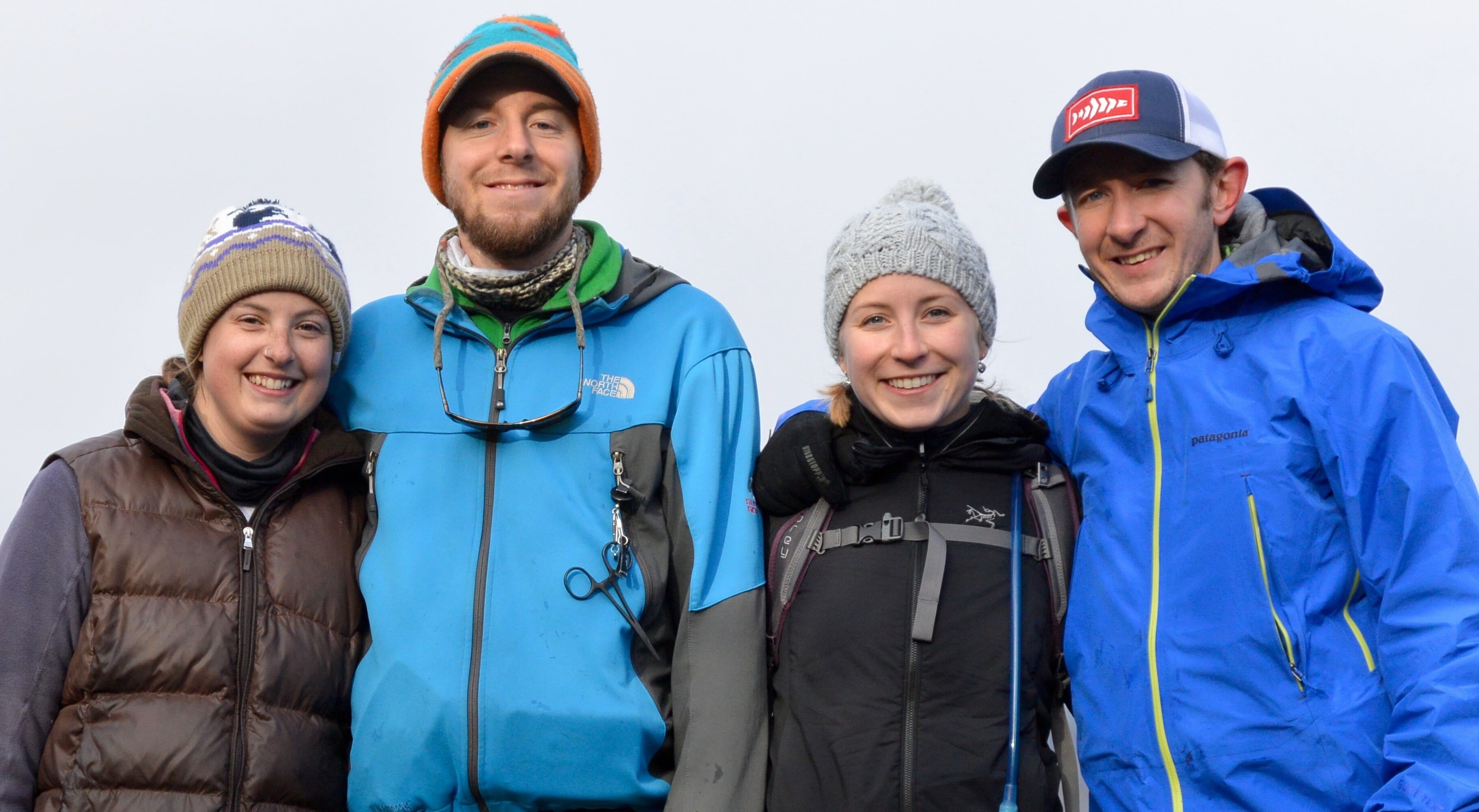 Sam (far right) and Eric with their future wives, Jenny and Brittney, take a break on a fishing trip in Alaska in 2014.
I was able to fish for steelhead only once this Spring. It was late in the season but with an expert on the oars, I felt confident. Near the end of the day, with the countdown clock ticking and patience waning, I had an inexplicably good feeling as I stepped up to what was sure to be the final run of the day. Sure enough, after only a handful of casts the line went tight.
In only a few short decades Sam accomplished, explored, and overcame more than most will in their own lifetime. In a world of fish, Sam was a steelhead, embarking against all odds on a punishing journey, conquering the voyage and drifting downstream to do it again. He was an inspiration for hundreds of people and his legacy will forever rival the legends of the king of trout. Since the day he died just over a year ago, I have been determined to catch a steelhead for Sam.
Sam, this one's for you buddy!
Eric Booten is Trout Unlimited's Alaska sportsman engagement coordinator and is more obsessed than ever with steelhead.