This bridge over the Willamette River in Eugene, Oregon, teases anglers with art. Brett Prettyman/Trout Unlimited
By Brett Prettyman
Efforts to keep fishing from entering my mind during our family vacation only lasted to the first state line.
Some may find it hard to believe, but fishing doesn't always fit into the plans. It is a time intensive activity not all extended family members and friends are willing to undertake.
So sometimes I leave the rods, flies and waders home and focus my casts on loved ones.
But it is never easy to ignore the desire to enter the river and slip into fishing mode. My travels to the Pacific Northwest did nothing to diminish the longing to cast a line.
I suppose I could have closed my eyes every time we passed one of the epic rivers I have dreamed about fishing since I was teenager, but since I was driving at the time it didn't seem like a good idea.
The highways provided other teasers as well. It seemed like every other car had a license plate decorated with trout or salmon and happy anglers with big smiles dragging boats behind their vehicles as I passed them in the family van – which also happens to sport a license plate with a trout – were a common sight.
Things didn't get any better when we climbed out of the car.
While taking a stroll on the University of Oregon campus we found a bridge crossing the Willamette River. I naturally started scouring the river from above looking for fish. I asked the kids to point out where fish would likely hold. My 8-year-old smiled as he pointed to a graffiti-like painting on the bridge.
"We don't need to look in the river. There are fish all over the bridge," he laughed.
The people of the Northwest celebrate fish, they have from the beginning as the art and history of the native peoples there so elegantly show.
Wandering the Seattle Aquarium and seeing all the live fish I'd like to catch made things particularly difficult. My family had a hard time understanding my pain.
My oldest did take minute to note how cool it would be to catch a giant salmon like the one in a sculpture on the Seattle piers.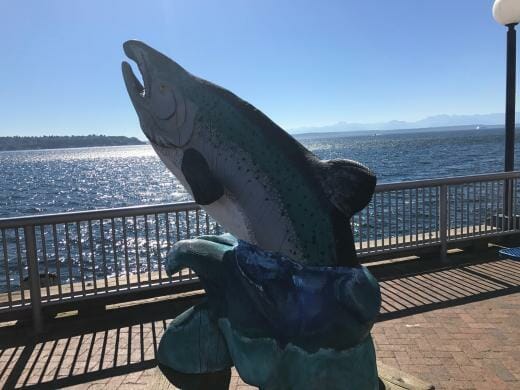 A sculpture on a pier in Seattle pays homage to the fish of the Pacific Northwest. Brett Prettyman/Trout Unlimited.
As if visual cues weren't enough. Like all good tourists, we had to visit the Pikes Place market to see fish thrown for packaging. The smell immediately took me to the river and the lingering scent after a fish has been landed.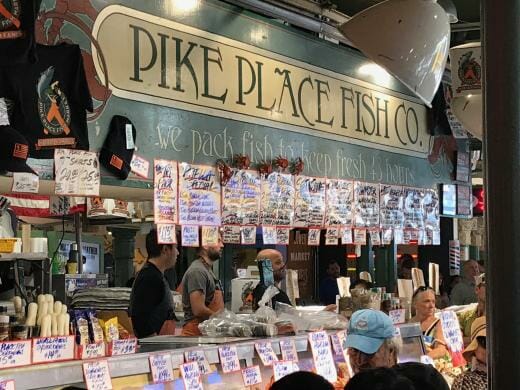 Even a fish market like the famous one at Pikes Place provides a reminder for anglers longing to stand in the river. Brett Prettyman/Trout Unlimited
Friends on social media didn't help. Many noticed where I was by my posts and messaged asking where I would be fishing. It pained me to answer them.
Even the asphalt on the University of Washington campus reminded me of how close I was to fishing. I looked down a couple of times near storm drains to see a cool reminder that things dumped in the system end up going through the gills of fish I'd like to catch.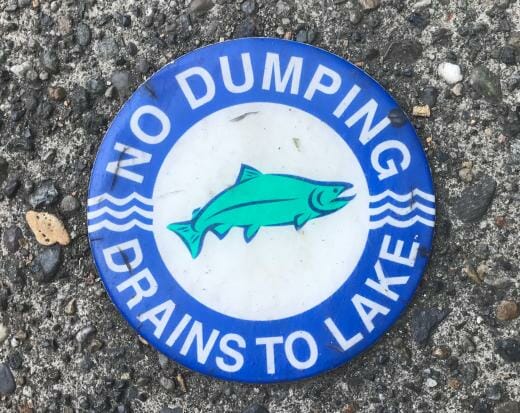 A reminder on the University of Washington campus to protect fish from illegal dumping. Brett Prettyman/Trout Unlimited
The closest I came to fishing on my recent vacation was watching my son catch tiny crabs with long blades of grass in the shallow waters of a Washington State Park on the San Juan Islands.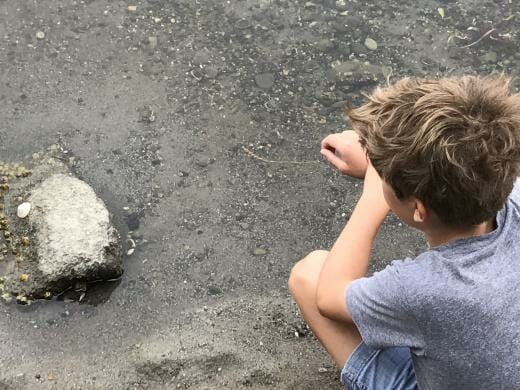 The author's son uses grass to fish for crabs. Brett Prettyman/Trout Unlimited
As it turns out, that ended up being enough.
Brett Prettyman is the Intermountain Communications Director for Trout Unlimited. He is based out of Salt Lake City and can be reached at bprettyman@tu.org