Heidi Lewis, far left, took her friends Heather Hodson, Jen Ripple and Geri Meyer (left to right) on a Utah Cutthroat Slam adventure this summer. Courtesy photo.
By Heidi Lewis
When Heather Hodson calls I know things are about to get good. I don't see her often, but when I do it typically means we are either planning, or on, an epic fishing adventure.
Heather volunteers as Trout Unlimited's Western U.S. Diversity and Women's Initiative Ambassador. She also started United Women on the Fly, an online community helping women anglers and would-be fly fishers connect with other women for fishing trips, advice and fun.
The call came last spring and, after we caught up, Heather explained she was going to take a cross-country trip from Tennessee to Montana with Jen Ripple, editor of DUN magazine, and Geri Meyer, owner of Driftless Angler in Wisconsin.
They wondered about spending some time in Utah along the way. Of course, I said YES.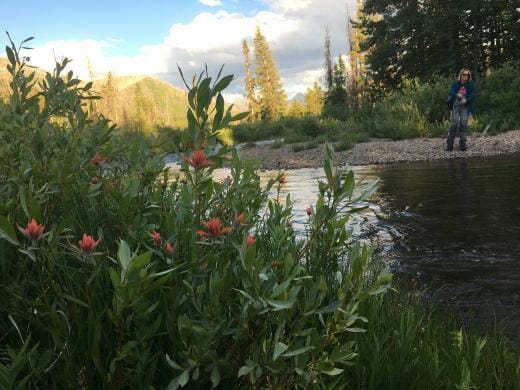 Jen Ripple fishes for a Bear River cutthroat as part of her Utah Cutthroat Slam adventure. Courtesy photo.
What fun and unique fishing adventure could I provide for them in Utah? I mean, how could I pick just one place for a weekend in June? The Utah Cutthroat Slam immediately came to mind as a great fit. The Utah Cutthroat Slam was created by Trout Unlimited and the Utah Division of Wildlife Resources to encourage anglers to explore new places in Utah while fishing for the state's four native cutthroat trout species in their native range.
I was only one fish shy of completing the slam myself and knew where to take these gals to fish. The only kicker here was that we only had 72 hours to catch four different cutthroat in their native drainages. And, if you know fly fishing, you know why it's called fishing and not catching. There are no guarantees. Either way, we'd have fun along the way, that I didn't doubt.
I brainstormed with my friend and TU staffer Brett Prettyman, who helped create the slam, and came up with a plan. Brian and Brooke Harris were also in on the planning. They have each completed the slam multiple times and their help was invaluable. An important part of the plan was to hear from Trout Unlimited project leaders and Utah Division of Wildlife Resources fisheries biologists working on cutthroat conservation work. The Utah Cutthroat Slam raises money for conservation projects.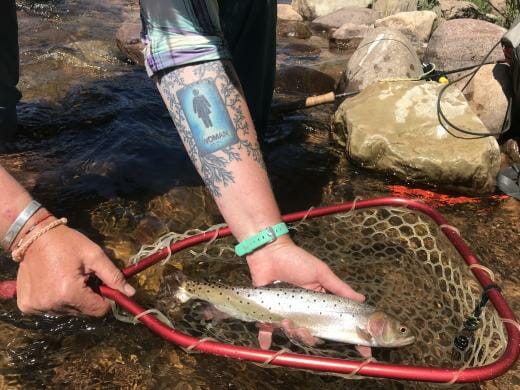 Geri Meyer landed this Colorado River cutthroat as part of her Utah Cutthroat Slam. Courtesy photo.
I wouldn't say any location was 'easy' but everyone caught fish. As we continued to the last day, and the most technical fishing, for the Yellowstone cutthroat we were almost done with our adventure. The streams were the Yellowstone cutthroat live are tiny! So small you can easily jump across them. The fish however, are not any different than the other high elevation streams we fished for the Bonneville, Colorado, and Bear River cutthroat. They are eager to eat a dry fly but setting the hook under a blanket of brush is challenging to say the least; that's if you can even get the fly on the water through the branches.
The day and the end of the slam was drawing near. I wanted to make sure the others caught fish, but I had to finish. As the other gals were focused on landing their fish I walked down stream. I needed to get a fish in the net and check off my final trout to complete the slam.
The only unfished water in walking distance was limited and the brush was beyond thick. Memories of my childhood in Wisconsin and fishing with a stick, line and a worm cane to mind. I have evolved a bit since then, but it was effective then, why not try that again? So, I grabbed a 3-foot stick off the ground, tied 5x tippet to one end and then tied a sailor ant pattern I produced myself on the other end.
I swung the ant upstream over a small log and let it drift. As I twitched it upstream I felt a hit, but could not see anything under the log. Missed. I tried again and missed again. Turns out you can't quite feel the hit with a streamside stick as you can with a fly rod. I didn't think I still had a chance, but I twitched the ant upstream again and got another strike. Third time is a charm right? I twitched the ant upstream and the fish ate again. This time I set the hook a bit harder and landed a beautiful little Yellowstone cutthroat. All I could do was giggle, thinking this actually worked.
Heather Hodson works to land a Yellowstone cutthroat during a Utah Cutthroat Slam adventure. Courtesy photo.
And then I had a minute to reflect on what I had done by catching four distinct cutthroat trout subspecies in their native range.
The real bonus of the slam a lot of people don't realize is the experience you can have with your friends and all the amazing places you get to visit. I know there is so much more of Utah to explore and next time I do the slam I can do it in entirely different places and that is exciting.
We also met up with TU staffers and chapter members along the way. They explained restoration projects to benefit these native fish. The Utah Cutthroat Slam raises money for conservation projects.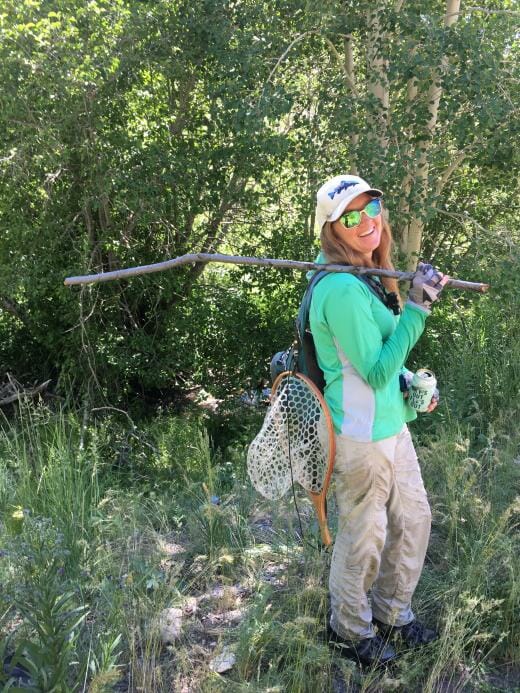 Heidi Lewis shows off the fancy streamside stick she used to land a Yellowstone cutthroat and complete her Utah Cutthroat Slam. Courtesy photo.
Sharing my home state and the many dirt roads that led us to these beautiful trout was the biggest joy. It was also a bit of a challenge for us as seasoned anglers fishing small streams with technical casts. These fish are not too picky with flies, but more so with a gentle presentation of a dry fly and natural drift. Heather, Jen and Geri felt the same way this weekend in June as I often do whenever I travel the state to fish. It is one of the most beautiful places we've all been. Through their eyes I got to experience them seeing Utah like this for the first time.
I think the next time I "guide" fly fishers on the slam it will be my two daughters. I may even make them use a streamside stick like I did.
Heidi Lewis is the diversity and women's initiative leader for the Utah Council of Trout Unlimited. She lives in Salt Lake City with her husband and two daughters. She also started the Utah Women Flyfishers group. Heidi ended up becoming the 300th participant to complete the Utah Cutthroat Slam. Visit the website to see her with the feisty Yellowstone cutthroat she landed to complete her first slam.