Being invited to testify before Congress is a career highlight for anyone. Laura Ziemer, over her 22 years with Trout Unlimited, has received multiple such invitations, including a request to testify at today's hearing of the Water, Oceans and Wildlife Subcommittee of the House Natural Resources Committee on the topic of Building Back Better: Water, Oceans and Wildlife.
Ziemer offered testimony on Building Economic Recovery, Climate Resilience, and Racial Justice with Water Investments.
Ziemer, an attorney-ecologist who took 4th Place in the NCAA Nationals one year in fencing with the University of Wisconsin and won the inaugural Women's Little 500 bicycle race in Bloomington, Indiana (the Little 500 event is the subject of the cult-classic film Breaking Away), is TU's Senior Counsel and Water Policy Advisor. She is an expert on the intersection of Western water law, water infrastructure, water use and climate change, and how water legislation and policy can help or hurt trout and salmon, their watersheds, and the communities, cultures and economies that depend on these resources.
TU's two decades of work in the West to keep more water in streams in the dry season and to improve fish passage throughout watersheds has proven tactical investment in cooperative, multi-benefit projects that improve water supply reliability for people while improving ecological function pays dividends across multiple sectors of the economy and benefits a broad spectrum of landscape values. Drought is one of the primary manifestations of climate change in the West, which makes water infrastructure policy and funding key to the country's strategy for confronting the environmental, social, and economic challenges associated with the rapidly warming climate.
In fact, Ziemer says, "Water and fire are the West's greatest expressions of climate change. This makes water investments a top priority for building climate resilience." For TU, the three pillars of western water climate resilience are: (1) Water Security—investments in water infrastructure contribute to both basin-scale and individual water users' water security; (2) Fish Passage—investments in water infrastructure ensure fish passage and aquatic habitat connectivity; and (3) Environmental Flows and Natural Infrastructure—investments preserve environmental flows and restore watershed function through nature-based solutions. Smart water investments, says Ziemer, are needed across all three pillars.
The return on investment in water infrastructure, according to Ziemer, is "job creation and long term sustainability for water supply, watershed restoration, municipal conservation and reuse, and Tribal water settlements" and directly contributes to economic recovery, Tribal sovereignty, and climate resilience of both human and natural communities.
More specifically, federal investment in western water builds economic recovery when we repair and modernize irrigation water delivery infrastructure. It builds climate resilience when we efficiently recycle and re-use water and restore western river systems. And it builds racial and social justice when we ensure Tribal and rural communities' access to clean drinking water and resolve Tribal water rights.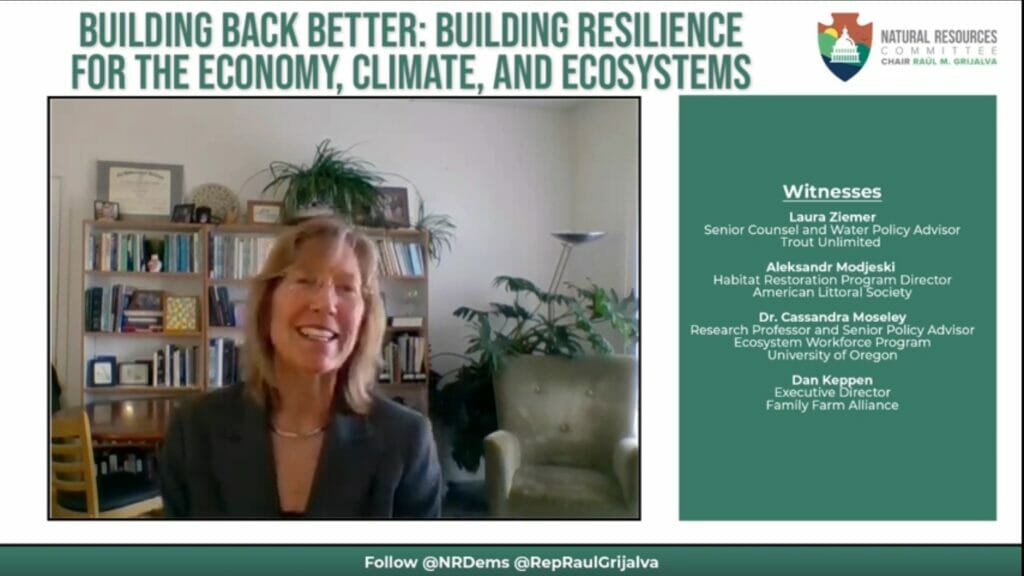 Across the West, TU has worked with ranchers, farmers, states, Tribes, federal, state, and local agencies, local contractors, businesses, and many other partners to restore streams while also sustaining working lands and vibrant communities. In Montana, Colorado, and Northern California, for example, TU has partnered with agricultural operations, irrigation districts, timber companies and even a railroad to improve water supply reliability, fish passage, dry season streamflows and habitat function, all at the same time. Current economic recovery legislation can leverage and augment this work through an increase in funding for such vital federal programs, services and infrastructure as:
The Bureau of Reclamation's WaterSMART programs, including full funding for the Cooperative Watershed Management program
Construction of water recycling and reuse projects, including Title XVI authorized projects
Implementation of "natural infrastructure" strategies, including restoring natural watershed storage functions
Municipal water conservation measures, including for low-income and economically disadvantaged communities
Upgrades to irrigation water delivery infrastructure in ways that deliver ecosystem benefits or groundwater sustainability
Extension of deposits into the Reclamation Water Settlements Fund for at least 10 years
Construction of authorized Tribal water rights settlement projects
The Aquatic Ecosystem Restoration Program (a newly created program in FY21 Omnibus)
Water desalination infrastructure projects that avoid environmental harm
USGS stream gauge installation and maintenance in priority locations
The fate of the American West has always been inextricably tied to its water. TU's experience in grappling with water security in the West over the last twenty years has proven the need for collaborative, watershed-scale solutions; financing these solutions based on streamlined federal funding and public-private partnerships; using and advancing the best science, technology, and tools applied to water management; and recognizing that watershed-scale, locally-driven solutions require a portfolio of projects addressing watershed and flow restoration, reliability of irrigation water supply, Tribal water rights, and security of municipal water supply.
As the U.S. begins to recover from the Covid-19 pandemic, while staring down the barrel of another drought year with rising temperatures and prime conditions for wildfire in the West, Ziemer notes "the co-equal priorities" to build economic recovery, climate resilience, and racial justice while addressing the water needs of people and landscapes—simultaneously—have never been more important.  Go here to read Ziemer's full testimony in today's hearing.
Photo of Laura Ziemer courtesy of Adrian Sanchez-Gonzalez/Walton Family Foundation.