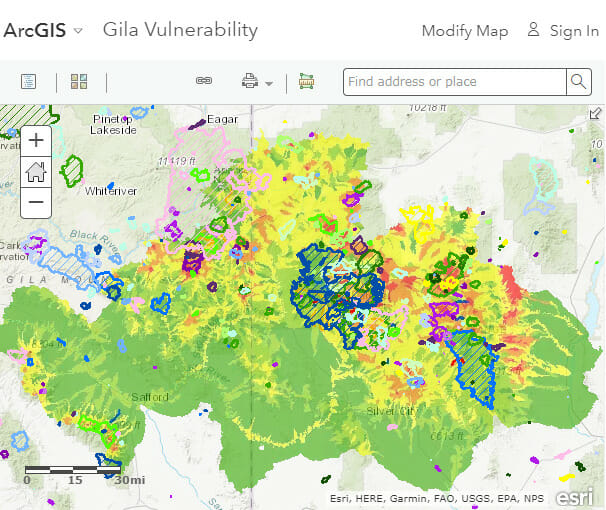 Conservation planning and assessment helps answer "where" questions related to trout and salmon populations to help inform, guide, and contextualize Trout Unlimited's work.
Where are the strongest remaining populations for a protection focus? Where are the least disturbed habitats for a restoration focus? Where are the coldwater refuge streams for reconnection focus? Where can TU's on-the-ground efforts achieve the greatest conservation benefit for the least cost? TU's geographic information systems (GIS) experts deliver the results of our conservation assessments in the form of maps, reports, and decision support tools.
---
Conservation Portfolio and CSI
TU developed the Conservation Success Index (CSI) in 2010 to provide the first range-wide summary of watershed-scale information related to salmonid distribution, population attributes, habitat conditions, and future threats. The CSI approach has evolved into the Conservation Portfolio, which further evaluates populations based on their resiliency in the face of environmental disturbances, identifying key conservation actions for ensuring their long-term persistence.
---
Watershed and multi-species assessment
We work with our conservation partners to identify areas where protection and restoration can benefit not only trout and salmon, but also other fish and aquatic species. By evaluating the broader conservation benefits of our work, TU can build support for our work with a wide array of partners.
---
Decision support tools
Web-based map and data visualizations take map content beyond paper cartography and data beyond figures and tables. TU scientists build these tools to help share data, put information in the hands of decision makers, and convey the motivation and results of TU's work.
---
Recovery planning and risk assessment
Several species, subspecies, and stocks of native trout and salmon are listed as Threatened or Endangered under the Endangered Species Act. TU Scientists have worked with the recovery teams of various species to help bring science-based solutions to guide the recovery planning for native trout and salmon.