By Steve Moyer
Our Trout Unlimited family lost one of its finest leaders with the passing of Maryland's Jim Gracie on Feb. 20 in Annapolis.    
Jim will long be remembered and appreciated for his outstanding volunteer leadership, having served in virtually every major volunteer role, from TU chapter president to president of TU's national Board.
Jim's home area of Baltimore and surrounding Maryland environs might seem like an unlikely place for spawning a TU giant to those who don't know the Charm City or the Free State.  The truth is, that it is a perfect place.   
Aquatic resources — crabs, stripers, the Chesapeake Bay, and trout — are in the bloodstreams of Maryland communities. Whenever I spoke to Jim, who loved to talk about all these resources, it was very clear that they inspired him to be a forceful TU leader. 
Jim's service to TU not only included the critical task of leading TU volunteers at local, state and national levels, he got some amazing things accomplished on the ground in Baltimore, as noted in a column by the Baltimore Sun's Dan Rodericks.
Among many other things he started the City Catch program in the 1970s, teaching kids, many of whom were first-time anglers, how to fish and about aquatic conservation.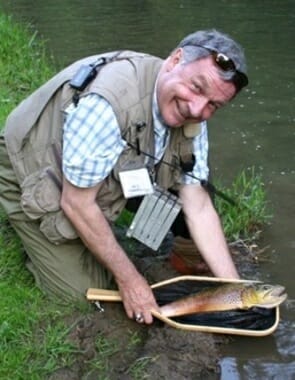 Jim was the driving force behind sensitive negotiations with another Maryland giant, then Baltimore Mayor Donald Schaefer, who would eventually become the Maryland Governor. The effort led to the development of an amazing trout fishery on the Gunpowder River.
A flow regime was established on the river, which is impounded by two dams and serves as a major drinking water supply for Baltimore. The Gunpowder now sustains one of the nation's best urban trout fisheries on a lovely stretch, not far from downtown Baltimore.
Jim's environmental consulting business led him to become a prominent expert on the Clean Water Act and other environmental laws. Jim used this expertise to enable TU's environmental policy advocacy to flourish. He helped me think through many vexing Clean Water Act issues in the 1990s as TU, Congress and the EPA grappled with major challenges to make the Act work effectively.
TU has had the good fortune to grow and prosper since our founding in 1959. At a critical time on this path, the 1970s through the present, Jim was on hand when we needed him the most to guide TU up to the next level of effectiveness.
Let us all join in raising a glass in love and appreciation for the life of Jim Gracie.
Steve Moyer is Trout Unlimited's vice president for government affairs.