[et_pb_section][et_pb_row][et_pb_column type="4_4″][et_pb_text]
By Paul Parson
Coldwater conservation efforts benefit more than trout and anglers. Trout Unlimited focuses on how conservation efforts will best benefit ecosystems and the fish that live in them, while also providing long-term economic benefits.
More often than not, we rely on local companies to do the heavy lifting, and that means the local economy gets a boost.
This spring, as Congress considers infrastructure investments to stimulate the economy amid the coronavirus pandemic, they can look to organizations like TU for evidence that conservation work is a good option. Multi-benefit projects and natural infrastructure solutions like flood protection for coastal communities, water quality improvements for impaired water bodies, and drought resilience for the West take local expertise and muscle to be completed.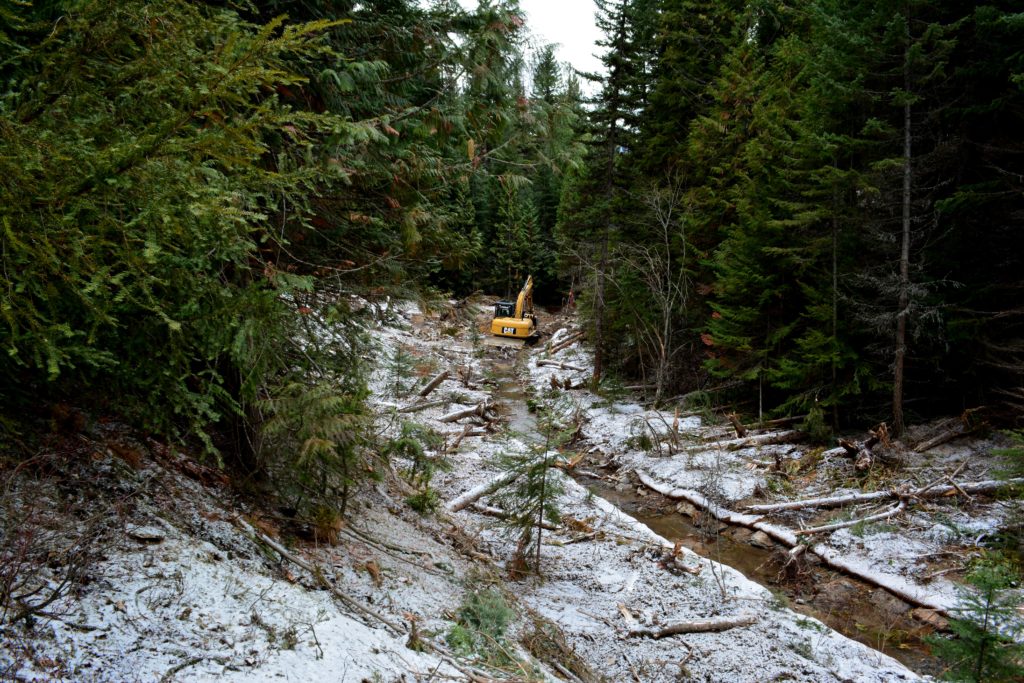 I work in the Clark Fork River watershed in rural western Montana, where TU is collaborating with the U.S. Forest Service and state agencies to restore streams damaged by historic mining practices.
In 2013, I met a small businessman named Darin Haskins in the town of Superior, a timber and mining town an hour northwest of Missoula along the banks of the Clark Fork in the steep mountainous terrain of western Montana. Darin has lived in Mineral County all his life, and is the owner/operator of Haskins Excavating.
Darin and I became close colleagues and fast friends. He and I both grew up in small towns in the mountains of western Montana, and we shared similar passions: hunting, fishing, and spending time outdoors. Over the past seven years, we have worked together with an array of partners and local businesses on 16 projects, leveraging federal investments with state and private dollars to restore streams, clean up damage from abandoned mines, and install fish screens.
Mineral County is an amazing and unique landscape with clear streams, timbered mountains and very few people. But the ability of local government to provide services is difficult, because rural Montana communities like these have such small tax bases. In Superior, as with many western timber towns, the local timber mill has been shuttered, leaving the local economy without industry.
TU taps into the county's skilled workforce by hiring local contractors.
For one recent project to restore a section of Cedar Creek in Lolo National Forest, 96 percent of the $486,033 budget went to local firms, who put a dozen people to work on the job. All fuel, grass seed, and road gravel were purchased locally.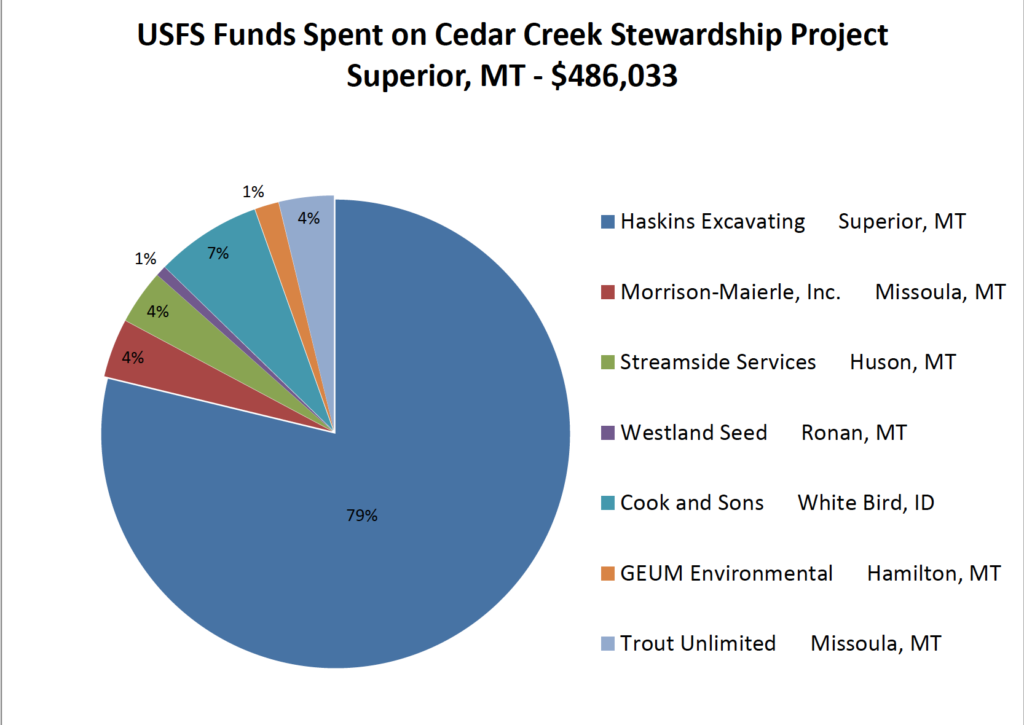 Haskins Excavating has become one of our go-to contractors. Darin utilizes a unique skillset he learned from years of handling logs in the mountains to build the most beautifully complex log structures in our streams. He has now constructed hundreds of large wood structures for Trout Unlimited projects and continues to amaze me with his vision and artistically built habitat.
Our story is not unique at TU. Across the country, many of my colleagues are doing much the same in their local communities, putting engineers, equipment operators, laborers, truck drivers, technicians, and labs to work conserving their waters.
TU has leveraged federal investments to work on abandoned mine runoff in Colorado, Montana and Pennsylvania, to restore the Rogue River in Michigan, and to help agricultural producers address runoff and irrigation issues across the country. We don't lack for shovel-ready projects in places like Colorado, Montana, Idaho, Utah, Michigan and West Virginia.
One concrete way Congress can help this spring is by passing the bipartisan Local Water Improvement Act bill (HR 1331), which would reauthorize Section 319 grant funding at $200 million annually through 2024.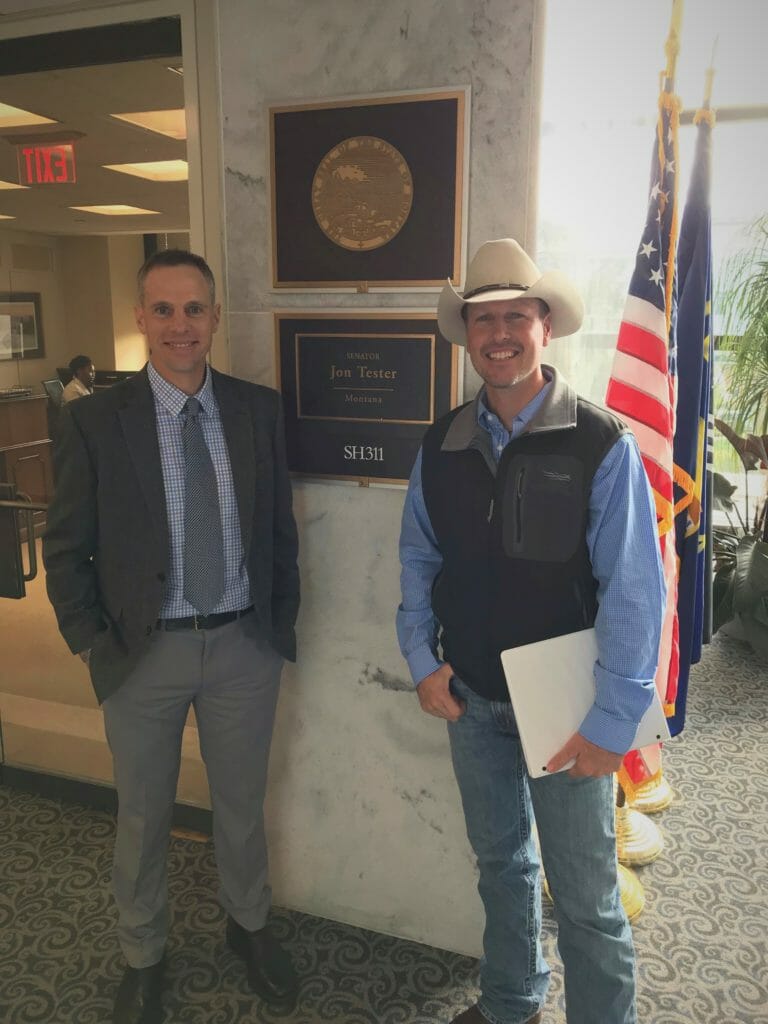 TU has used this funding source to complete many projects like ours in Montana, and many others around the country. The program supports restoration on waters impaired by nonpoint source pollution like sediment, nutrients and abandoned mine drainage. We leverage these federal dollars 1:1 with state and local funding. Approximately 80 percent of project funds are utilized to fund local consultants, contractors and suppliers.
These projects are critical not only to the environment, but also for local communities and their small businesses, workers, and families.
Paul Parson is Trout Unlimited's Clark Fork Restoration coordinator in Montana.
[/et_pb_text][/et_pb_column][/et_pb_row][/et_pb_section]