Trout Unlimited this week unveiled its new double-lined face coverings designed to be worn by anglers who fish with and alongside others as the COVID-19 pandemic continues to impact the nation.
The coverings resemble cut-down face gaiters often worn for sun protection, and while they may certainly provide some ultraviolet relief, the face coverings are primarily designed to reduce the potential for transmission of the virus that causes COVID-19. They are not medical grade, rather they are akin to the masks we've been asked to wear to the grocery store and other public places. The coverings are double lined over the nose and mouth portion and can be easily lifted and dropped depending on the circumstances anglers face on the water. They can also be worn for everyday use — they're not just for fishing.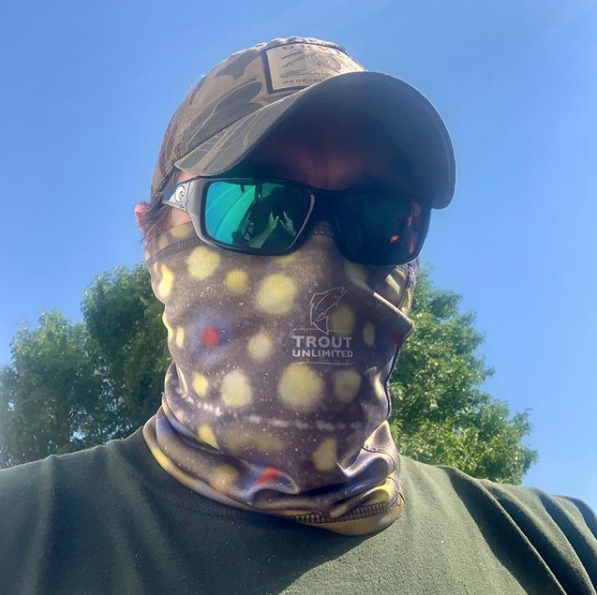 The coverings come in packs of three, featuring brook, brown and rainbow trout prints designed by artist Al Quattrocchi. They are available at www.tu.org/masks for a donation of $37.50, which includes shipping and handling.
Ever since the pandemic started impacting the lives of everyday Americans late last winter, TU has encouraged anglers to be a part of the #ResponsibleRecreation movement, and take all necessary precautions to avoid spreading the disease when fishing. In addition to wearing face coverings while in close proximity to other anglers (while in a boat, for instance), TU has asked anglers to:
Travel to the river separately to fish with friends, particularly if they plan to fish with people who are not part of their immediate household.
Stay a "rod-length apart" from other anglers when at all possible.
Wash and sanitize their hands frequently.
Avoid physical contact with other anglers, like high-fives, handshakes, fist-bumps, etc.
Fish close to home to avoid introducing COVID-19 to small, rural communities that may lack the necessary infrastructure to deal with an outbreak.
"We care about our members and about the angling community," said Kirk Deeter, vice president of TU's media department, and the editor of TROUT Magazine. "We want everyone who wants to go fishing to be able to do so, but we want them all to be smart about it, too. Covering your nose and mouth is just one thing we can all do to slow the spread of this virus. If we're being considerate by wearing masks, why not also show our affinity for the sport we love, on the water or off?"