/wp-content/uploads/2019/05/blog/New-Website.JPG
In the coming days, Trout Unlimited will be unveiling our new website – a site that captures the passion we all feel about conservation, fishing and protecting the places we love. It makes it faster, easier, and more exciting to learn how you and TU are making a difference, and connect with other
s who share your love of our mission and our sport.
While the website is changing, the Leaders Only tools you all use will still be there for you 24/7 in the same format they've always been.
But… logging in to access them will be slightly different, as there will no longer be a "My TU" button in the upper right corner of the new website.
To login to the Leaders Only Tools once the new website launches, you have two options:
Go to https://login.tu.org
Go to www.tu.org, scroll to the bottom, click the green "Volunteer Leader Login" button
Once there, you'll be asked to enter the same username and password you have always used to enter the Leaders Only Tools section and access resources such as chapter rosters, member change reports, the free bulk email tool and much more.
If you have any problems logging in to your leaders account, please email Nick Halle and he will get you squared away.
"It's in the Tacklebox!" – New Look, Mobile-Friendly Feel to the Resources You've Always Used
Tacklebox image.jpg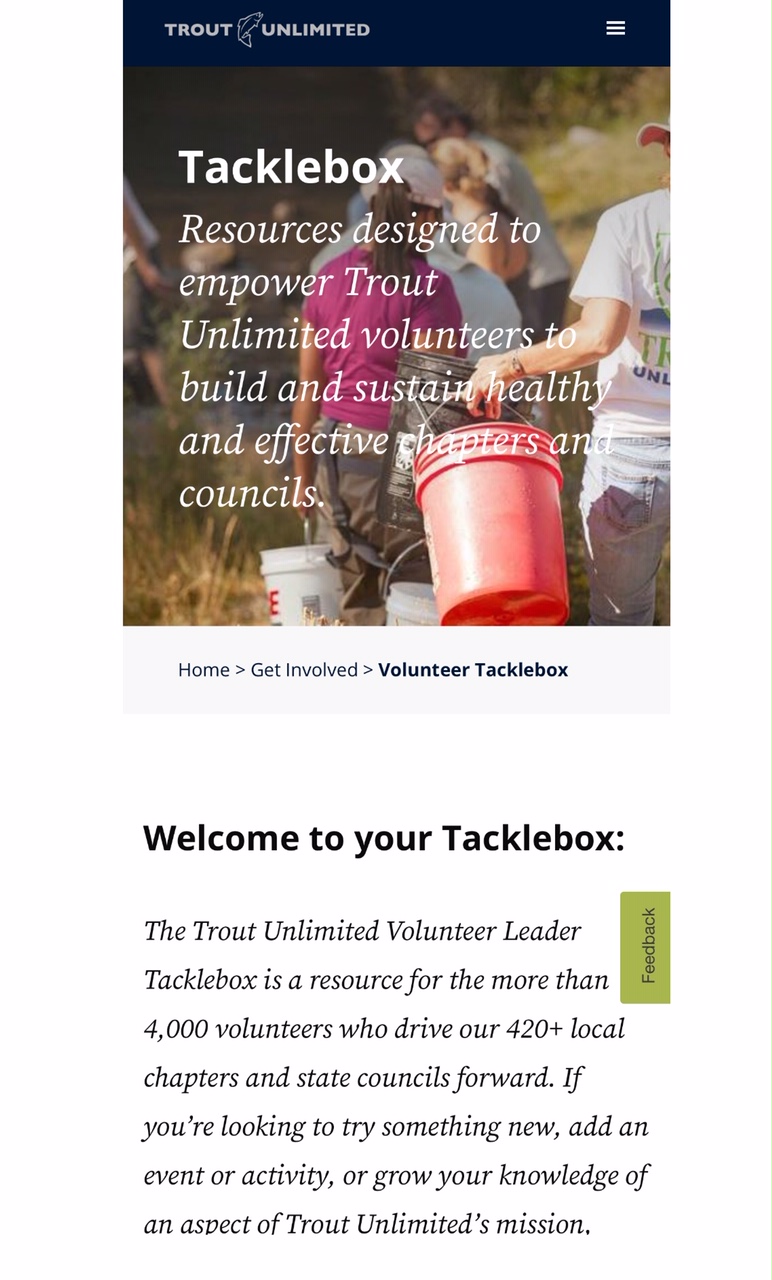 While the Leaders Only tools section won;t be changing, you're definitely going to see a new, fresh, and vibrant Tacklebox – the compendium of resources, how to's, guides, best practices, and more that you have always relied on to drive your chapter's growth.
You don't even need to be logged in to use the Tacklebox, just go to www.tu.org/tacklebox, or from the website navigate to "Get Involved" and choose the "Volunteer Tacklebox" from the drop-down menu.
Whether you need resources to recruit and engage members, a guide on local fundraising options, conservation project planning help, or information on youth, veterans, diversity and other programs, "It's in the Tacklebox!"
To make it easier to find what you're looking for, we also have some great short links to get you there faster, including:
If you need further help, are looking to connect and talk through your ideas, opportunities, or challenges, or can't find the resource you are looking for, you'll find the contact information for your Volunteer Operations Staff right there in the Tacklebox too!