I was around 8 or 9 when I last participated in a fishing derby. Whenever we had a big runoff and the city let the Santa Fe River run, Game and Fish would make some pools with sandbags and dump in a few loads of stockers.
The river was just a block away from my house, giving me a chance to just roll out of bed and walk to a fishing hole out my back door. No begging Dad to take me north to my grandparents' house in Taos. No scavving rides from the couple of his friends who fished. I was Huck Finn, the master of my own destiny. 
I, and every other kid in town, their parents, grandparents, and their dogs. Even bank full, the Santa Fe is narrow enough to allow fishers on opposite banks to sword fight across the water, which is basically what happened when any of the throng hooked a fish. Total mayhem, more lines in the water than fish (of which there were oodles), kids digging in the park grass to refresh their family's worm supplies, that smell of Balls O' Fire wafting in the air. 
We went through this hell because we'd win a prize if we caught a fish with a blue tag in it, hooks, lures, maybe a Zebco 202 reel or an Eagle Claw rod. Plus, we were fishing, so it wasn't actually hell we were going through, but heaven.
The fishing world has changed a lot since then. Bobbers have become "strike indicators," nymphing has become "Euro-nymphing," and many of our dry flies have less in common with the patterns of yore than they do with Nerf balls. Fiberglass rods have turned to graphite (and back), and the bullseyes on the former Soviet Union not only mark targets for MX missiles, but wealthy trout and salmon anglers.  
One thing that hasn't changed, though, is the good old fishing derby, getting your family outdoors with a chance of getting paid.
Questa, N.M.'s 2019 fishing derby took place at Eagle Rock Lake, an old borrow pit that Chevron Mining Inc. rehabbed into one of New Mexico's most popular small fishing lakes in 2014. Out of 84 contestants this year, Rachel Benavidez took home the $1,000 grand prize with her 18.75 inch rainbow, while juniors Hagen Harper of Amarillo, Texas (18.5 incher), Izziah Gonzales of Questa (17.5 incher), and Juan Duran of Las Vegas, N.M., (16 incher) won 100, 50, and 30 bucks respectively in the junior category.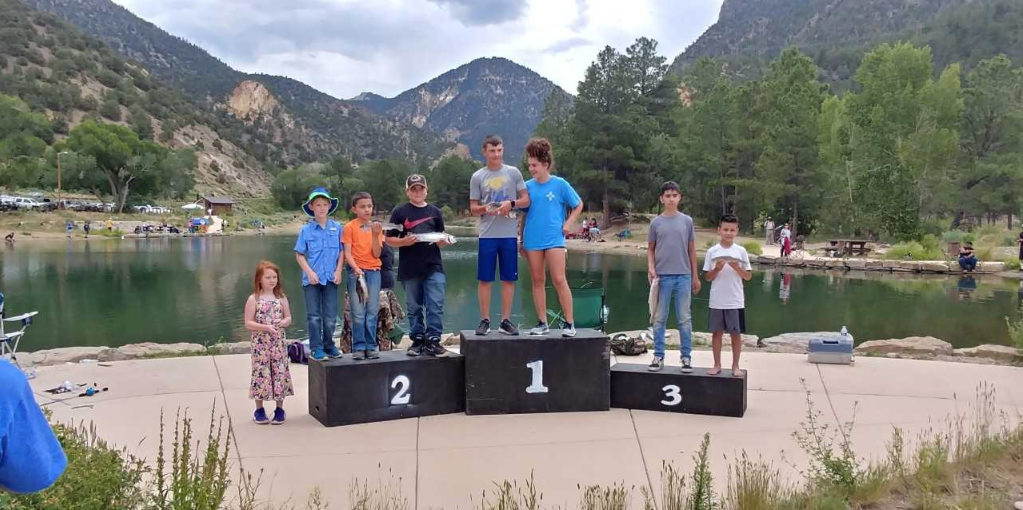 For good reason, the Questa Economic Development Fund Board sponsored the event. Anglers attracted by fishing derbies spend money on things: coffee at Cynthia Rael's store, burgers at the Wildcat's Den, and Powerbait at Questa Lumber. Maybe I'm thinking too much about this, but at least in Questa's case, a derby reminds a town that fishing is of its fabric. 
But why would Questa need to be reminded that it fishes?
The village is ground zero amid New Mexico's most productive and storied fisheries. The Rio Grande del Norte National Monument harbors more big brown and wild rainbow water than a person could fish in a lifetime. The Rio Costilla/Comanche Creek watershed is the largest contiguous Rio Grande cutthroat trout habitat left on earth. There's the Red River, Columbine Creek and countless southern Colorado streams and lakes within a couple hours drive. Couldn't Questa just continue to exist among all that and pretend that life is the same as it has always been? 
As dependent as the town's economy has been on the nearby molybdenum mine that operated for almost a hundred years before closing permanently in 2014, it's impossible to pretend that many of Questa's other routines, like fishing and hunting, haven't changed as well.
What Questenos used to do for simple fun and food must now be valued in cash. A crude way to put it, but I've never heard an argument that a village need not replace a departed economic driver with something else. 
Questa isn't the first rural town challenged with replacing or diversifying an extraction-based economy, and it's certainly not the last. Fortunately, recreation is fun and good for business, not to mention relatively easy to develop.  
See a holiday on the calendar? Put a fishing derby on it, or a fly fishing tournament, a fun run, pumpkin festival. Questa also throws its annual Cambalache in the fall, an occasion for folks to torch their pains and grievances, consume home-grown comestibles, music, and games, and reacquaint with each other and themselves.
From a distance, these events appear economically motivated, which they are and so what? But in substance they represent a place's pride in itself and a reminder to a town's people that they could live nowhere else. 
Toner Mitchell is the water and habitat coordinator for Trout Unlimited in New Mexico. He lives and works in Sant Fe.