An angler no longer asks himself, 'Why do we fish?'
My grandfather was a fishing fool. He lived down the Jersey Shore and would fish for bluefish or whatever else was running whenever he could. The fishing gene didn't really pass to Dad. He was too busy playing hoops to ever really get into angling.
Yet, some of my fondest memories are of being with my brothers, Dad, and Grandad fishing from a rowboat with bait for sea robins, weakfish, fluke, or whatever else would come along. I don't recall that we ever caught much, but I do know that salami sandwiches cut with a bait knife never tasted so good.
My friend Mark Carlquist and I fish nearly every year in Bristol Bay. Below he tells a moving Father's Day story below that helps to answer the question "why do we fish?" Happy Father's Day! — Chris Wood
---
I had sometimes brought up the topic of "why do we fish?" with my cousin Steve. My hypothesis was that it is some deep-seated, hunter-gatherer trait embedded in our DNA. Steve's counter was that we just like it and do not overthink it.
An experience that my wife, Kathy, and I had a couple of summers ago explains why I no longer ask any questions regarding why we fish.
We had gone to Glacier National Park with Kathy's cousin and her husband. Kathy grew up with her cousin and continues to have an obvious connection with her.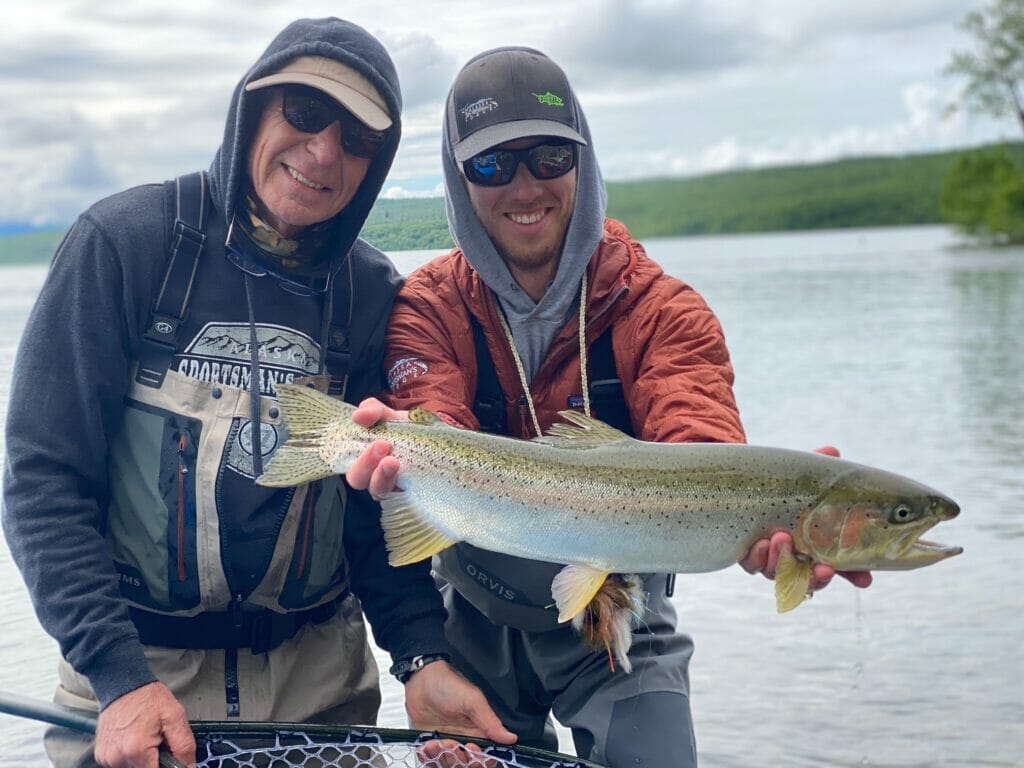 Just before we left, the cousins learned that their daughter, who was entering her ninth month of pregnancy, got the worst possible news imaginable about the health of their soon-to-be-born grandbaby. Kathy and I thought that they would cancel, but fortunately they decided against it as staying home would do no good.
Believe it or not, I had scheduled an all-day fishing trip on Sunday (Father's Day and a cousin's birthday) on the Flathead River. We made the 2 ½ hour trip around the park and met up with our guides. It had been a late spring and the float was half white-water rafting and the other half fishing when we were able to find some soft water. Late in the morning Kathy started to hook up. I then followed suit landing a few cutthroat trout. The afternoon got progressively better for us.
The cousins had not fly fished before, but they were working hard. Their raft was always nearby and our guides were constantly talking about flies we were using, etc. Unfortunately, our cousins did not have a tap the entire day. By the time we got to the pullout, I felt awful as spending the entire day fly fishing was my brainchild. (This was a four-day trip to a favorite national park, not a fishing trip).
However, the first thing Kathy's cousin said as she stepped out of their raft was, "It sure would have been great to catch a fish, but what a lovely day."
She said it in a way that was heartfelt and genuine. I almost cried with happiness. The focus associated with making a cast, a good mend leading to a good drift, and then recasting was freedom from the dark cloud that had been over them. Being on a beautiful river might have also come into play. In my view, it was pure magic. I no longer question why we fish, ever.
The best part of the story: A couple of weeks later I was in my office and got a message from Kathy that cousins' grandbaby was born perfectly healthy. The doctors had blown the diagnosis. I did cry with happiness then.