We care about clean water, healthy fisheries and vibrant communities. We roll up our sleeves to volunteer, we sit on our boards, and we strategize as members and leaders of staff. We want you to join us.  For a discounted first-time membership, click here: https://gifts.tu.org/we-are-tu
The aim of this blog series is to highlight our friends, in hopes of making many new friends of broad stripes. In this series you'll meet people of diverse communities – our good ideas, what we have in common, and where we differ. Know someone we should feature? Nominate them here.
Since it's not possible to sit down and have coffee or spend an afternoon on the river to show you what we're up to, a blog post will have to do. As you read, we hope you'll consider joining us. We need your ideas to help make a bigger impact.  
Together, we'll help protect the special places we love.  
Heidi's nomination talked about her many hours volunteering, including starting the Utah Women Flyfishers group in Salt Lake City and serving as the Diversity Initiative Leader for the Utah Council of Trout Unlimited. She has also gone all the way to Washington, D.C., with TU to talk to members of congress about issues she is concerned about that impact fishing and her family — namely the Utah Roadless Rule.
In keeping with our ongoing equity practice, the "We are TU" series is focusing more directly on the need to foster a more equitable, diverse and inclusive fishing and conservation community. We have updated the questions as such. If we are to protect, conserve and restore our rivers and streams, we will need all voices at the table and all hands on deck.
Introducing Heidi Lewis (@heidiaqua on Instagram and heidiaqua [at] gmail.com)
Giving back means, helping someone with their cast, sharing a fly on the water, or picking up some trash on the river.

Heidi Lewis
What is your hometown and current town? Kenosha, Wisc., and Salt Lake City, Utah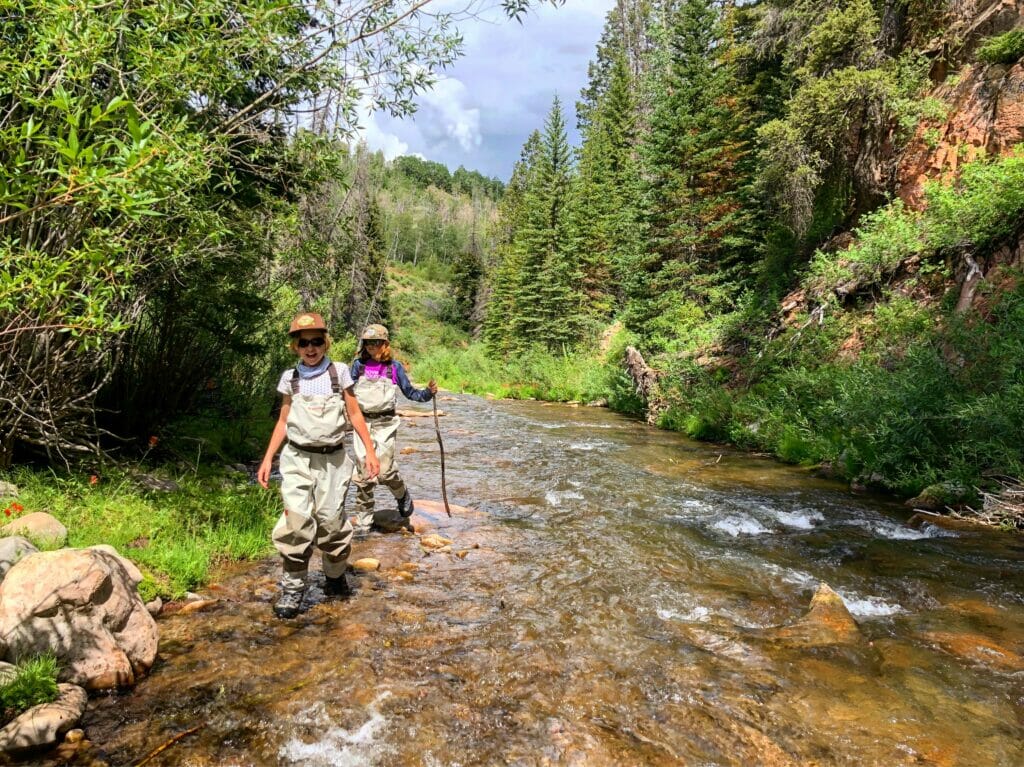 What is your history with conservation? When I first started flyfishing in 2012, I came across some information for a willow planting (I still can't remember how I found this) on one of our local rivers. It happened to include TU. I was excited to get my hands dirty and see a new river I hadn't fished before. Little did I know it would be the start of my involvement with TU. The people I met that day changed the course. They were passionate about the project and their local river. I still see those TU people to this day. I can't always get to all the activities that I want but have helped with river clean ups, more willow plantings, and spreading the word on different activities put on by TU and other organizations locally. In 2019 I was able to visit the headquarters of TU in Arlington, and be the voice for TU and the average angler/family in Utah that enjoys roadless areas and why we should fight for them. I am a proponent of river access and public lands for all to use.
What is your history with fishing? I started fishing with worms for sunfish when I was 2. Just a stick and a line. I continued to fish with worms and some lures until I saw a Fly Fishing Film Tour show with my husband in 2012 and thought, "This looks super fun." I was also in a place in my life where I was open to a new activity I could do outside and also alone since my children were small and mom needed some alone time for a few hours here and there. I took every class my local fly shop had to offer and spent (still do) at least one day a week on the water learning/fishing. I was hooked from the beginning and quite frankly fell in love with it. I think if you don't truly love fly fishing you won't make time for it and therefore the leaning curve will be more steep. It takes time to put all the puzzle pieces together and it's not easy. That is also why I adore the sport.
Describe one challenge you face and how do you overcome it. Women in fly fishing are nothing new but, we are still the minority. Many women have been treated poorly in the community and have not been taken seriously. I want to show that women can fish hard and can have a knowledgeable conversation involving fly fishing. We have an important voice to bring to the table because we enjoy getting outside with our families (and alone) and think protecting habitat is important. Social media is an easy way to show this by sharing photos but I also love to share the sport with women. Something as simple as putting together a local fishing trip or holding meetings to learn a new fly fishing skill together has been fun and rewarding! I love to share the stoke!
What does 'giving back' mean to you? I have had some great fly fishing mentors and I'm not sure where I'd be as an angler without them. Giving back means, helping someone with their cast, sharing a fly on the water, or picking up some trash on the river. Also, I've been able to enjoy so much water because people before me have protected it. If they didn't care I may not have been able to fish where I have. I want my children to have this experience. Conservation is so important for that reason and therefore I feel the need to do what I can to keep our waters healthy and accessible.
Describe a perfect day. The prefect day would be to have no time constraints on the fishing day and find rising fish to fish to. Pretty simple.
When was the last time you thought, "Dang, I'm pretty awesome"? Anytime I can catch a fish on my own tied fly is a good day. But I also take pride in trying to catch that one fish for an hour or as long as it takes to figure out what it's eating and what kind of presentation it prefers. Anyone should feel pretty awesome for catching a fish on the fly because it's hard.
What's one of your quirks? I never tie on my flies at the car. I wait until I'm riverside or lakeside. I want to stay open to the day and have a fresh view of what nature is up to not to assume I know everything. It keeps me humble in a sense and present.
What do you want to see in the future of Trout Unlimited or in conservation? I would love to see good river access here in Utah. Right now land owners own the river bottom in Utah. It makes for crowded rivers. Also, public land is a right enjoyed by every American. We need to support keeping public lands open and public. I would also love to see the continuation of women and people of color being passionate in fly fishing and conservation. I hope TU stays involved on the legislative level also. Clean water is key.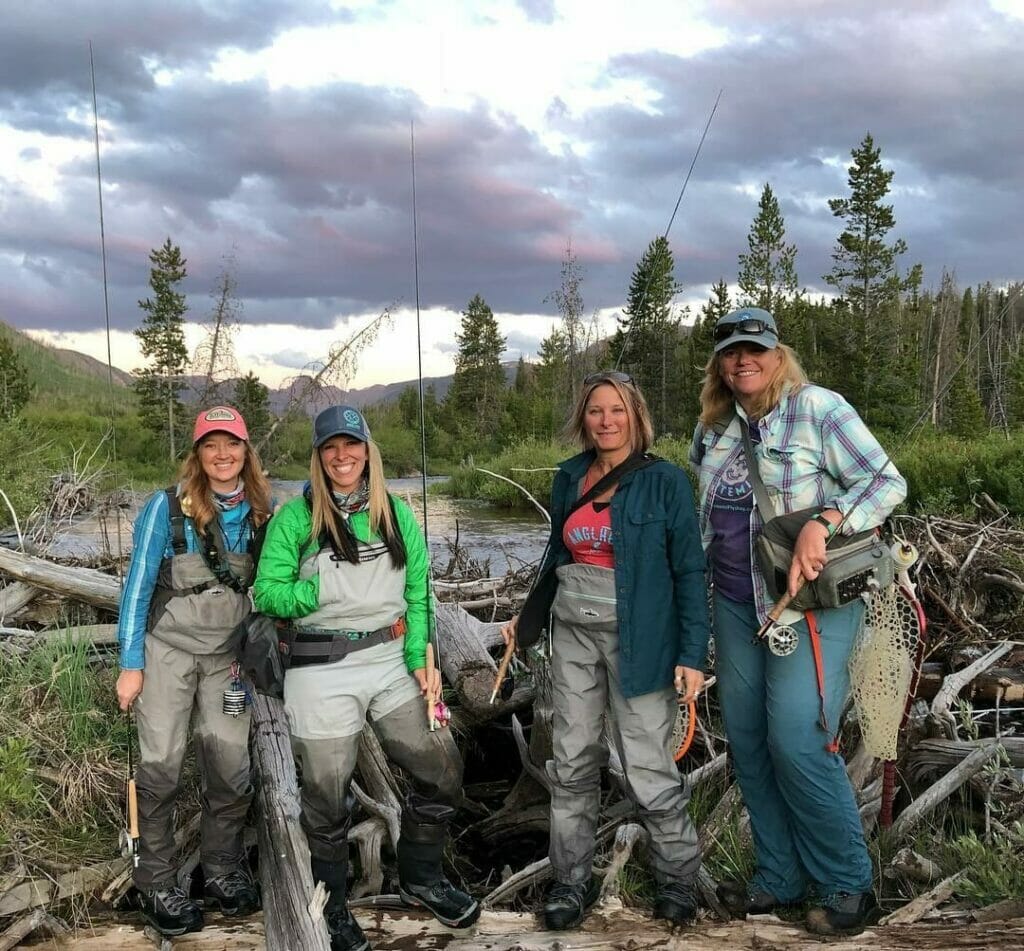 What is an example of something awesome you've seen that helps make conservation or fishing more inclusive to new groups of people? There are a lot of conversations happening on and off of social media with the Confluence Collective and United Women on the Fly groups about diversity. That's the start. The discussion is a lot about our own biases and why that is. There is also a desire from all ethnic groups to show more diversity in advertisement and angling. Sharing images of people of color angling is a start. United Women on the Fly does this best I think. All color and sizes of people are featured in their social presence. We need to keep this momentum going just like we have for women in fly fishing.
From raising money to raising hell to prevent destruction to local waters they will continue to make their voices heard.

Heidi, on the people she admires
Name a person you admire. Why do you admire them? I couldn't just pick one. So to name a few: Steve Schmidt, Wes Johnson, Brett Prettyman, Paul Burnett.
These people do and have done more for our local Utah waters than anyone I know. From raising money to raising hell to prevent destruction to local waters they will continue to make their voices heard. They have all made an impact in my life seeing their expertise to getting local waters protected in various ways. They have all been a mentor to me in either conservation or being a responsible angler.
Why Trout Unlimited? I can really appreciate TU's willingness to work with land owners on restoration and maintaining good flows for habitat. Restoration is so important in public lands but also on private lands. It's all connected of course. But it's not just restoration, TU has an amazing Trout in the Classroom program! Captivating kids with conservation and the natural world it key to our survival. TU has a wide range of programs that I believe, anyone can find passion in.
If you want to join Heidi and grow the community and work of Trout Unlimited, we encourage you to join us! For a discounted first-time membership, click here: https://gifts.tu.org/we-are-tu