We care about clean water, healthy fisheries and vibrant communities. We roll up our sleeves to volunteer, we sit on our boards, and we strategize as members and leaders of staff. We want you to join us.  For a discounted first-time membership, click here: https://gifts.tu.org/we-are-tu
The aim of this blog series is to highlight our friends, in hopes of making many new friends of broad stripes. In this series you'll meet people of diverse communities – our good ideas, what we have in common, and where we differ. Know someone we should feature? Nominate them here.
Since it's not possible to sit down and have coffee or spend an afternoon on the river to show you what we're up to, a blog post will have to do. As you read, we hope you'll consider joining us. We need your ideas to help make a bigger impact.  
Together, we'll help protect the special places we love.  
Note: In keeping with our ongoing equity practice, the "We are TU" series is focusing more directly on the need to foster a more equitable, diverse and inclusive fishing and conservation community. We have updated the questions as such. If we are to protect, conserve and restore our rivers and streams, we will need all voices at the table and all hands on deck
Jacob's nomination said, "Jacob is the perfect example of how someone's passion and love for fly fishing and the outdoors led him to his career dedicated to conserving our resources. He is currently a New York Project Coordinator that is working on the Battenkill Home Rivers Initiative."
Introducing: Jacob Fetterman (Facebook – @TUBattenkillHRI or email: Jacob.Fetterman [at] tu.org)
What's your hometown and current town? I grew up in Sugarloaf, Pa. I now live in Hudson Falls, N.Y.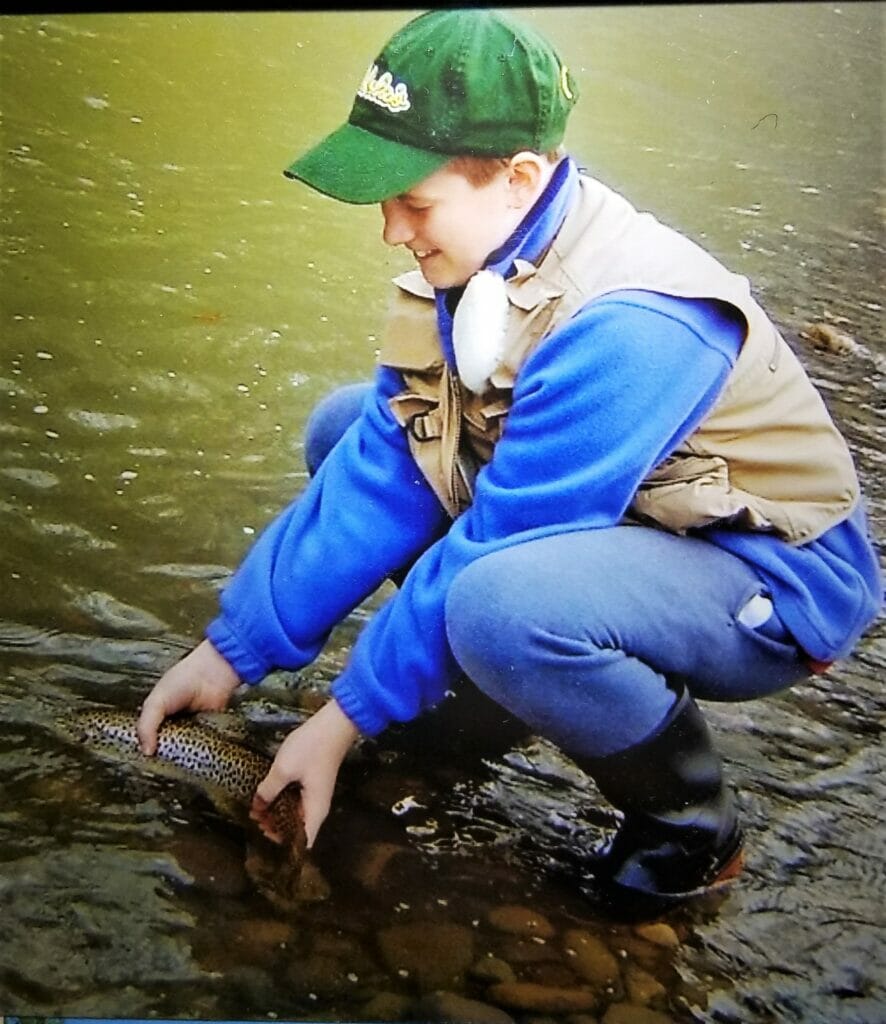 What's your history with conservation?  Growing up enjoying the outdoors, I naturally found myself drawn to a career in conservation (in the middle of my freshman year of college). After that it was one excellent experience after another. My professors at Lock Haven University helped me realize my passion for fisheries and ecosystem management. Internships with the Clinton County Conservation District and Trout Unlimited made my desire to conserve native fish populations even clearer. I did go on to obtain a Master of Science in Fisheries Management from Louisiana State University and knew the whole time I wanted to make my way back to work for Trout Unlimited, serving their mission.
I hope to see more national support for conservation and less of a divide based simply on political party. We have one planet, and it will take everyone on board to make sure we keep it inhabitable.

Jacob Fetterman
Briefly, what is your history with fishing?  I grew up fishing with my dad (a big part of what drew me to conservation). Probably soon after I could walk, he had a rod in my hand. Mostly we fished small headwater streams throughout Northeastern Pennsylvania. My transition to fly-fishing was at age 14, when we had to prepare for fly-fishing on the Snake River on a family vacation to Yellowstone. Since then, I have been an avid fly-fisherman (at least for trout).
Describe one challenge you face & how do you overcome it.  Things have really been put into perspective for me recently, with COVID-19 sweeping the nation. Sure, it has created its challenges for me, but I feel very lucky to still have my job (which I absolutely love).
If I have to choose something, I guess the biggest challenge I face is trying to convince people of varying backgrounds and levels of education that conservation of natural resources is more important than things like having a view of the river from your back window or farming that extra 30 ft right next to the stream. I find having conversations and educating landowners on what the best available science says often helps me overcome this challenge.
What does 'giving back' mean to you?  To me, 'giving back' means reciprocity or something that represents supporting those that support you. For example, everyone benefits from the planet and its natural resources. Thus, I believe 'giving back' means doing our part to ensure it is left as good or better than we found it.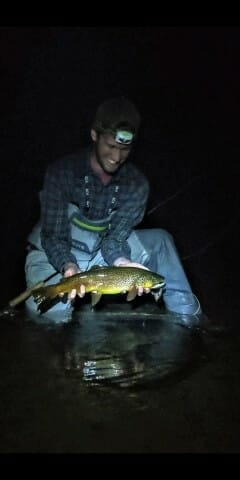 What's your favorite book and why?  My favorite book is probably "Believe It: My Journey of Success, Failure, and Overcoming the Odds" by Nick Foles. Not only was this a great read because I could relive the Philadelphia Eagles first super bowl victory, but it contained many great lessons on hard work and persistence.
What's one of your quirks?  In a few ways I think I have some amount of OCD, one of them being unplugging batteries (phone, laptop, cordless drill, etc.) as soon as they reach 100%.
If you could give advice to your younger self, what advice would you give?  Live in the moment. Too often I feel like I was living for the future, wanting to jump right into that next endeavor, and forgot to cherish the memories I was making in the present. I've gotten better at this over the years but it is one thing that becomes increasingly apparent to me.
What do you want to see in the future of Trout Unlimited or in conservation? In Trout Unlimited, I hope to see our current efforts across the country sustained and support grown. I'd like to see increased involvement and support from younger generations (like mine, I'm 25). More broadly, I hope to see more national support for conservation and less of a divide based simply on political party. We have one planet, and it will take everyone on board to make sure we keep it inhabitable.
Can you think of a way your average TU member can show up as an ally to communities that are traditionally underrepresented in the fishing and conservation world? I think one of the best ways to be an ally to underrepresented communities is to start by engaging the youth in various fishing and conservation events. Teaching kids to fish, showing them macroinvertebrates, and simply getting them out in nature. Giving away an old rod that you barely use could truly make a kid's day (hopefully more) and start them on a path to not just feeling welcome but inspired. Inspired to make fishing and/or conservation a part of their life, one that should be lived fully without fear of differential treatment.
What is an example of something awesome you've seen that helps make conservation or fishing more inclusive to new groups of people?  I've seen many great fishing events to involve more people. Many of these events focus on engaging youth, veterans, women, and communities. In a lot of these cases, people have never fished before because they didn't grow up into it or have a mentor to show them the ropes. The power of taking someone out for a day of fishing is something that can have a profound effect on both parties.
Name a person you admire. Why do you admire them?  I'll be very honest here; in elementary school I wrote an essay about why my dad was my inspiration. To this day, my mom still brings it up… and rightfully so. I admire both of my parents more than I can state in this response, but mostly for their love and support in each and every one of my endeavors.
Why Trout Unlimited?   For so many reasons. I don't think there is an organization I would rather be a part of. All of TU's staff is so dedicated to our mission to conserve, protect and restore North America's coldwater fisheries and their watersheds. This is exactly the reason I decided to pursue a career in conservation, to make sure future generations could have the same outdoor opportunities that I grew up enjoying so much.
If you want to join Jacob and grow the community and work of Trout Unlimited, we encourage you to become a member! For a discounted first-time membership, click here: https://gifts.tu.org/we-are-tu