Jake Bliss serves as the president of his local Lackawanna Valley Chapter in Pennsylvania, the second consecutive chapter president under the age of 30. Prior to that he led his college Keystone Creekwalkers club, affiliated with the TU 5 Rivers Club program, and has consistently been an unabashed advocate for empowering more young leaders within TU.
Tell us your TU origin story. When, where, why and how did you get involved in Trout Unlimited?
I became involved with TU while attending Keystone College in La Plume, Pa., in January of 2015. Charles Charlesworth from Lackawanna Valley TU (LVTU) came to the college looking to start a 5 Rivers club, and my name was suggested to found the club because everyone knew I was an avid angler (I may or may not have worn waders to class on occasion). After I founded the "Keystone Creekwalkers," I was given a seat on the LVTU board of directors. After serving a year as a director I was elected vice president. A year later, our president stepped down and I assumed the role, which I currently hold.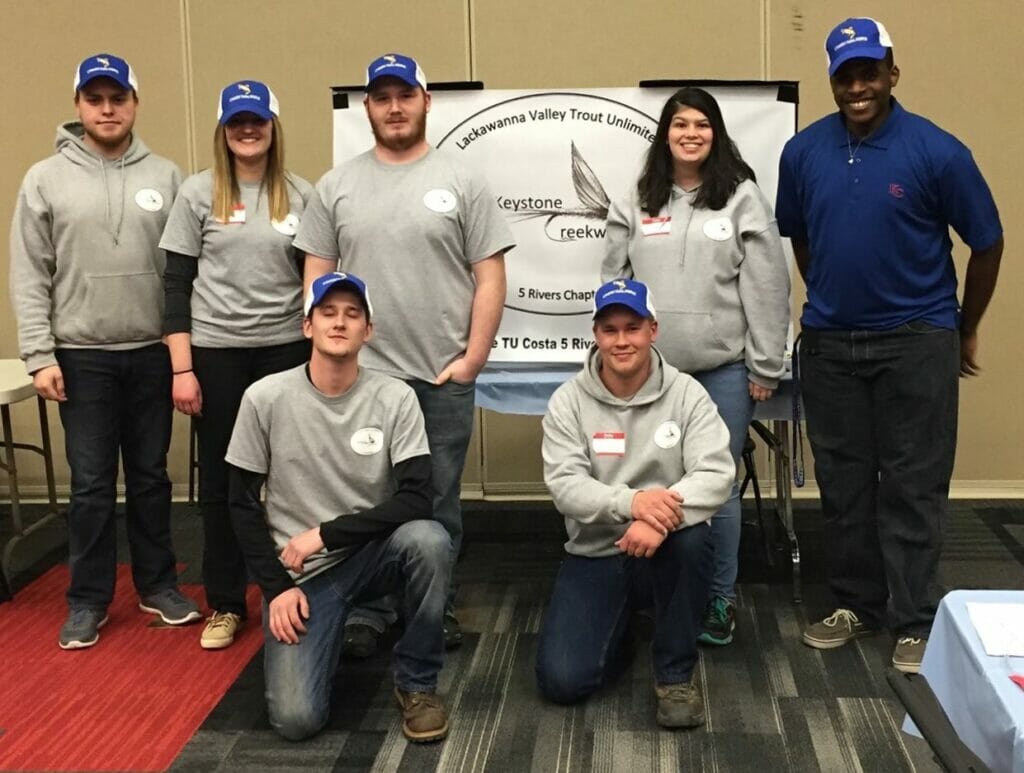 Why did you become more involved as a TU volunteer?
Prior to getting involved with TU, I mostly fished the Susquehanna river for warm-water species and stocked trout around the college. After becoming a board member and becoming more acquainted with the Lackawanna River, I fell in love with wild trout and the streams they inhabit. I quickly realized the peril many area streams were in, as well as the fact that many anglers in the area had become complacent with the state of those waterways. Since then I have focused on public outreach and organizing work days to improve those waters I adore.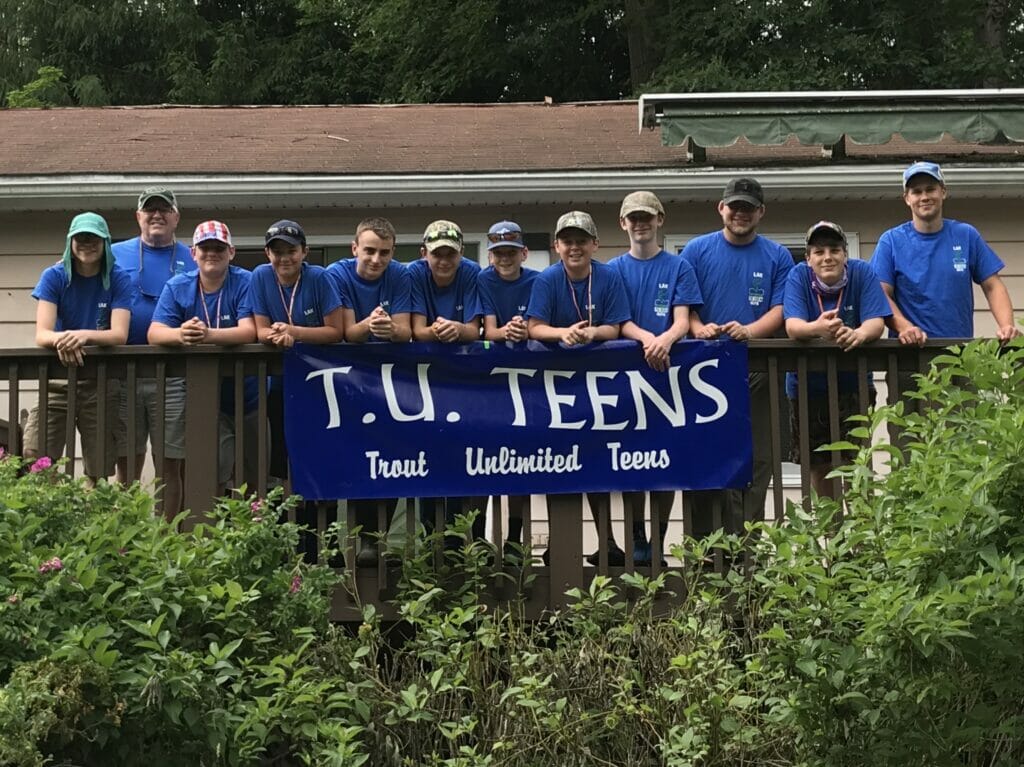 What has been the most rewarding part of volunteering with TU?
When you pile up bags of trash pulled from a river to be picked up and hauled to the landfill, or plant willows along an eroded streambank to stabilize it, or teach a young angler about how to catch that trout that has put them through the ringer, how can you not feel like king of the world? Surely we don't do any of it for the money. For me the most rewarding part of being a TU volunteer is the gratification of a job well done. That hot dog at the end of a workday may as well be a lobster when you're eating it with fellow volunteers, telling fish tales, laughing about mishaps during the day, and planning the next project. That feeling of accomplishment and
the allure of a new goal keeps me coming back for more.
What are you working on to change TU to help make it a more engaging, open, inclusive and diverse community?
Diversity is one of the main topics of our chapter. As a result, we have created several sub-organizations to address it. We have our women's initiative, the North East Pennsylvania Fly Girls, to get not just the wives and girlfriends of our members involved, but to reach out to all the
women of our area. Our LVTU Teens club allies middle- to high-school-age youth from multiple schools of all different backgrounds. Our 5 Rivers initiative, the Keystone Creekwalkers, brings together many Keystone College students from all over the country from all walks of life. We hold fishing days open to the public no matter the experience level of attendees or preference of fishing technique, stream cleanups open to anyone that can operate a pair of gloves and a trash bag, and our free annual Kids Fishing Derby at Lackawanna State park is always a big hit with families. There is always more that can be done, however. Stay tuned.
What has been your biggest struggle within TU and why have you continued your volunteerism with TU despite that challenge?
My biggest struggle has always been recruiting volunteers. This is the bane of many nonprofit organizations these days, and I sympathize. However, the quality of the volunteers I have has more than made up for the lack of quantity. Unfortunately we have lost some of those valuable volunteers to burnout; some of them were even board members, frustrated by the lack of participation from the membership. This challenge, while daunting, is a motivator for me instead of a deterrent. By continuing to volunteer I am leading by example, and when I speak to people about why I volunteer with TU, it is obvious that I enjoy it, and sometimes that's what encourages them to attend a work day.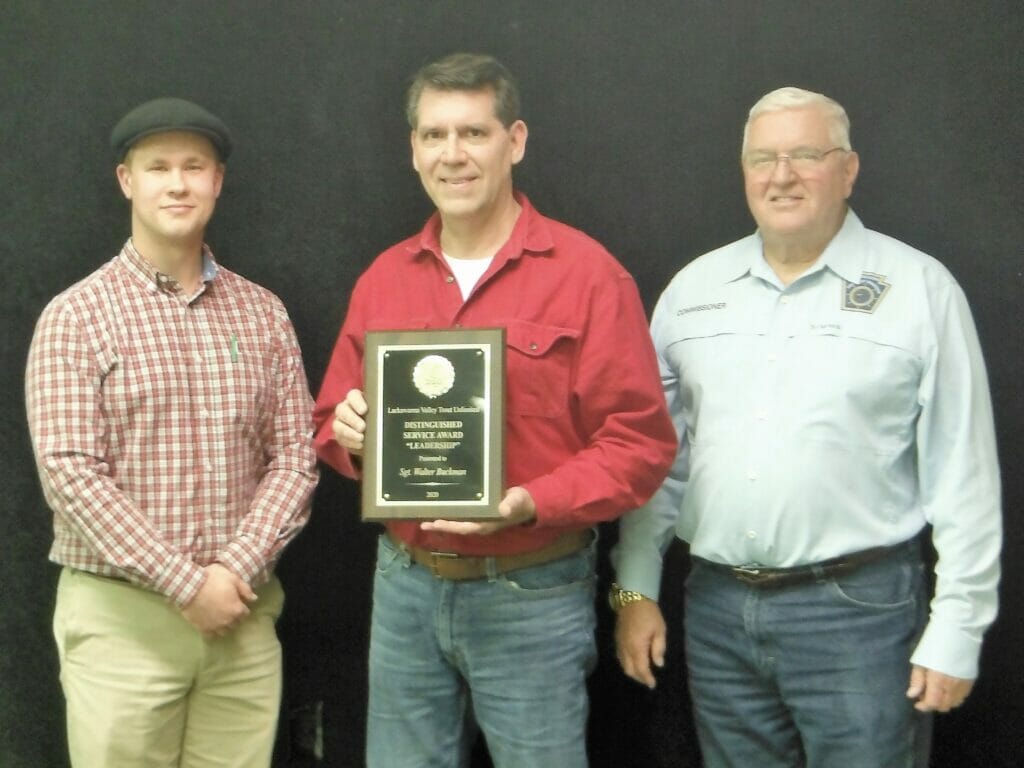 If you could paint a picture of what TU looks like in five years, what would we see?
If I was painting a picture of TU five years from now, it would be a picture of a hundred people, sitting on a stream bank soaking wet, covered in mud, stinking of perspiration, laughing together. Women and men, young and old, rich and poor, blue collar and white collar, and everyone in between, exhausted and exalted. Between each person a small tree stands defiantly, and behind that tree stands another tree, and another, fading off into the edges of the canvas. I can't draw or paint worth a damn, but one day I hope to create this picture so I may snap a photo, if only in my memory.
What advice would you give your younger self?
If I could give my younger self a bit of advice, it would be to fish more. Now, anyone who knew me in my school days would roll their eyes right now, and justifiably so, but I can't help but to look back on so many times I could have gone fishing and opted not to because of weather, time constraints, or some other nonsense. Had I definitively known that some day I would have to shave, tuck my shirt in, and work 8 to 4 every Monday through Friday, maybe I would have. If your young son or daughter wants to go fishing, or
hiking, or whatever else piques their interest, by all means encourage it! If you're a young person in college make sure you close the book once in a while and get outside when you can. You'll never remember your best day studying or watching TV, but maybe you'll look back and recall that big trout that made you late to Biology 2.
Is there anything else you'd like to share?
Please consider making a donation to your local TU chapter's youth program. Investing in our youth is investing in the future of cold, clean waters and the fish that inhabit them.
---
We Are TU features stories of the people and volunteers who care deeply about clean water, healthy fisheries and vibrant communities and roll up their sleeves to volunteer. Whether by leading local conservation or science efforts, connecting and collaborating with partners, inspiring youth, engaging with service members or advocating for change, they are on the front lines of our community and helping shape it as we grow and learn together.
Since it's not possible to sit down and have coffee or spend an afternoon on the river to show you what we're up to, a blog post will have to do. As you read, we hope you'll consider joining us as a volunteer. We need your ideas to help make a bigger impact. Learn some of the many ways you can bring TU's work to your community at www.tu.org/tacklebox and find your local chapter at www.tu.org/chaptersearch.