By Meghan Barker
Over the July 12th weekend, the Midnight Sun Fly Casters hosted the 23rd annual Howie Van Ness Memorial Kids Fly Fishing Camp at the Lost Lake Boy Scout Camp just outside of Fairbanks. With support from the Kinross Fort Knox, Trout Unlimited's Alaska program was able to sponsor the camp, which hosted 31 kids ages 10-16 for a weekend of fly fishing skill development.  
At arguably one of the longest running youth fly fishing camps in the country, volunteer instructors from the Fairbanks area taught rotating sessions that focused on casting, fly tying, and knot practice. Kids showed up midday on Friday with parents, got checked in and had their first round of sessions. To begin the weekend, the education staff from the Alaska Department of Fish and Game provided a lesson on aquatic entomology. In the afternoon, kids were in groups spending approximately one hour practicing casting, knots and fly tying. Instructors prepared the students to be able to fish on their own after dinner on the first night, and students were catching fish within a few hours of showing up at camp. Saturday, they went through the group classes again twice to learn more of the same skills. Saturday evening, kids stayed out until almost 11pm as they had full fly boxes and were very eager to keep fishing.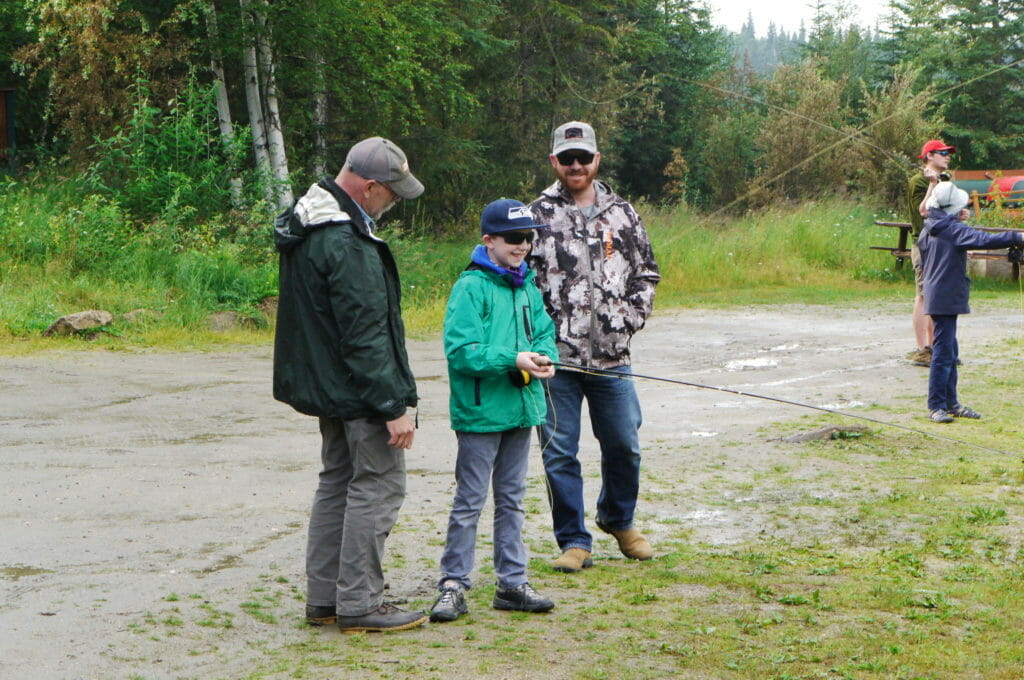 By Sunday morning, Trout Unlimited staff in attendance spoke on the importance of conservation, including how to handle fish best for catch and release, and how to support healthy fish habitats. The camp concluded with awards- each first year student was given a rod and reel, 2nd years were given fly tying kits, the sole 3rd year student got a travel fly kit, and 4th years got a different variation of fly rod.
Silas Hickman, a 12 year old camper in attendance for the third year, said that learning new fly patterns was his favorite part of the camp. "I know that I want to do things related to fish when I grow up, but this camp makes me want to do that even more."
Trout Unlimited Alaska would like to say thank you to the Midnight Sun Fly Casters for their hard work in ensuring that youth in the Fairbanks area are introduced to the sport, and to Kinross Fort Knox for their support for youth education and fishing opportunities in Alaska.  
View pictures from the 23rd annual Howie Van Ness Memorial Kids Fly Fishing Camp on the Trout Unlimited Alaska Facebook page.