By Connor Ford
The annual Trout Unlimited Teen Summit is a dream come true for any teen who loves fly fishing and is interested in conservation. It sure was for this teen from Holly, Michigan.
Five days of fishing for wild trout in wild places, experiencing local culture, working on a stream restoration project and connecting with other amazing kids from across the country is what the Summit is about.
Being from Michigan, exploring Montana as part of this year's Teen Summit was definitely an eye-opening experience. I had this preconceived notion that the land out there and all of its wonders would be vast, beautiful, and untouched. I learned that yes, it was most positively vast and beautiful, but it was NOT untouched.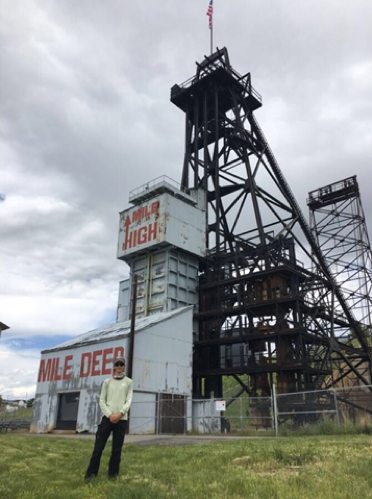 Through a guided conservation tour from Tess Scanlon, Trout Unlimited's Rock Creek Project Coordinator, the summiteers saw the impacts of hard rock mining first hand. We visited two previous mining "supercenters" – Anaconda and Butte – where we learned that over a century of mining and smelting for copper caused numerous environmental catastrophes.
One prime example would be the distribution of highly toxic materials such as arsenic and cadmium hundreds of miles downstream along the Clark Fork River which is now the nation's largest superfund site. We also experienced the Berkeley Pit mine which holds a beautiful yet toxic lake of highly acidic groundwater. I now further understand how devastating resource extraction activities can be on a community and especially on a fishery.
As terrible as these things are, it was very interesting not only to experience the significant role mining played in local culture, but also the significant role Trout Unlimited and partners have played in restoring these places. We got to fish Silver Bow Creek, which acted as Butte's industrial dumping ground for a century. Despite this past abuse, today it supports a population of native westslope cutthroat, along with brook and rainbow trout thanks to the advocacy work and restoration efforts there. In my opinion, being able to catch native cutties in a stream that couldn't support any fish just over a decade ago is quite the testament, and it feels awesome!
Although further restoration work is still needed in Montana, and across the country, I can see that good things are happening and it gives me hope. I am super grateful to be a part of such an outstanding community of conservationists, and I will not forget my time spent in Montana any time soon. I'll be back, that's for sure. Finally, I can say that the future looks bright for many of our beloved streams, and it looks even brighter for Trout Unlimited.
About the author: Connor Ford is a senior in high school in Holly, Michigan. He is an active member of the Paul H. Young chapter of TU helping with restoration projects, like a dam removal, and managing the chapter Instagram page. He serves on the board of his chapter and also as a junior counselor at the Michigan Youth Trout Camp. This was his second Teen Summit. 
 Editor's Note: This blog is the second of two highlighting the National TU Teen Summit in partnership with Scientific Anglers. Scientific Anglers is an industry partner invested in creating the next generation of conservationists and fully sponsors the Conservation Project Day at the Summit each year. This blog is by one of our teen leaders at this year's Summit. The funds contributed by SA are generously matched by the GRTU Tomorrow Fund started by the Guadalupe River chapter in Texas.