Earlier this month, the Alaska state Legislature voted 41-18 to block Abe Williams from being confirmed to the Board of Fisheries. Williams is a current Pebble Limited Partnership employee who was nominated by the governor to sit on the committee that oversees the management of the 49th state's fisheries.
Since being nominated by Alaska's pro-Pebble governor in April 2020, Williams has faced broad opposition from local tribal organizations, sportfishing business owners, guides, commercial fishermen and Alaskans across the state. All have pointed to Williams' employment with the Pebble Limited Partnership being a conflict of interest, and his longstanding track record of being a divisive figure in Bristol Bay.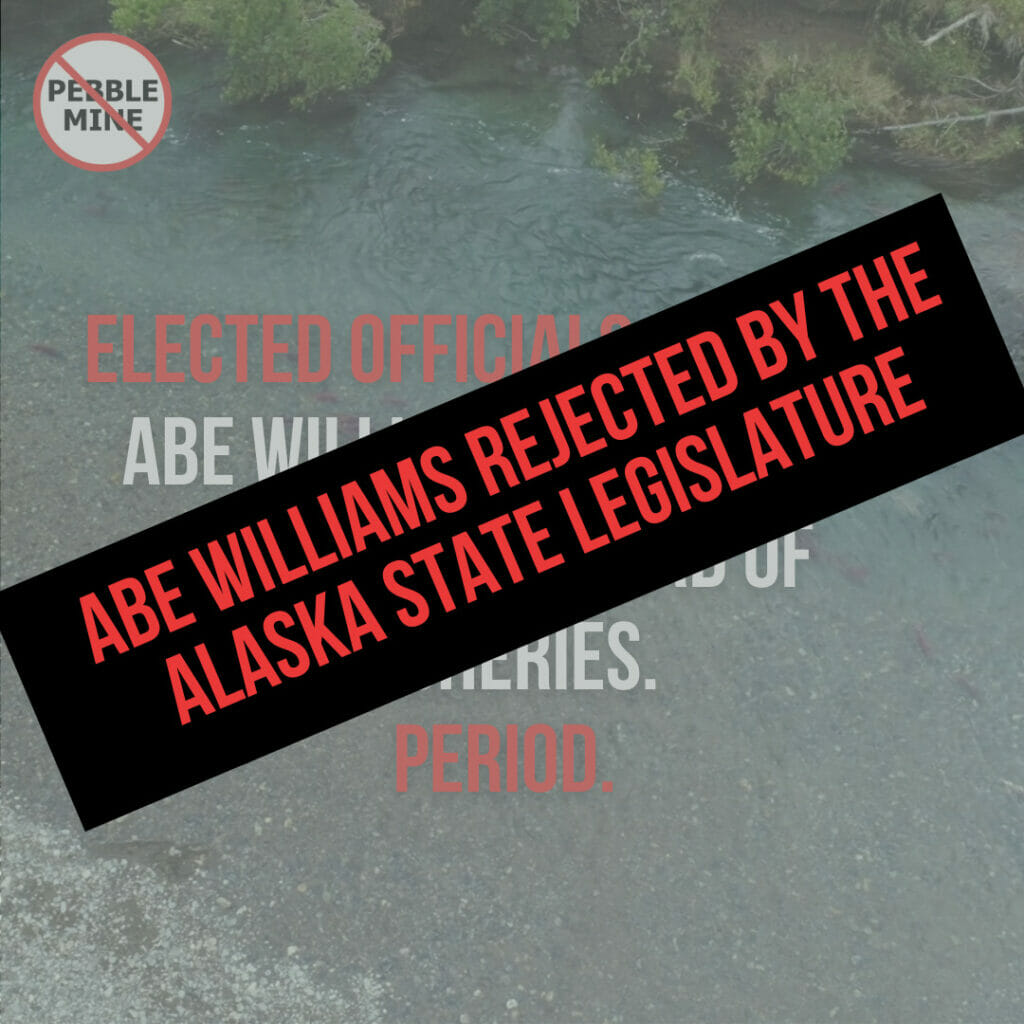 At various points along the confirmation process, Trout Unlimited, tribal groups and commercial fishermen organized Alaskans who vigorously opposed Williams' position on the Board of Fisheries to be loud and clear. Earlier this spring, lodge owners and outfitters sent letters to state legislators ahead of committee hearings explaining why Williams was the wrong choice for the board. Guides and anglers in Alaska called in to give testimony — some waiting on the phone for nearly four hours — to share their ardent opposition to a Pebble employee sitting on the Board.
Countless phone calls and emails were sent to legislators in Bristol Bay and across the state, leading to an overwhelming bipartisan vote that blocked Williams from being confirmed. In his floor speech, Rep. Bryce Edgmon, who represents Dillingham in Bristol Bay, said, "I have to stand up and when I have the majority of my district telling me to vote a certain way — and vigorously so — that's my marching orders." Watch the rest of his speech below.
In a slough of appointees confirmed during the Tuesday joint meeting, Williams was the only appointee who failed to be confirmed. Why does this matter? It sends an overwhelming message to the Governor of Alaska and the Pebble Limited Partnership that the project will not be given a place here in any way, shape, or form.
"The decisions we make today will have long-lasting impacts on our state's fisheries and the communities, economies, businesses and individuals they support far into the future. We appreciate the legislature not confirming Mr. Williams to the Board of Fisheries. It sends a strong message to the Governor and the Pebble Partnership that the Pebble Mine project, and the company's influence in our state, are not welcome."

Nelli Williams, Alaska Program Director for Trout Unlimited
And once again, this vote shows the power of our voices when we speak out together. Each phone call, email, and minute that was spent telling decision-makers that Pebble has no place in Alaska was crucial. To the Alaskans who spoke up in multiple places against this misguided nomination, thank you. We have endless appreciation for you using your time and energy to advocate for our fisheries.
Trout Unlimited's Alaska team encourages the Governor to put forward a new nominee with a clear commitment to conserving the resource for current users and the generations to come.
The Bristol Bay region is the traditional and ancestral homelands of the Yup'ik, Dena'ina and Alutiiq Peoples who have stewarded these lands and waters for ~15,000 years.