How a timber sale led to fish passage on the storied Greys River
The impact a dam has on fish movement on big rivers like the lower Snake is easy for people to understand. But there are a number of obstacles fish face throughout a river system that are not so easy to comprehend. Sometimes much smaller — and often overlooked barriers — can, among, other things, threaten future fish populations by blocking traditional migration routes to spawning habitat.
Trout Unlimited's Snake River Headwaters Initiative, along with the U.S. Forest Service and Wyoming Game and Fish Department, recognized several such barriers in the upper Greys River watershed of the Wyoming Range and took advantage of an approved commercial timber sale to reconnect more than 21 miles of stream to benefit native Snake River cutthroat in 2020.
"People don't necessarily think about the necessity of fish to be able to move like terrestrial animals," said Anna Senecal, aquatic habitat biologist with Wyoming Game and Fish. "We all know about bird migrations and we know about ungulate elk migrations, but fish need to move as well. To be able to access these headwater habitats and then move downstream throughout the Greys River system connecting to the Snake River is so important for sustaining this species."
---
---
Patrick Barry, aquatics program manager with the U.S. Forest Service on the Bridger-Teton National Forest, remembers well the first time he saw the culvert on the Greys River near Shale Creek.
"I scheduled a field with the [partners] and we had popsicles on the big pipe on a hot summer day," he said. "I have a picture of everybody sitting on this massive pipe and it is perched about a foot and half out of the water and we were all like, 'How does a pipe like this exist in prime cutthroat country?' The answer is simple. The Forest Service can't afford to fix it."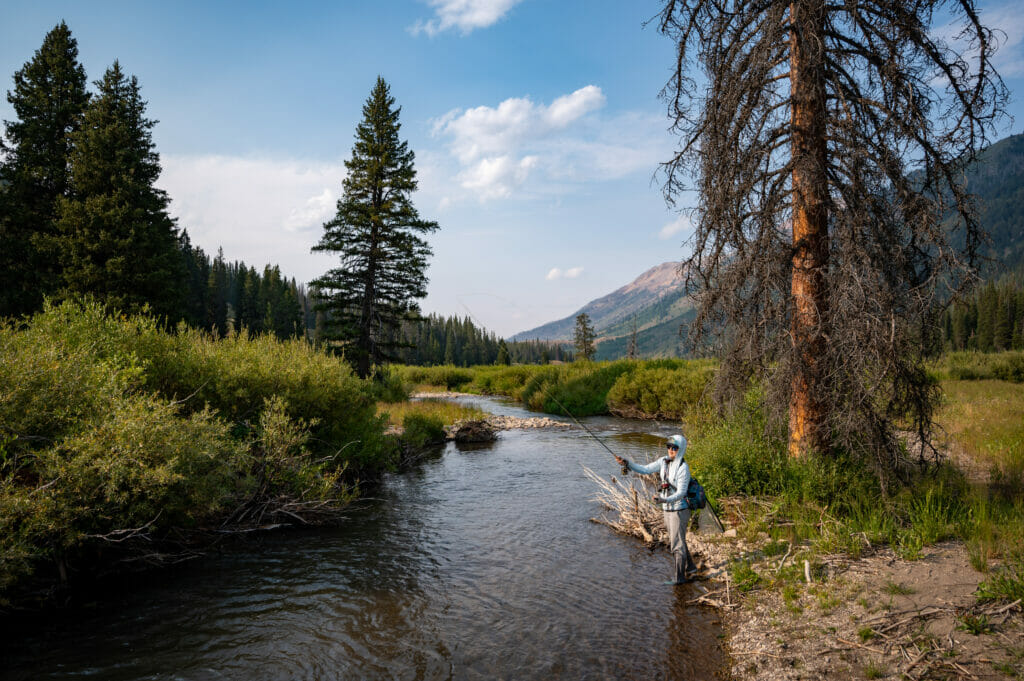 The culvert from the famed popsicle picture was removed and in 2020 and replaced with a new bridge capable of supporting larger machinery. The fix also allows easier upstream migration for native cutthroat trout.
Partnerships Bring Results
Barry says it was collaboration that brought it to fruition. "Without TU none of this would have been possible," Barry said. "They give us the capacity to do these large infrastructure projects that would take us decades — decades — to fund."
Senecal agrees.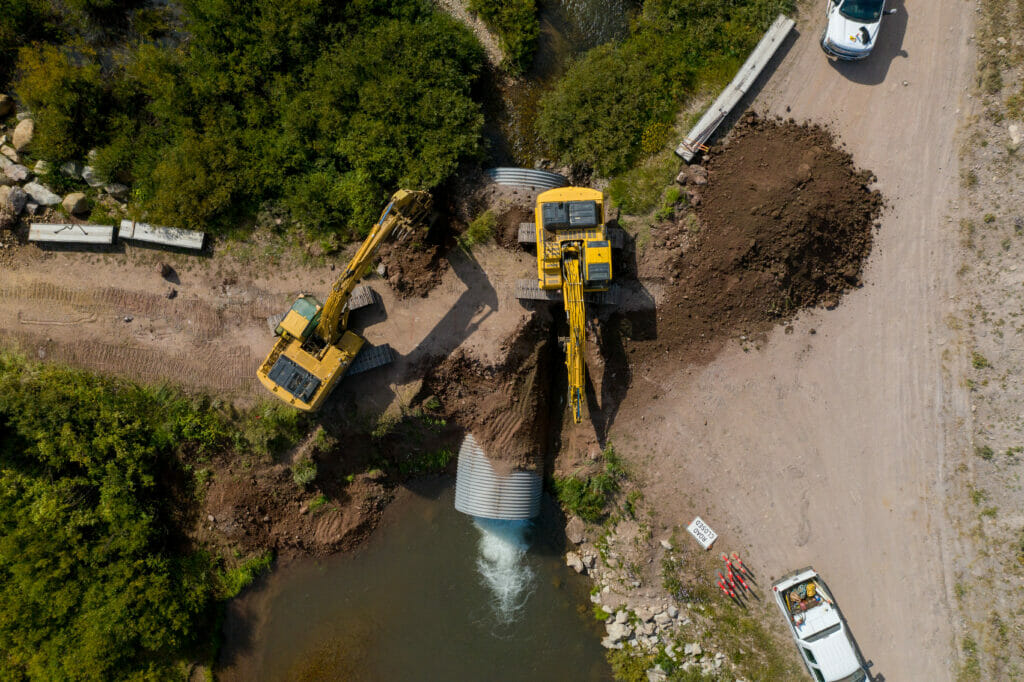 "The partnership with Trout Unlimited really is seamless. We interacted from the initial conception phases of the project all the way through its implementation," she said. "Being a nonprofit organization versus a state agency, we each have our strengths and we have our challenges. And so, we are able to work together to leverage that and achieve a maximum level of efficiency."
Work on the Tribasin Fish Passage Watershed Restoration Project started in 2018. The commercial timber harvest is taking place in the Bridger-Teton National Forest with a majority of the wood coming from the Greys River drainage. Forest Service officials recognized existing road infrastructure was not going to be able to handle the heavy equipment required for the harvest to take place.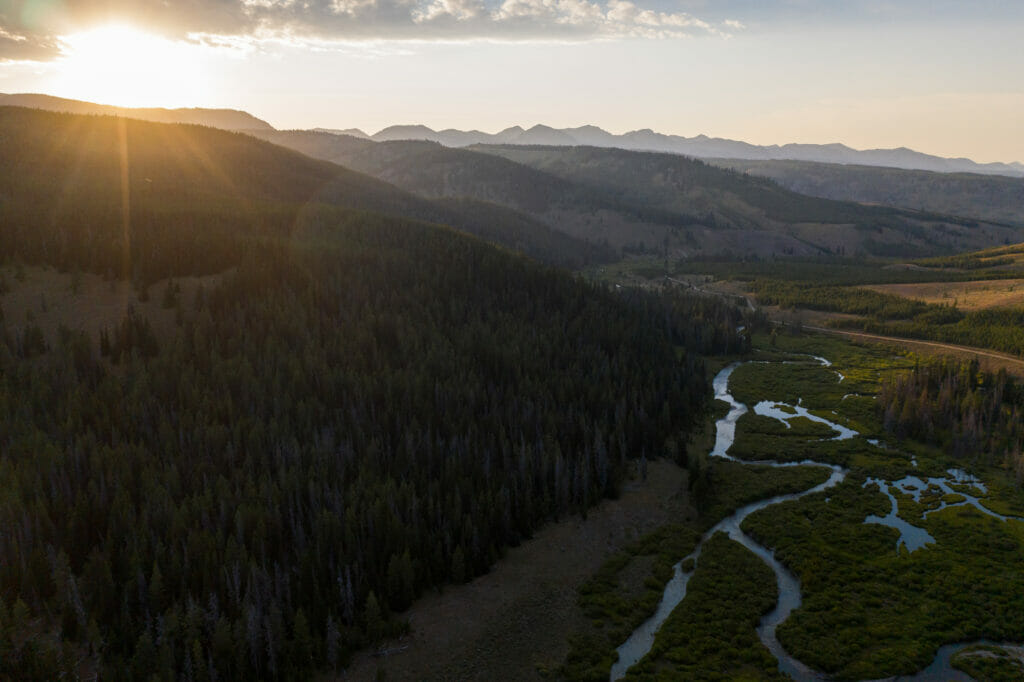 "As part of the timber sale, the Forest Service knew they were going to have to fix up the roads in this general area to make it so timber trucks could get in and out," said Leslie Steen, Northwest Wyoming Program Director and lead for Trout Unlimited's Snake River Headwaters Initiative.
Trout Unlimited and the Forest Service work together on many projects in Wyoming, and across the country. Officials from the Bridger-Teton National Forest came to TU because they knew Steen could help get the project moving quickly to accommodate the timber sale.
"They saw it as an opportunity to say, 'Well if we're going to be fixing the roads up anyway let's look at all the stream crossings in this area and see where there are barriers.', Steen said. "Often times, you may drive over, in any given day, tons of small undersized culverts and you might not notice them, but in many cases they can actually be barriers for fish passage."
The ability to move about in a river system is important for the native Snake River cutthroat trout in the Greys for reasons other than being able to reach traditional spawning grounds. All-river access allows fish populations to remain genetically diverse and provides a possible escape route should wildfire ravage the area. Trout can move upstream or downstream to avoid the fire, ash and muddy flows that happen for years after flames have scarred the land. The fish can also escape up tributaries.
Additionally, as the climate continues to warm, ensuring access to cooler water in higher-elevation tributaries is important, when water temperatures in the lower reaches of the river begin to climb too high.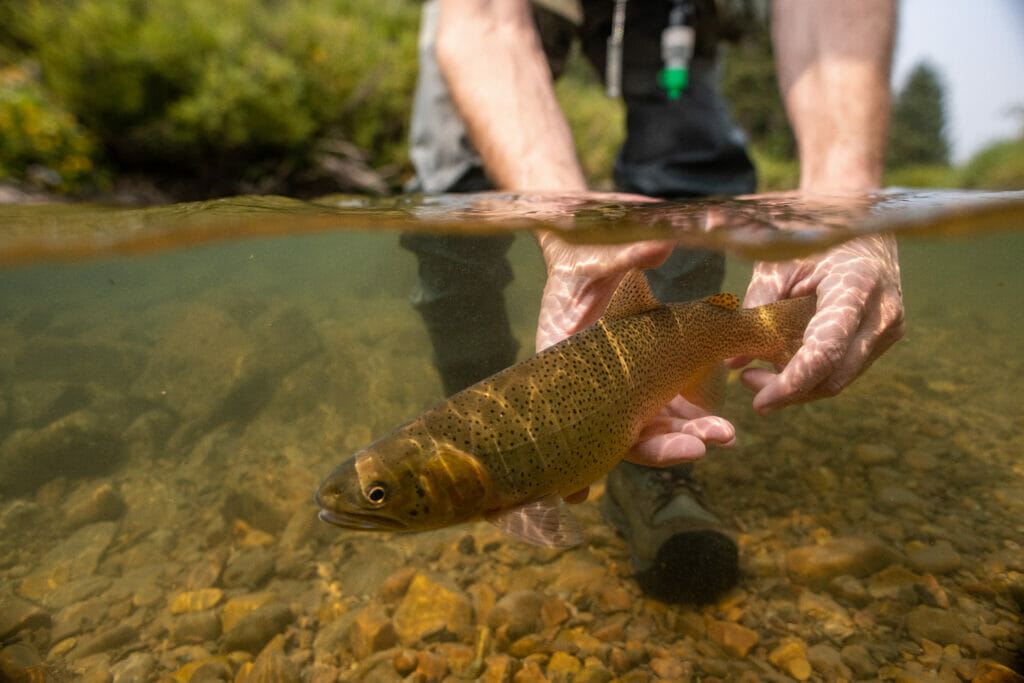 "When you think about 21.3 miles of cutthroat spawning habitat being blocked the first thing that comes to my mind is, 'How long has it been blocked and why hasn't it been fixed?'" said Patrick Barry, an aquatics program manager with the U.S. Forest Service on the Bridger-Teton. "In my career, I've never seen an opportunity like this in cutthroat country to open up so many miles of habitat that was once open. I'm really, really excited to be a part of fixing it."
In addition to the Shale Creek work, culverts were also replaced at the West Fork of the Greys, Mink Creek and Clear Creek.
Trout Unlimited strives for collaboration on every project and, in addition to the main partners, support for the Tribasin Project came from the U.S. Fish and Wildlife Service Fish Passage Program; Jackson Hole Trout Unlimited; Patagonia World Trout; Star Valley Trout Unlimited; TU-Orvis Embrace a Stream program and challenge; Trout and Salmon Foundation and the Wyoming Wildlife and Natural Resources Trust Fund.
A special place for multiple cutthroat species
The Tribasin Divide is a special place in our country. A snowflake could, technically, land on the Tribasin Divide and water from the melt could end up in three geographically unique places. The Tribasin Divide serves as the headwaters for three rivers that drain into entirely different watersheds, and each contains a distinct species of native cutthroat trout (Snake River, Colorado River and Bonneville/Bear River).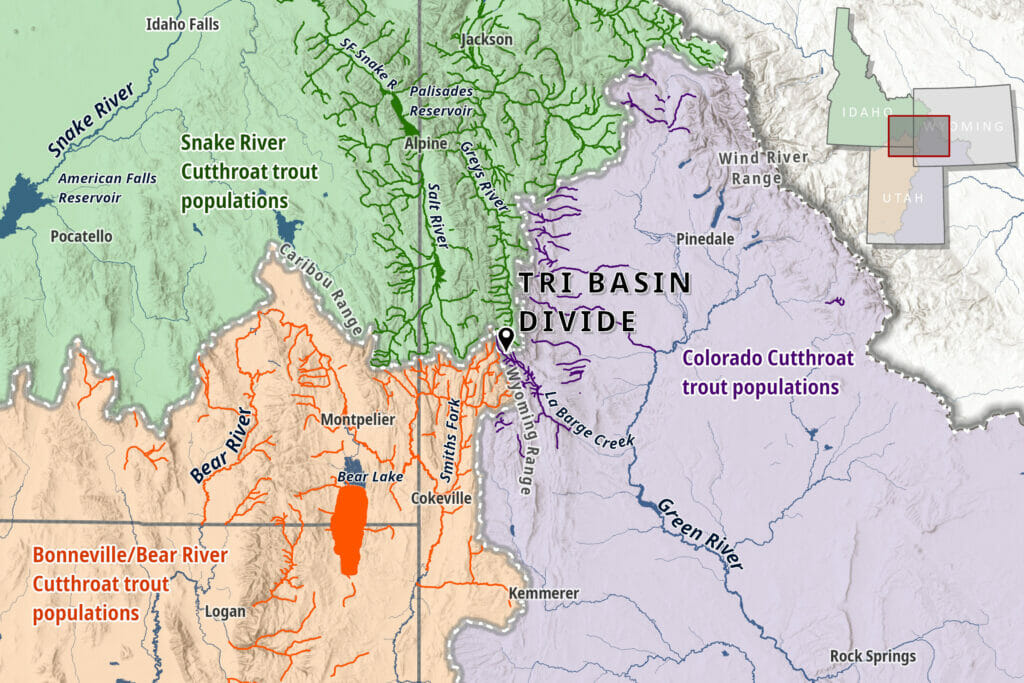 The Greys flows north to the Snake River and eventually dumps into the Columbia and finally, the Pacific Ocean. Water from the Smiths Fork runs to the Bear River and ultimately feeds the Great Salt Lake. La Barge Creek flows east and meets the Green River, which flows into the Colorado River and eventually to the Gulf of California and the Sea of Cortez — on a good water year. Trout Unlimited's Western Water and Habitat program has a staff member assigned to each of the three river drainages.
"The Tribasin is one of the most intact systems anywhere," Steen said. "It has a special kind of magic; a magic that you can only get when have to drive for a really long way on a bumpy road.
"It's amazing to think anglers can catch three unique variations of native cutthroat trout in such close proximity to each other."
That fact got Ron Remmick, a fisheries biologist for Wyoming Game and Fish, to thinking about a way to help educate anglers about the value of native cutthroat. In 1996, Wyoming Game and Fish, following an idea from Remmick, launched the Wyo Cutt-Slam. The Tribasin area of the Wyoming Range gives anglers a chance to catch three of the four fish they need to complete the slam in one day. The other is the Yellowstone cutthroat trout.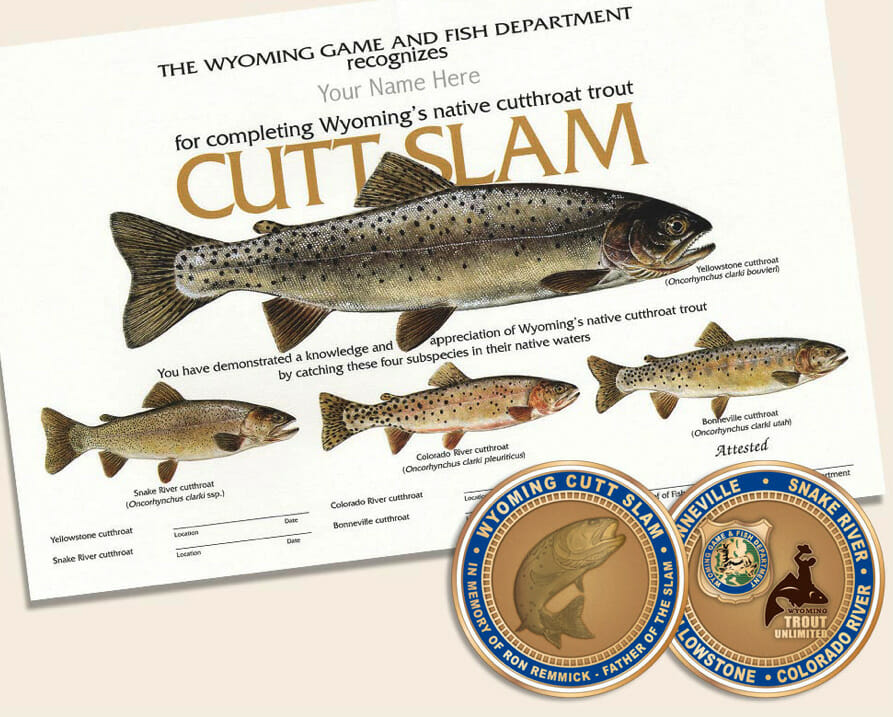 Trout Unlimited is a proud supporter of the Wyo Cutt-Slam and the Wyoming Council of Trout Unlimited now provides a medallion awarded to those who complete the slam.
"My hope is when we're done with the project that we all walk away pretty stoked on the outcomes of the benefit for fish in the future," Steen said. "With the warming climate, these headwaters streams are going to be just even that much more important to native cutthroat trout because they rely on cold, clean water."
Brett Prettyman is the communications director for Trout Unlimited's Western Water and Habitat program. He completed the Wyo-Cutt Slam in 2018 and did so without getting even one flat tire.