For TU field staffers, there's rarely such a thing as "just another day at the office." Days in the field are always different and can present some interesting challenges.
Any time you put about a dozen folks into the outdoors for days from spring through fall, there is a potential for stuff to go sideways. We recently caught up with the team to ask about some of the more interesting follies from the 2022 field season.
From animal encounters to equipment challenges, they faced no shortage of incidents — most of which they can laugh about now — while working to improve coldwater habitats in the region.
Chad Kotke – Great Lakes Stream Restoration Specialist
When the work requires equipment — sometimes big, expensive, complicated equipment — that also can be a set up for frustrations.
Chad Kotke said that happened during a major project in collaboration with Michigan TU. The plan was to place strategic wood additions into a section of the Manistee River. But the area was so remote that using a helicopter was the only practical way to move the trees into place.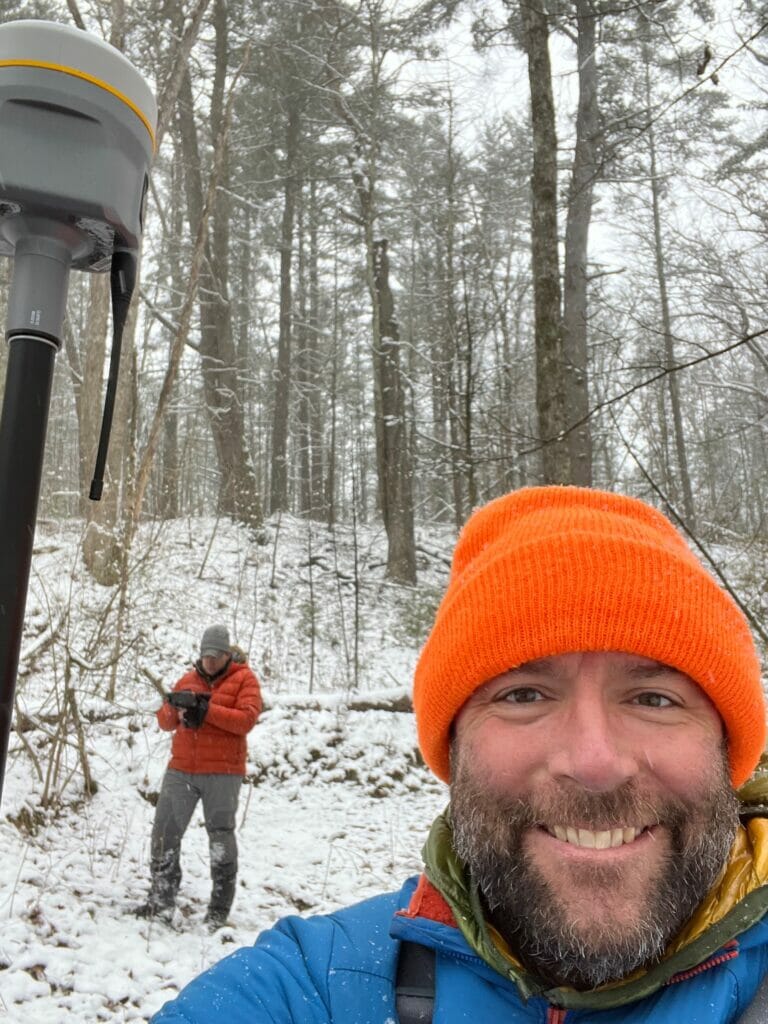 "But we had to be there to show the helicopter crew where to go," said Kotke, TU's Great Lakes Stream Restoration Specialist.
For that the team used two jonboats powered by jet motors, which are needed in rivers where propeller drives are not practical.
"We had one old boat with a motor that looked like it was held together with duct tape," Kotke said. "And we had a fancy boat with a beautiful, brand new Honda jet motor."
Guess which one broke down frequently?
"The river is really sandy, so the motors were constantly sucking in sand," Kotke said.
One boat did well. The other was often left immobile while the helo crew waited for guidance.
"The old motor had no problem," Kotke said.
Was it funny to see the crew in the old boat zipping up and down the river while the fancy new boat was dead in the water? Not at the time.
Emma Balliet – Great Lakes Field Coordinator
One of the first rules of electrofishing is to keep bare skin away from electrified water. Emma Balliet, TU's field coordinator in Wisconsin and Michigan's Upper Peninsula, knows that well. But one day during a trout collection mission last summer she forgot about it.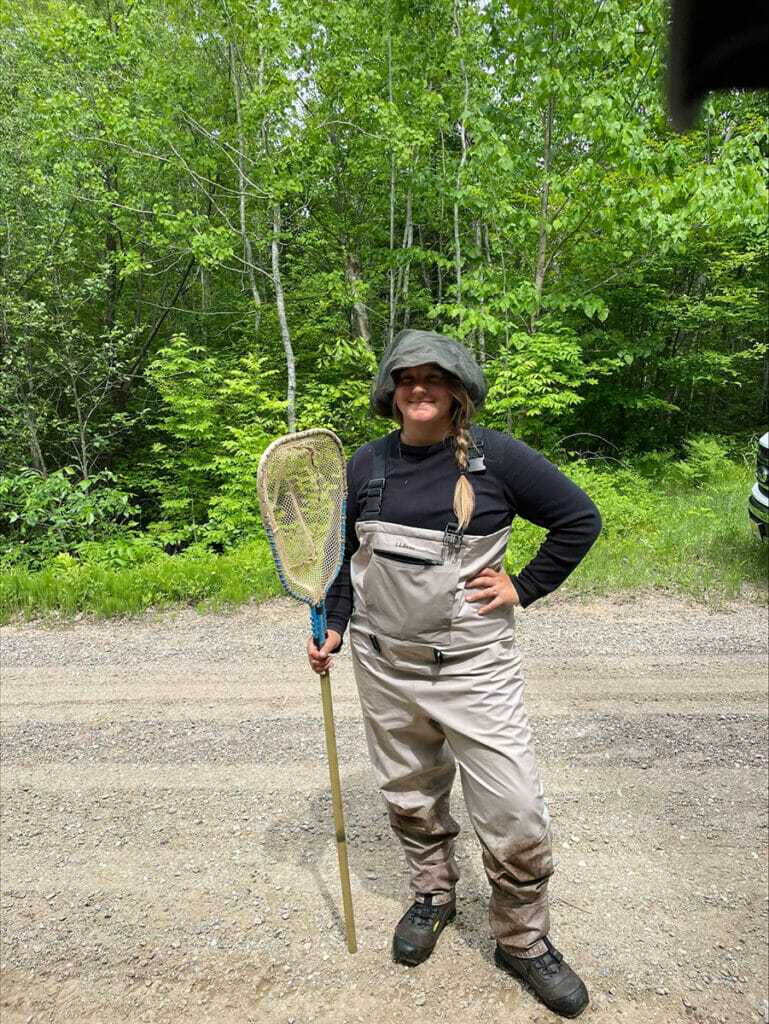 "I tried to grab a fish with my bare hand," she recalled, laughing. "I just got too excited."
The instant jolt jogged her memory.
Balliet wasn't done for the day, however.
"I was carrying a bucket of trout to be worked up and I tripped," she said, still laughing.
It was one of those slow-motion falls and Balliet had the presence of mind to remember her precious cargo.
"I just kept thinking, 'Keep the bucket upright! Keep the bucket upright!'" Balliet said. "I face-planted but I didn't spill the fish."
She did spill some water, a bunch of which ended up in her mouth. How was that?
"It tasted fishy," she said, able to laugh now at her double folly.
Sarah Topp – Upper Peninsula Stream Restoration Manager
Field crews in the Great Lakes region often work in remote areas far from home and not near conveniences like stores and motels. Rather than spend long hours driving to and from sites, crews often camp to maximize efficiency.
And, as we all know, camping can create challenges.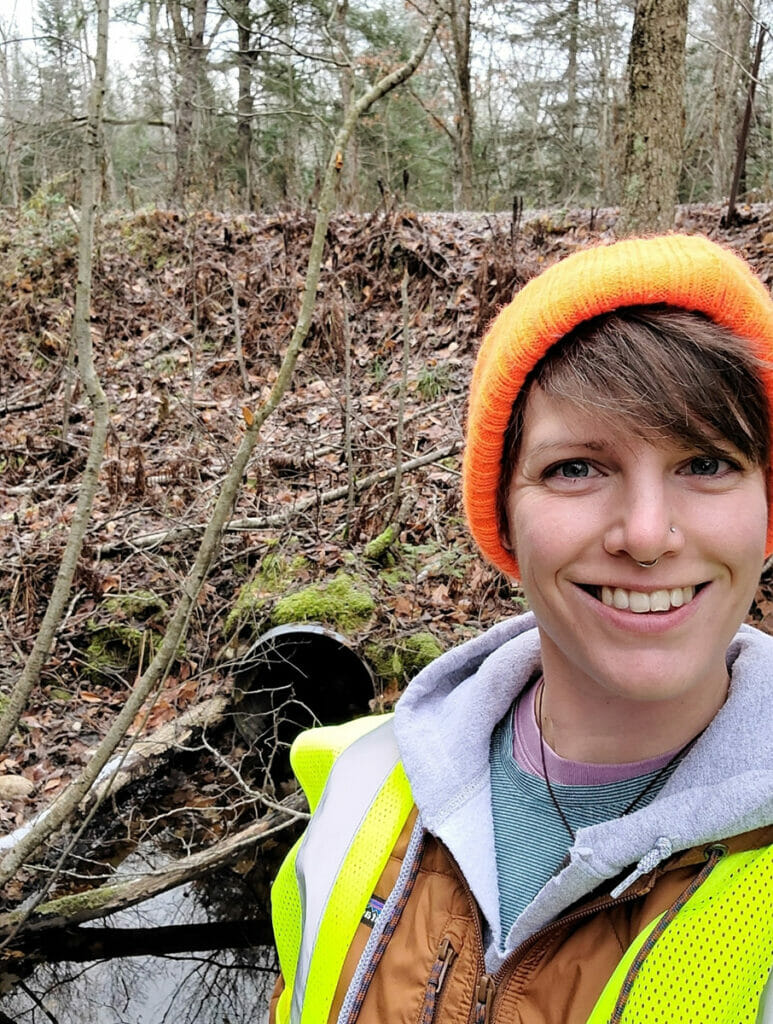 "On one project the forecast was for severe thunderstorms," recalled Sarah Topp, who oversees TU's restoration work in the Upper Peninsula. "We kept looking at the radar and thinking, 'This doesn't look good.'"
The storm hit that night, after the crew spent some time socializing at the fireside. It was a doozy.
"I could hear trees falling down," Topp said. "But I could also hear snoring from the other tents.
"It turned out I was the only one who didn't sleep through the storm."
The carnage was evident in the morning's light.
"Some really big trees came down," Topp said. "Fortunately, none were close to falling on our tents."
The other bonus?
"Amazingly, we all stayed dry," Topp laughed.
Jeremy Geist – Great Lakes Stream Restoration Manager
Field crews do a lot of work on small streams on their feet. But boats sometimes come into play. We all know that boats carry with them an increased risk of, shall we say, incidents.
Jeremy Geist recalled the day he was on a crew that had to do some survey work on a beaver pond.
The team launched a raft on the pond as a U.S. Forest Service tech who was part of the crew recounted how he had recently had a battle with giardia that he assumed he picked up from a splash of beaver pond water, notorious for carrying giardia.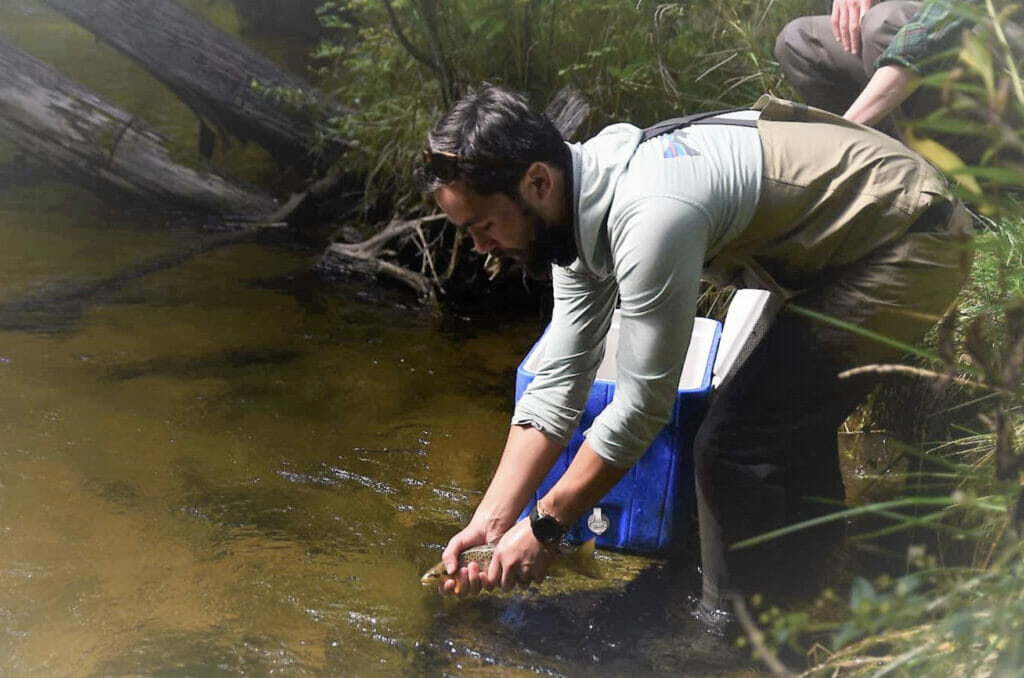 "My first stroke splashed a huge amount of pond water right into the guy's mouth," Geist said. "We all just looked at each other with wide eyes."
The Forest Service team member played it cool.
"He was laughing," Geist said, "but you could see a little glint of concern in his eyes."
The good news? His stomach perhaps hardened from his recent bout of Beaver Fever, the Forest Service tech didn't get sick.
Chris Collier – Great Lakes Stream Restoration Manager
On one survey trip this summer, Chris Collier probably wouldn't have minded a splash of water in his mouth, dangerous or not.
"I was deploying temperature loggers on the Lily River, so I loaded up my kayak with loggers and cinderblocks and headed downstream," Collier said. "I was 2 miles into my out-and-back trip when I realized I had forgotten my water bottle."
It was a hot, humid August day and Collier was sweating profusely.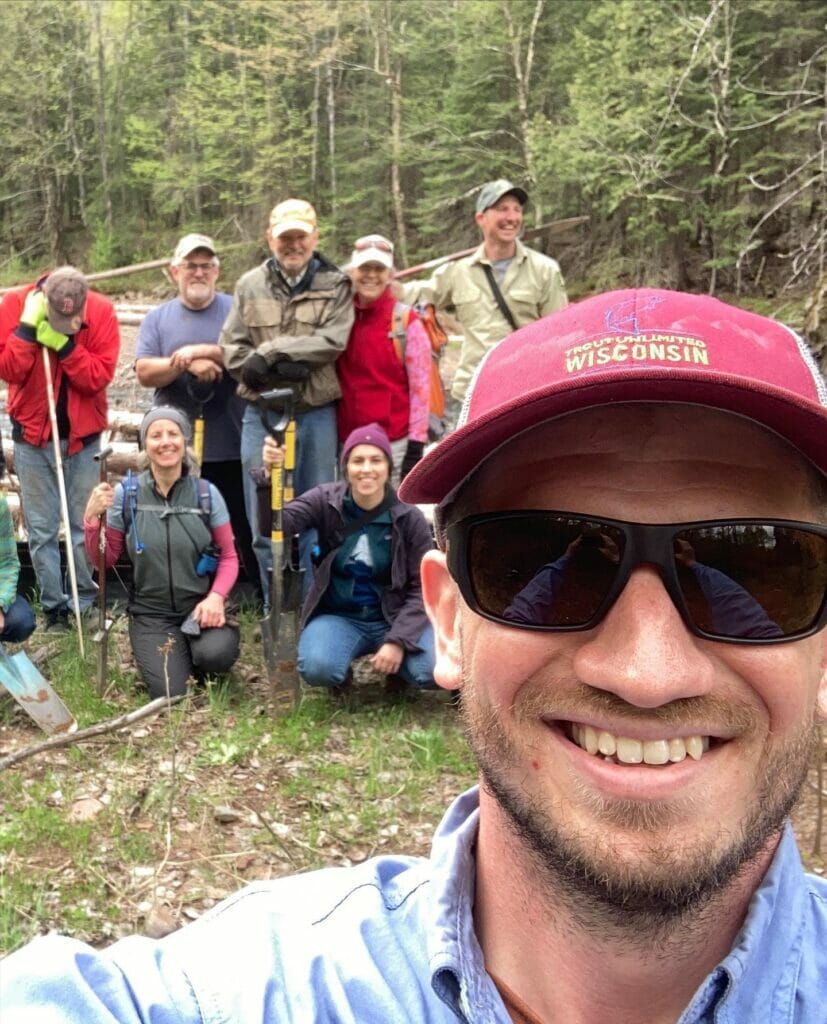 After placing the loggers at various points, Collier turned around when he was 3 miles downstream. Getting back up the small creek was not easy.
"It was basically me pulling the kayak upstream," Collier said. "It wasn't good."
Four hours after he started, he was finally back at his car and was able to get a drink.
"My water bottle was right there on the hood of the car, where I left it," he said, laughing.
Matthias Bonzo – Great Lakes Project Coordinator
What's just as frustrating as leaving behind water on a float? Getting to the takeout and realizing the keys for the shuttle vehicle are at the put-in.
That happened to Matthias Bonzo and Kyle Dankert on a float, and Bonzo was quick to place the blame.
"Kyle forgot them," Bonzo said, laughing. "So I made him go bum us a ride."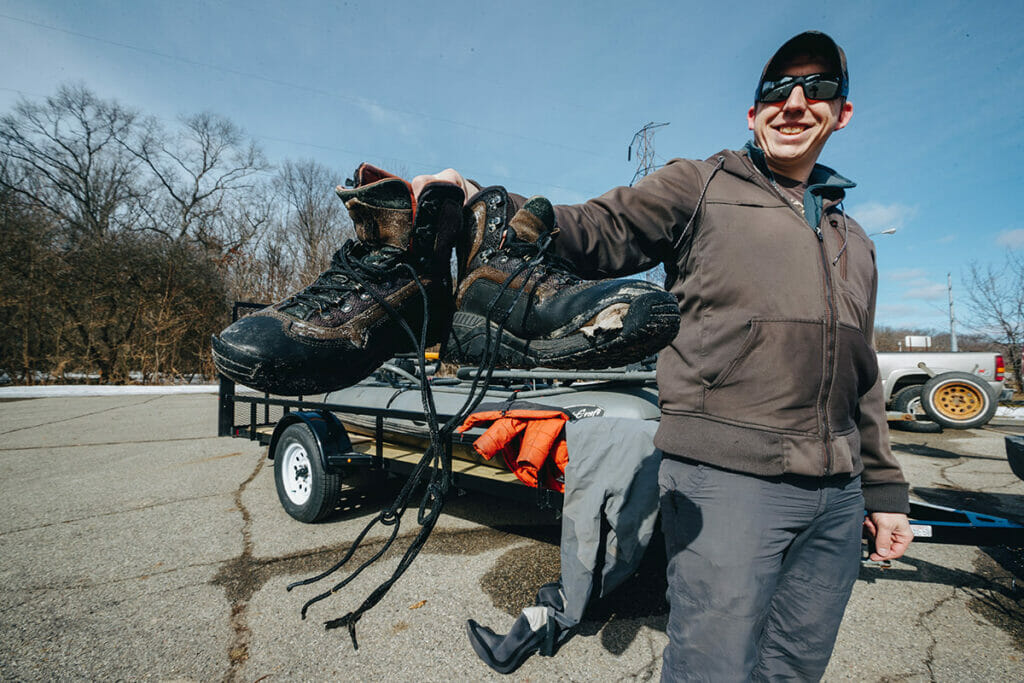 But Bonzo's favorite folly of the season came at the expense of Jake Lemon, who oversees TU's science efforts in the Great Lakes region.
"We were out with the drone doing some thermal imaging work," Bonzo said. "In order to land it on the small platform on the raft, you have to switch it to manual mode."
That's what Lemon was trying to do. Instead, he switched the controller to "sport" mode.
"That basically overrides all the safety features and allows you to do things like barrel rolls," Bonzo said.
At the stick of the $7,000 drone — affixed with a rented $11,000 thermal camera — Lemon had no interest in doing barrel rolls.
"It was really windy, too," Bonzo said. "The look on his face as he was trying to land that drone on that 4-foot-square landing pad was just hilarious."
It was a look that, fortunately for Lemon, turned to massive relief when the drone finally touched down.
Scott Allen – Great Lakes Stream Restoration Specialist
Scott Allen joined TU's Great Lakes team in August of 2022, so his field season was fairly short. But he spent enough time out there to have one funny/scary moment.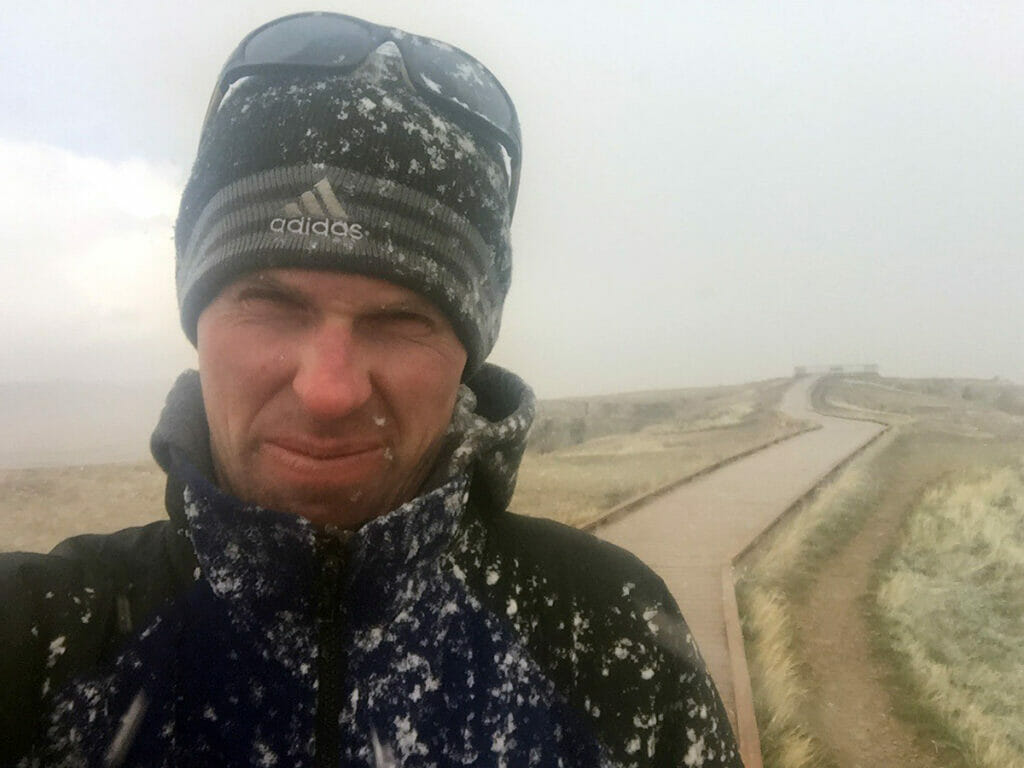 "I was surveying a culvert at a road-stream crossing and using some loppers to kind of move some brush out of the way," said Allen, who works in Wisconsin. "I saw something in the creek that looked like litter, maybe a bait container."
Allen considered reaching in the shallow water to grab the container by hand but then decided he'd use his loppers instead. Good thing.
"It snapped and I pulled up," he said. "It was still attached to the loppers.
"The water splashed and it seemed like something was coming for me."
A deranged turtle? Mean beaver? Slithery water snake?
Not exactly. Allen had stumbled onto a trapper's muskrat set.
Allen swears his audible reaction was more of a gasp than a scream.
"But I'm not going to tell you who else was there so you can try to prove me wrong," he said.
Danielle Nelson – Northern Wisconsin Project Coordinator
Danielle Nelson was glad she's in good shape during one particularly tough day this past summer.
Nelson had met up with project partner from the U.S. Forest Service who wanted to show her a site for a potential project in the headwaters of a small stream.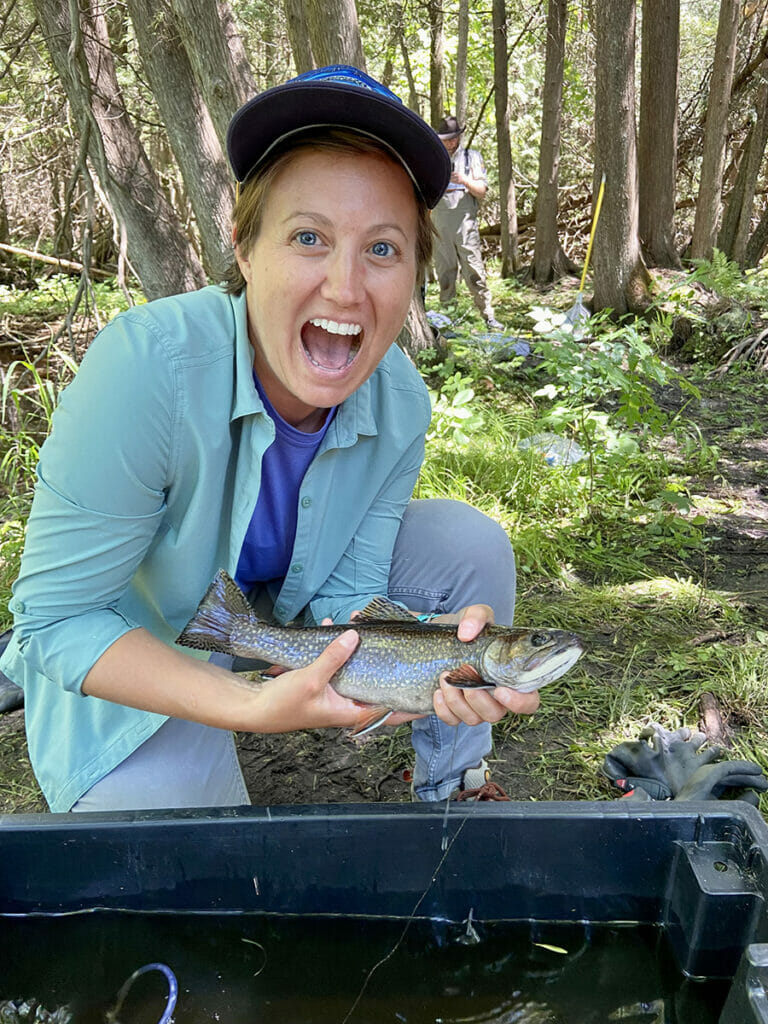 "He was like, 'I want to show you what it's like in the headwaters because there a bunch of trout up there,'" Nelson recalled.
Getting up there proved to be more complicated than simply walking along a stream because the area was a bit of a mucky wetland.
"He said, 'Be careful because it's a little soft,'" Nelson said.
A little?
Nelson immediately sank.
"The mud went up over my boots," she said. "I said, 'I found one of those soft spots.'"
If Nelson had been a prospector for soft spots, she would have gotten rich that day.
"It seemed like every five steps I'd punch through and sink up to my hips in mud," she said. "Meanwhile, as I'm struggling for dear life this guy is like 100 yards ahead of me just cruising."
Not that he left Nelson too far behind.
"He kept saying, 'You OK back there?'" Nelson said, managing to laugh about it now. "I was like, 'I'm doing great. Just great!"
By the time they finished the site visit Nelson was covered in mud. She still has the muddy map that she carried that day. Or, rather, part of the map. The rest disintegrated somewhere out there in the swamp.
Jake Lemon – Monitoring and Community Science Manager
When pressed for stories from the 2022 field season, Jake Lemon had trouble thinking of anything too nutty. Well, other than the drone incident Bonzo already recounted.
But one of his stories from a few years ago is good enough that we'll pull it out of the archives.
Working in Pennsylvania at the time, Lemon needed a motel room while traveling between distant worksites.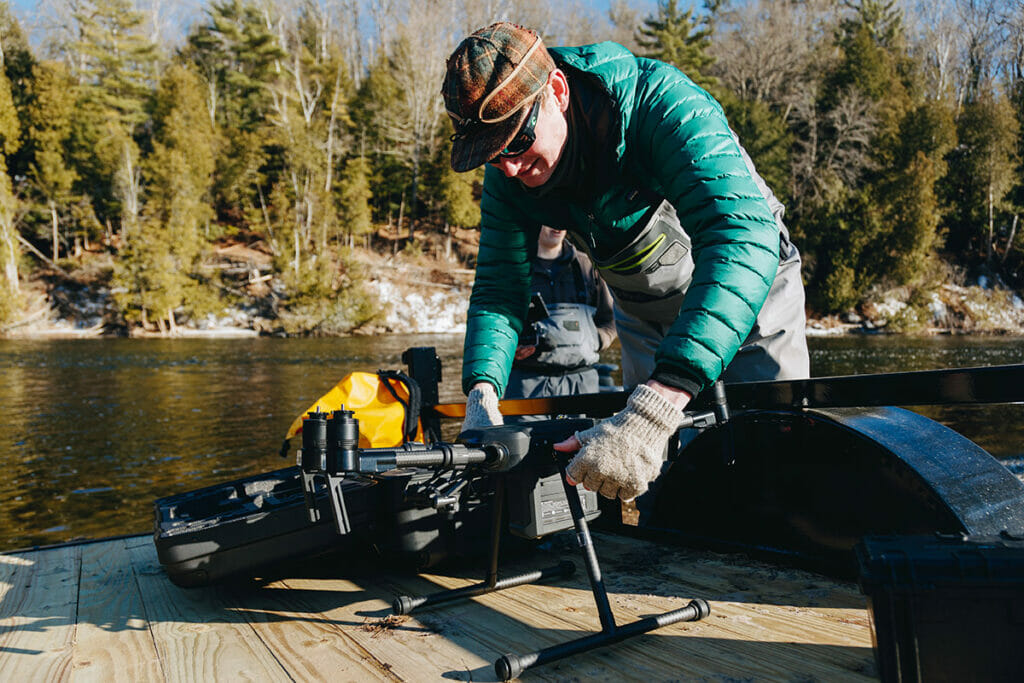 "I found a listing for a small motel that was about halfway between the two towns," said Lemon, who oversees TU's science work in the Great Lakes region. "So I gave them a call."
The woman who answered said, simply, "Hello?"
Lemon said he was hoping to book a room. The woman said, "We can do that." So Lemon read off his credit card number, made the reservation and hit the road.
"It was one of those old row motels," he said. "The space on the sidewalk under the overhang was filled with junk. Everything from lawn mowers to old furniture."
There was no open office, let alone someone actually working on site. As he considered his plight, Lemon noticed a break in the junk — at the door to Room 4, the room he had been told was his.
The door was open.
"I wouldn't say the room was dirty," he said. "More like dingy. But it was obvious no one had been in there for a really long time. Nothing worked. No TV. No internet. No hot water."
In the middle of nowhere in rural Pennsylvania at night, what are you going to do?
"I blocked the door with a chair and went to sleep," Lemon said. "Later, I looked up the motel and found out it had been out of business for years."
His credit card was charged, but only for the modest amount that he had been quoted. Lemon's still not sure who he actually talked to.
"I guess it was just someone who wanted to make a little extra money," he said, laughing.