By Jason Willis
It seemed like a good time to shed light on some positives from the 2019 field season as we deal with the trying times currently enveloping our country. Here is a brief history, summary and outcome of the successful Monarch Pass Gravel Mine project.
 The U.S. Forest Service's Salida Ranger District released a Decision Memo on Jan. 8, 2018, outlining the need for watershed-scale improvement projects along the Monarch Pass corridor. This need correlated to a high mortality rate of mature spruce and lodgepole trees due to the respective spruce and western balsam bark beetle epidemics that increased in activity since 2012.
The unstable conditions left behind after infestation have a range of risks from aquatic habitat degradation to fuel loading to water quantity/quality issues and to potential infrastructure damage. The already existing sedimentation problem in the upper watershed due to the decomposing granitic soils only exacerbated the issue of large-scale tree mortality. Therefore, TU started discussions with Salida USFS staff in 2017 to help on projects where improvements to watershed health could be attained.
These discussions translated to the Monarch Pass Gravel Mine being included in the Forest's Categorical Exclusions plan for Monarch Pass. Nearly abutting Monarch Mountain's Gunbarrel ski run, the former gravel mine was a barren landscape that provided an open pathway for highly mobile soil to cross Hwy. 50 and flow into the headwaters of the South Arkansas River. The easy access to the site was another reason it ranked as high priority, but one problem remained; lack of funding.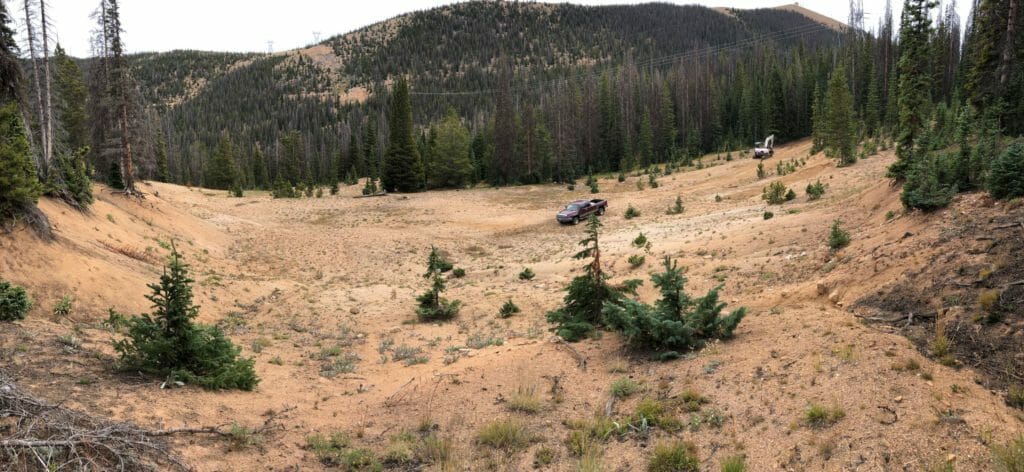 So, with USFS's approval, TU began working with local watershed group, Arkansas River Watershed Collaborative (ARWC), to include the Monarch Gravel Mine project in an application for the Watershed Supply Reserve Fund (WSRF) grant that the Colorado Water Conservation Board (CWCB) manages. The application was successful, but funding was still short by over $20,000 when compared to initial construction estimates.
It is always a good rule of thumb in the environmental cleanup world to have more money available due to the complex nature of cleanups and unforeseen challenges when working at high altitudes, so, to help fill the funding gap, TU got the National Forest Foundation involved in the project, since work was taking place completely on public lands. TU was then able to apply for funds through NFF's Ski Conservation Program, which was working with Monarch Mountain Ski Area as a partner for the first time.
This partnership was a great opportunity to do some good work adjacent to the ski area that would ultimately benefit the ecosystem of the upper watershed. The successful application to NFF's Ski Conservation Fund allowed for project planning and construction procurement to begin in June of 2019. Through a competitive bidding process, Frontier Environmental Services was selected as the remediation contractor in August of 2019. However, a slight change in scope caused bids to come back higher than the available budget leaving TU and partners once again looking for funding. With support from the local TU Collegiate Peaks Anglers Chapter and partnerships with Freeport-McMoRan and Newmont Mining, TU was able to pull together enough funding to complete the full scope of work at the site.
The work consisted of over two acres of grading and revegetation through incorporation of various soil amendments to promote native vegetation growth and coverage across the site. And, over 30 sedimentation structures and check dams were installed throughout the site to reduce sedimentation and slow down surface water flows during monsoonal events common to the area. Timing for this work couldn't have been better as the snow began to fall during final seeding and site closure. Having snowpack and moisture available to the new seeds will help kickstart germination in the Spring of 2020 speeding the revegetation process.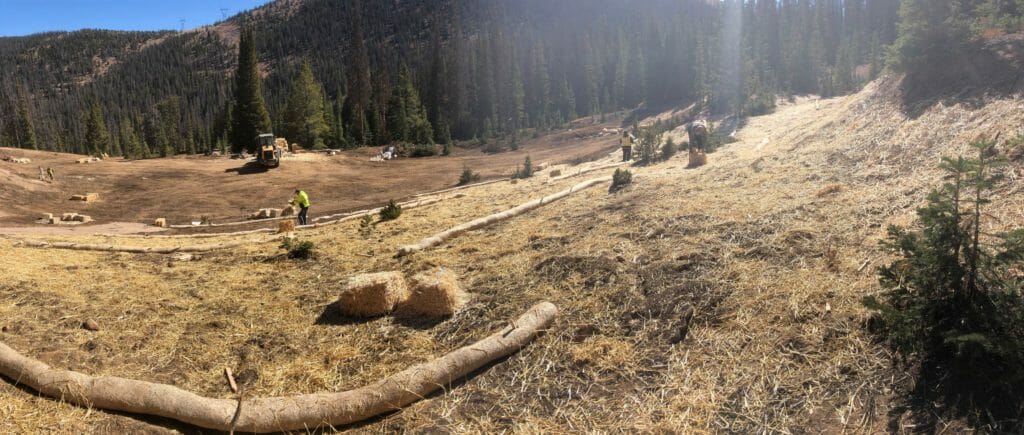 The saying of "It takes a village to raise a child" comes to mind for this project and others like it. Not only does this apply to projects like the one described above with regards to funding and partnership, but it also might be applicable over the next couple months as we help each other out through times of trouble. For a project that totaled just over $83,000 to complete, the funding and support from the following organizations made the project a reality.
Colorado Water Conservation Board
National Forest Foundation and Monarch Ski Area
Arkansas River Watershed Collaborative
National Trout Unlimited and Collegiate Peaks Anglers Chapter of TU
Freeport McMoRan Mining
Newmont Mining
US Forest Service
All of these entities helped make this project a reality and provided a good start to the overall USFS Monarch Pass project. It is also fitting to recognize Monarch Ski Area's commitment to the health of the surrounding watershed by participating in the NFF Ski Conservation Fund.
Monarch Mountain ski pass holders have the option to donate to this fund when purchasing their pass each year. As a frequent skier there, I know it's reassuring that those funds are going back to protect the surrounding ecosystem that is becoming more vulnerable as our world and climate changes. The abrupt end to the ski season and other things we value has been a hard adjustment, but we shall persevere just like the mountain ecosystem that we all love and protect.