Tireless, science-based effort by TU volunteers leads to an agreement for higher flows during spawning season
Carefully picking his way up the Deerfield River, the angler suddenly stopped at a trout redd.
The sight of the trout spawning nest in this river, which supposedly did not harbor wild, reproducing trout, wasn't entirely surprising. Eric Halloran and his friends had found redds previously during their wintertime fishing forays to the river. But there was a problem.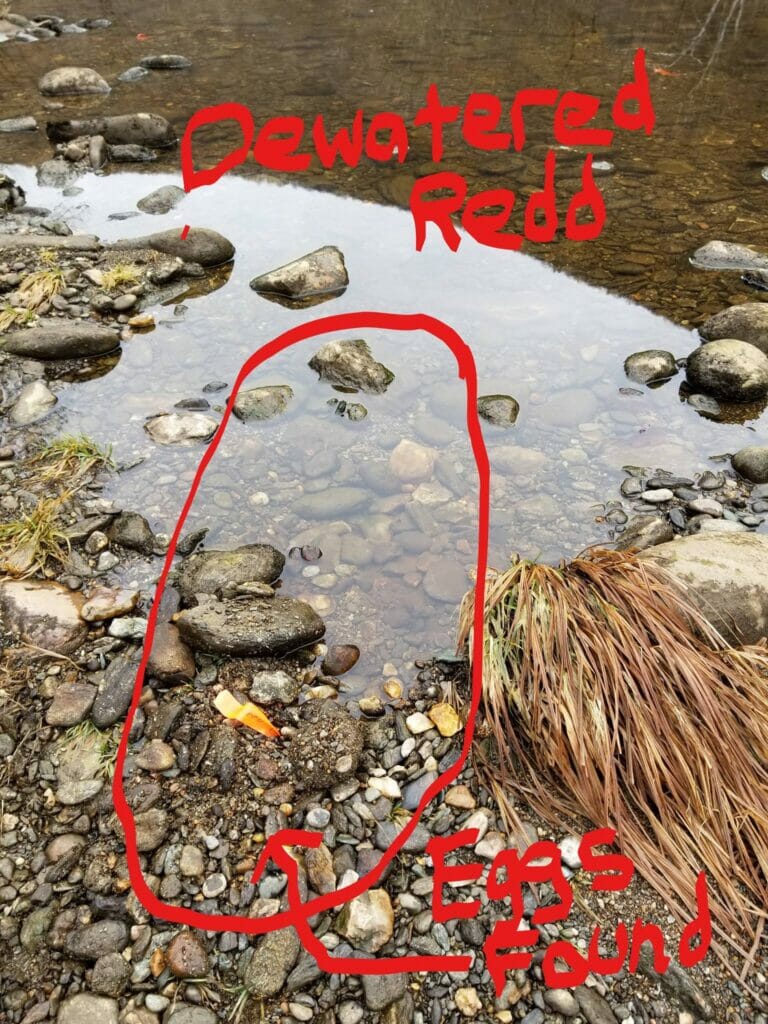 "Unfortunately, the redd was high and dry, just like plenty of others we'd been seeing," said Halloran, president of the Deerfield Watershed chapter of Trout Unlimited in Massachusetts. "So, as encouraging as it was for us to know that trout were spawning in the Deerfield, it was discouraging to know that much of that spawning effort was in vain."
Disappointing sights like that will soon be a thing of the past. The power company that controls an upstream dam has formally agreed to increase minimum flows during the spawning season, helping to ensure that more trout spawn successfully.
Committed volunteers go toe-to-toe with a power company
The agreement follows a multi-year, award-winning effort by the TU chapter and its members to document not only that that section of stream harbor wild brown trout, but that spawning efforts by those fish were being thwarted by extreme flows from the Fife Brook Dam and Bear Swamp Pump Storage facility upstream.
The work paid off.
A recently formalized agreement with Brookfield Power and the Massachusetts Department of Environmental Protection will ensure that minimum flow releases will not drop below 225 cubic feet per second from Nov. 1 through April 15.
That sizable increase from the current mandated minimum of 125 cfs, which will become mandatory in late 2025 or early 2026, should ensure that brown trout redds formed during higher flows remain covered during the spawning and egg incubation periods.
"This is a huge victory for the ecology of the river," Halloran said. "We know from our spawning studies that the decrease in water during minimum flows was stranding redds and killing off nearly 40 percent of the trout eggs over the course of the winter."
As part of the agreement, Brookfield Power will contribute $125,000 to a fund for ecological projects on the river.
Deerfield River wild trout benefits from chapter's focus
"The Deerfield Watershed TU chapter had not only the vision for what the river could be, but the will to persevere through every obstacle they encountered until that vision could become a reality," said Keith Curley, TU's vice president for Eastern Conservation. "I am deeply grateful to everyone whose hard work led to this achievement, and I can't wait to see how the fishery responds."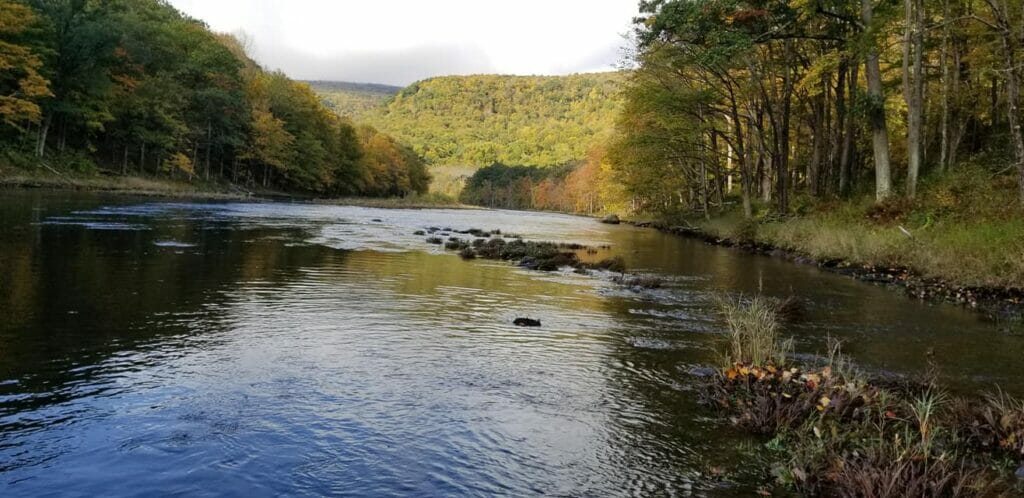 The massive community science-driven effort to document wild trout spawning on the river got underway in 2017. Surveys overseen by Michael Cole of Cole Ecological and TU staffer Erin Rodgers — both Ph.Ds — documented the spawning of brown trout, as well as the de-watering and destruction of a large percentage of redds.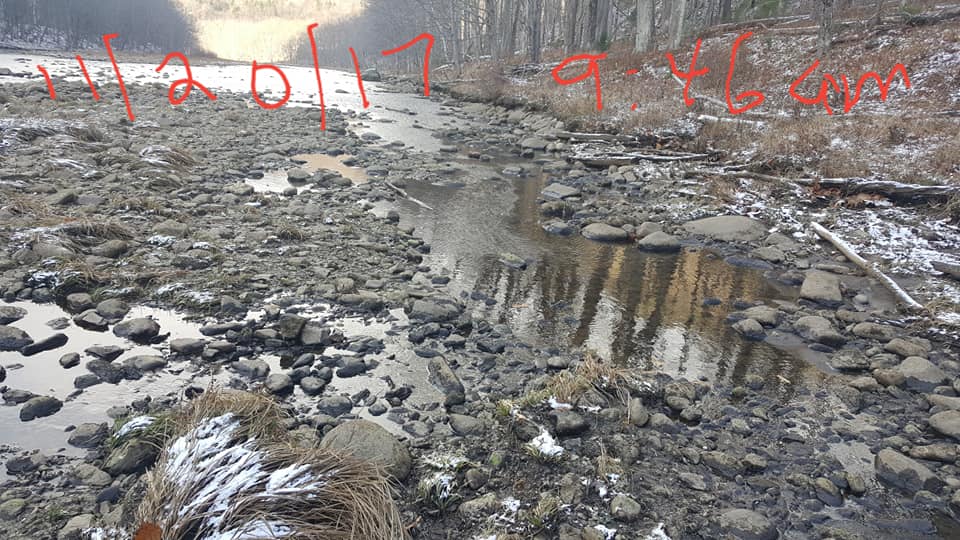 "The irrefutable evidence of damage to wild trout redds convinced DEP that the flow regimes needed to be addressed," said Michael Vito, former president of the Deerfield Watershed TU chapter. "The DEP declined to authorize the Water Quality Certificate that Brookfield was mandated to acquire during an ongoing FERC relicensing process."
Scientific evidence fuels negotiations with Brookfield
Deerfield TU joined the Massachusetts Division of Fish and Wildlife, Massachusetts Division of Natural Heritage and Endangered Species, and Massachusetts Department of Environmental Protection in negotiations with Brookfield to address the flow minimums needed to benefit trout and other aquatic organisms in the river.
"Becoming a formal intervenor gave us a seat at the table and stronger bargaining position than we could have ever achieved by simply commenting from the sidelines," Halloran said.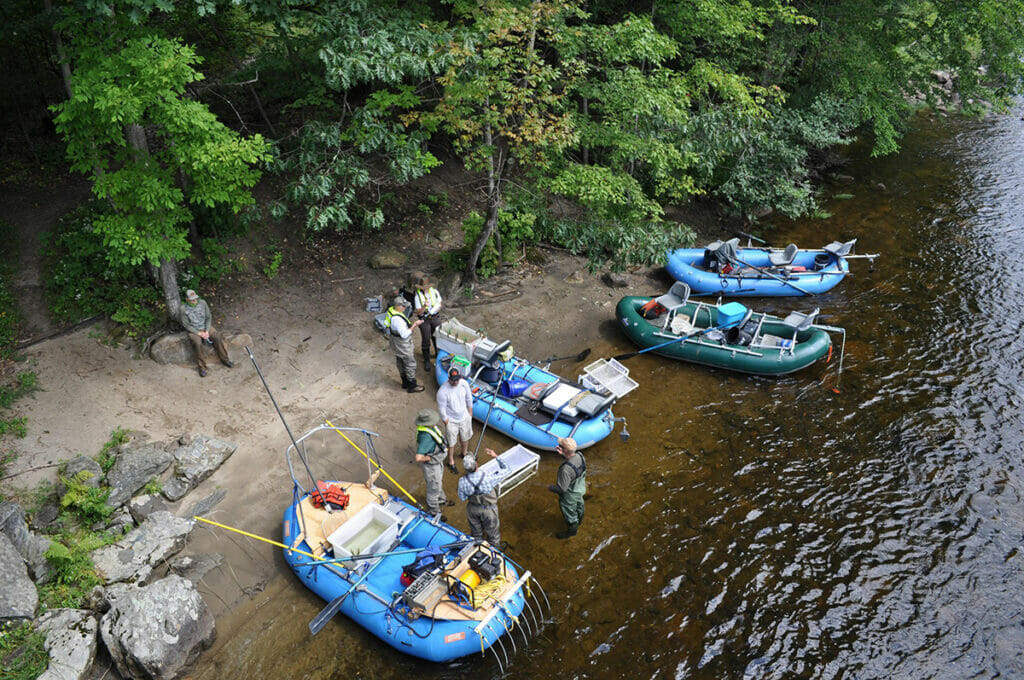 Members of the TU contingent dedicated countless volunteer hours to the negotiations. Halloran specifically noted the contributions of Springfield attorney Christopher Myhrum, who specializes in environmental law and tirelessly worked pro bono on the agreement. Former chapter president Kevin Parsons, also an attorney, along with area fishing guide and conservationist Chris Jackson, assisted with negotiations.
Next up: Designation as a wild trout fishery
The science, in the form of biologist-led spawning surveys, laid the foundation for these negotiations and science continues to be a major focus of the chapter's work. For example, the spawning surveys led to deploying telemetry to track the movements of trout that had been implanted with radio tags, and to a study currently underway to investigate wild rainbow trout in the watershed.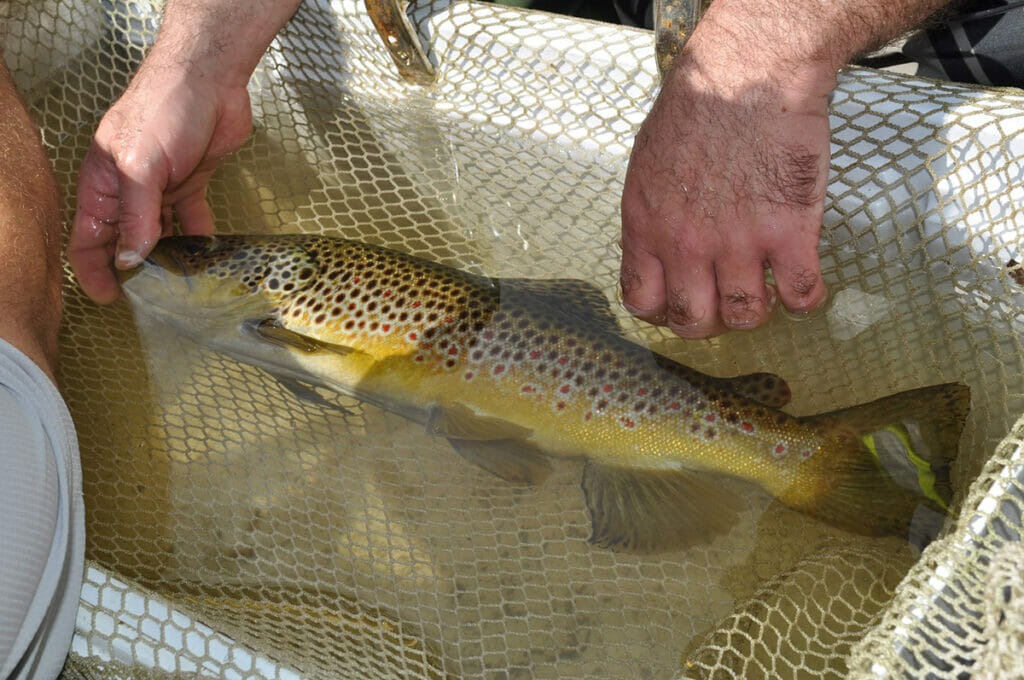 Chapter member Jim Dowd donated a raft and members of the Deerfield Watershed and other TU chapters raised money to equip it for electrofishing in order to support MassWildlife wild trout surveys on the river and elsewhere Vito said efforts to improve fishing for wild browns on the river will continue.
"We hope this is a first step to creating the Commonwealth's premier designated wild trout management area," Vito said. "This section of the Deerfield is already a pretty good fishery but we are confident it can be even better."