Bipartisan Infrastructure Law funding supports projects in Washington State, California, Michigan, and Wisconsin
This week, the National Oceanic and Atmospheric Administration (NOAA) Restoration Center announced a broad suite of new projects recommended to receive funding through its Restoring Fish Passage Through Barrier Removal program, supported with new funds from the Bipartisan Infrastructure Law (BIL). Four projects proposed by TU and our regional partners were among those recommended to receive a combined $20 million in funding for planning and implementation.
These fish passage projects will take place across watersheds in Washington, California, Michigan, and Wisconsin. One project will study the potential for fish passage at a dam in the upper Columbia River Basin. The other three will evaluate, plan, and remove or replace culverts or other barriers that inhibit or prevent salmon, steelhead, and resident trout from accessing important spawning and rearing habitat.
In addition to measuring, planning, and restoring fish passage, the projects provide much-needed investments in road and water infrastructure across a diverse range of rural communities, increasing watershed resilience and reducing flood damage.
NOAA's Restoring Fish Passage Through Barrier Removal program is a long-running and successful initiative, one that has frequently supported TU as we work to restore fish passage on coastal California, Washington, and Oregon watersheds, among others. The Bipartisan Infrastructure Law has expanded the scope and reach of the program.
"Trout Unlimited's ongoing partnership with NOAA is helping us recover critical populations of salmon, steelhead, and trout and building resilience against the growing impacts of climate change for fish and communities. The new investments from the Bipartisan Infrastructure Law only accelerate this crucial work," said Chris Wood, president and CEO of Trout Unlimited. "This work is improving fish passage, but also helping rural communities by providing family-wage jobs, improving water quality, and helping prevent road failures and flood damage. We are grateful to NOAA and our congressional allies for their hard work to make this critical funding a reality."
Improving Great Lakes fish passage
Working within the Lake Michigan and Lake Superior basins, TU will remove fish barriers and complete designs for additional upcoming fish passage projects. The construction work will result in at least eight road crossing replacements, an effort that will reconnect over 55 miles of high-quality Great Lakes tributary habitat. To facilitate future work, at least seven additional fish passage projects will be developed, and TU will work with partners to inventory and evaluate at least 200 crossings impacting fish passage.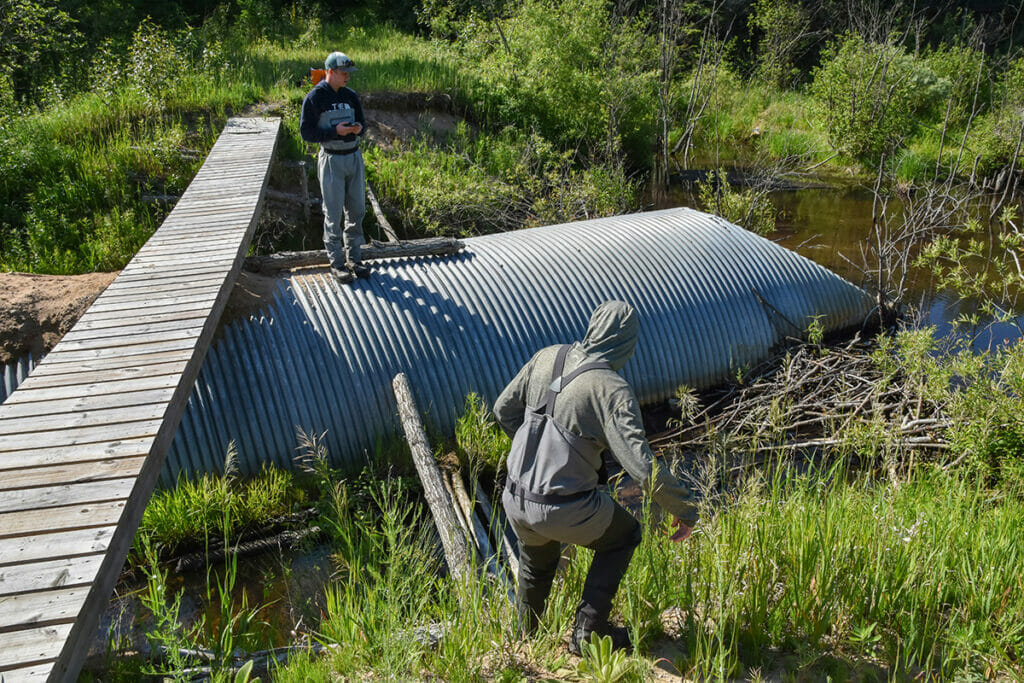 In Michigan's Lower Peninsula, this work will take place in the Manistee and Muskegon watersheds and on Cooper Creek and Gurney Creek. In the Upper Peninsula, projects and inventory of coastal tributaries are located in Black-Presque Isle, the Keweenaw Peninsula, the Dead-Kelsey, and Betsy-Chocolay watersheds. In Wisconsin, projects within the scope of this work are in the Beartrap-Nemadji watershed, the Little Bois Brule River, and Red Cliff Creek.
Additionally, TU will also work with local partners and engage community members to develop and implement a coaster brook trout monitoring program to increase understanding of the current distribution and fish passage needs of these unique, migratory native trout to support ongoing recovery efforts.
"This funding will support projects that help deliver transformational results in the Great Lakes region for fish, habitat, and people. It will allow our staff to collaborate more seamlessly and efficiently across states and regions and quicken the pace of our restoration goals," says Nichol DeMol, TU's Great Lakes habitat program manager. "Furthermore, it will result in dollars invested in communities that need it, addressing problematic culverts before they become expensive and hazardous issues, and supporting and augmenting the ongoing, effective work of Tribal Nations."
Trout Unlimited deeply appreciates the tremendous leadership efforts of U.S. Sens. Debbie Stabenow (D-MI), Gary Peters (D-MI), and Tammy Baldwin (D-WI) for making this critical funding possible.
Removing fish barriers on California's North Coast
TU's North Coast Coho Project is a partnership of over a dozen public agencies, landowners, private companies, and non-profit partners working collaboratively to recover struggling native salmonid populations in California North Coast watersheds. The funding awarded by NOAA will make it possible for the partners to address nine individual barrier sites within the Noyo River, Big River, Navarro River, and on Van Duzen River and Outlet Creek in the Eel River watershed.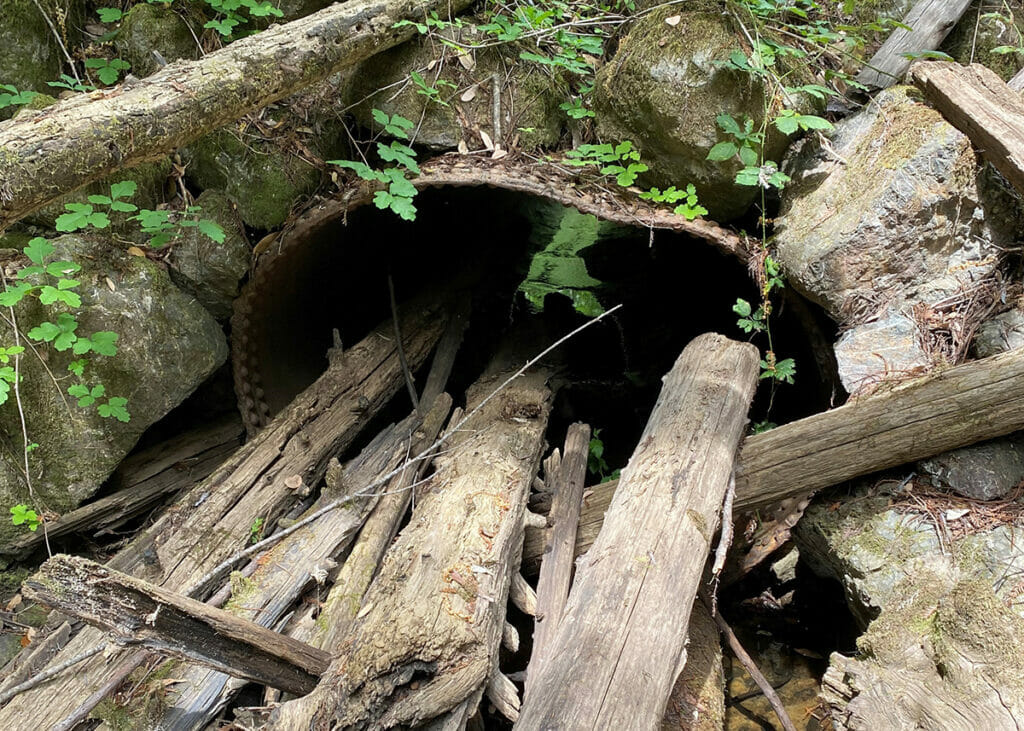 Removing these instream migration barriers will restore access to approximately 39 miles of high-quality salmon and steelhead spawning and rearing habitat and contribute to the recovery of Central California Coast coho salmon, Southern Oregon / Northern California Coast coho salmon, California coastal chinook salmon, northern California steelhead, and migratory Pacific lamprey.
The barriers being addressed include undersized culverts, earthen berms, and concrete weirs. Beyond the long-term benefits to fish, the accompanying improvements to infrastructure will reduce future maintenance costs and safety problems for local communities by reducing chronic flooding, harmful erosion, and road washouts.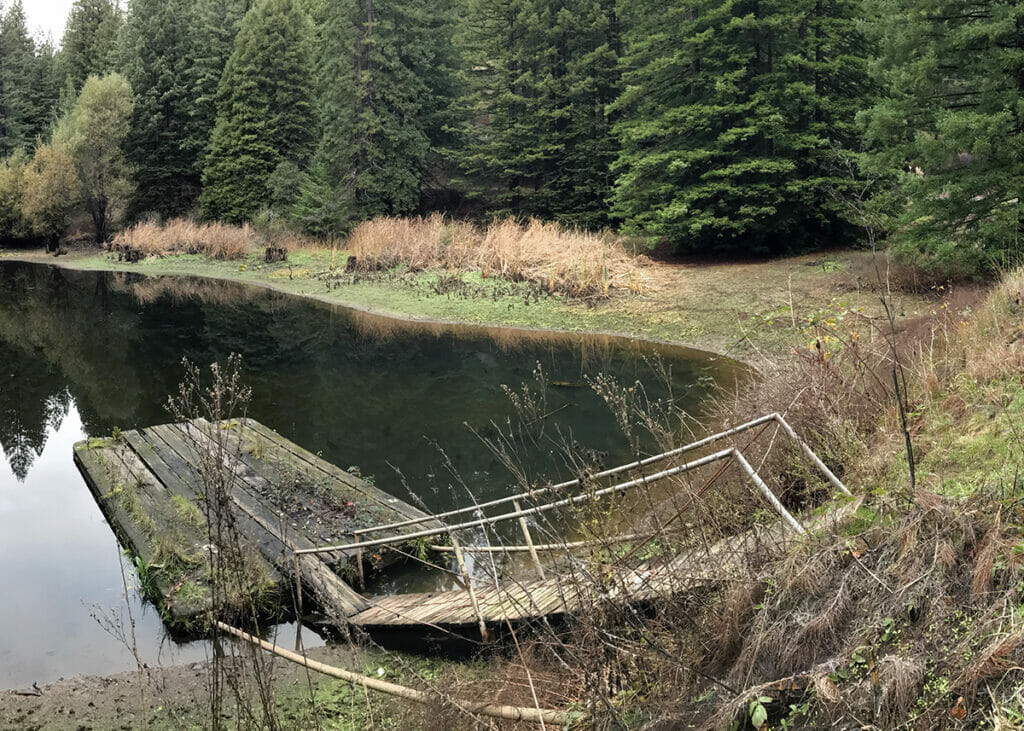 "This funding couldn't arrive at a better time. TU and our partners have spent over five years developing the plans to remove these migration barriers and restore habitat along the North Coast. This funding will accelerate the implementation of those sites," said Anna Halligan, TU's North Coast Coho project director. "A broad network of partners are working together to recover salmon and steelhead, and the upcoming work will support contractors and consultants based in rural northern California communities and reduce public safety hazards. With the support of the NOAA Restoration Center, Congressman Jared Huffman, local tribes, and public and private landowners, we will be able to reconnect nearly forty miles of stream habitat in Mendocino and Humboldt counties."
Reconnecting tributaries on Washington's Olympic Peninsula
Working with regional partners in the Olympic Peninsula Coldwater Connection Campaign, TU staff will correct five culvert fish barriers on tributaries within the Hoh River watershed and three barriers on Wisen Creek, a tributary of the Sol Duc River in the Quillayute River watershed.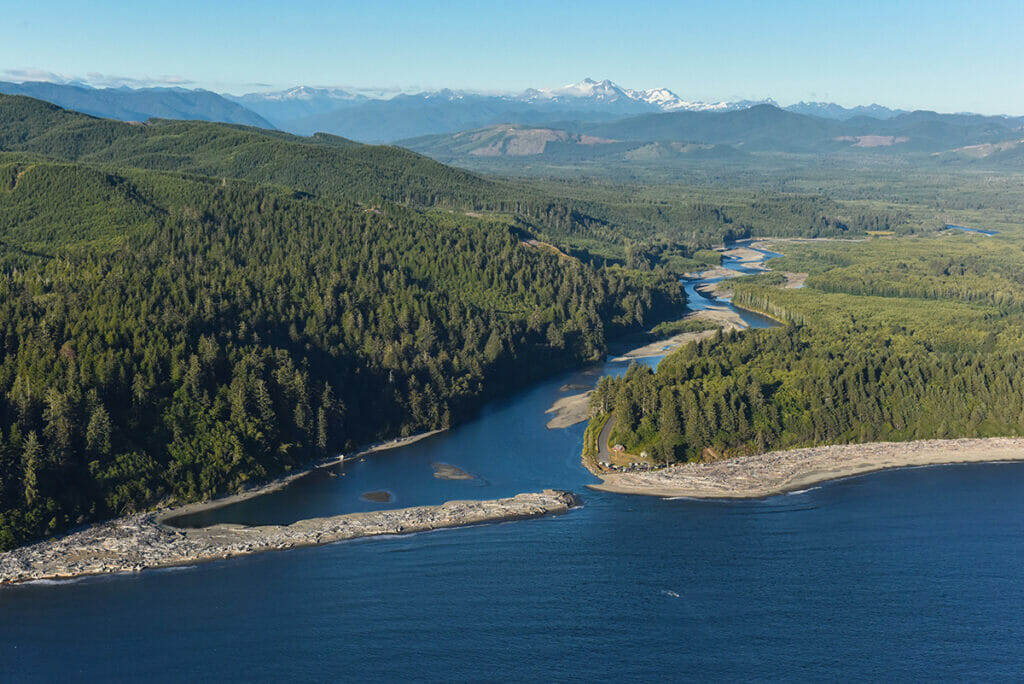 The Hoh and Sol Duc rivers are iconic salmon and steelhead systems on the western edge of Washington's Olympic Peninsula. Their headwaters are protected within Olympic National Park and neither river has mainstem dams, but both watersheds bear the impacts of historic logging practices and disconnected habitats caused by migration barriers at road and stream crossings along key tributaries. These eight projects with reconnect and restore critical tributary habitat used by multiple life stages of adult and juvenile winter steelhead; chum, coho, and chinook salmon; sea-run cutthroat; pacific lamprey, and other resident and migratory trout and char.
"Over the next few years, with support from local stakeholders, our tribal and NGO partners, and this key NOAA funding, we will be tackling some of the highest-priority salmon and steelhead barriers on the western Olympic Peninsula. This region provides incredible opportunity for salmon and steelhead habitat restoration, especially considering anticipated climate change impacts," said Luke Kelly, TU's Washington Coast Restoration program manager. "This inclusive effort to restore salmon and steelhead access to critical spawning and rearing habitat will also benefit local communities via resilient infrastructure improvements, flood risk reduction, and job creation."
This work is being done in coordination with the Coldwater Connection Campaign, a partnership among the Wild Salmon Center, Coast Salmon Partnership, Trout Unlimited, Hoh Tribe, Quileute Tribe, and the Quinault Indian Nation, with participation and support from U.S. Forest Service, Olympic National Park, Washington Department of Natural Resources, Washington Department of Transportation, Washington Department of Fish and Wildlife, Clallam County, Jefferson County, and local landowners and stakeholders.
Trout Unlimited deeply appreciates the tremendous leadership efforts of U.S. Sens. Maria Cantwell and Patty Murray (D-WA), and U.S. Rep. Derek Kilmer (D-WA), for making this critical funding possible.
Studying potential removal of Washington's Enloe Dam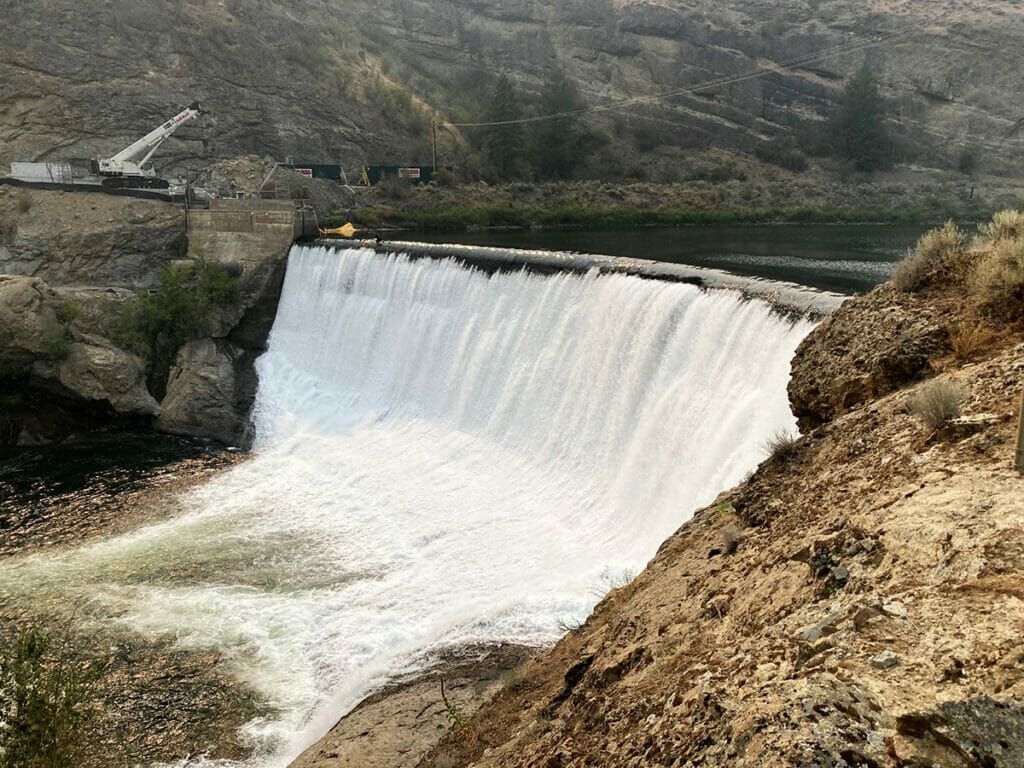 TU and the Confederated Tribes of the Colville Reservation (CTCR) will produce a comprehensive, objective assessment of the feasibility of removing the Enloe Dam on the Similkameen River. Working within criteria established by the local Public Utility District (PUD), the current owner of Enloe Dam, TU and the CTCR will hire experts and engage with the public to complete the study.
The CTCR and members of the Lower and Upper Similkameen Indian Bands will provide input regarding results from historical and recent data collections as well as traditional ecological knowledge.
The CTCR and TU look forward to working with stakeholders, government agencies on both sides of the border, and non-government organizations to assess the dam and surrounding features to make a determination for the best possible outcome during the two-year performance period.
The Similkameen River originates in British Columbia before crossing the Canadian border to join the Okanogan River, a key tributary of the Upper Columbia Basin. The Enloe Dam was built in 1922, blocking access to 1,520 miles of potential spawning and rearing habitat for summer steelhead and spring chinook salmon, but it stopped generating power in 1958.
"This funding from NOAA provides a critical opportunity to map a path forward for the Enloe Dam," said Warren Colyer, TU's Western Water & Habitat program director. "We are thrilled to be working with our partners at the Confederated Tribes of the Colville Reservation, and the Okanogan PUD, to find a solution that works for ratepayers and surrounding communities and gives salmon and steelhead the best chance to once again thrive in the Okanogan Basin."