As we approach the end of 2020, the Great Lakes region is two presidential signatures away from securing major legislative wins.
Congress recently approved funding measures for the Great Lakes Restoration Initiative (GLRI) and for the Brandon Road Lock and Dam project to keep Asian carp out of the Great Lakes. 
"Trout Unlimited would like to thank the Great Lakes congressional delegation's commitment to reauthorizing the GLRI," said Taylor Ridderbusch, Great Lakes organizer for Trout Unlimited. "With continued and increased funding, groups like TU can persist in our efforts to restore North America's largest coldwater source." 
TU members and supporters in the Great Lakes region also have been actively advocating for Congressional support for both the GLRI and for the Brandon Road Lock and Dam project.
A thinned-down version of the Water Resources Development Act (WRDA) made its way through Congress by passing both the House and Senate and is awaiting a signature from the president. This version includes authorization of the Brandon Road Lock and Dam project, and also makes changes to the local cost share.   
The U.S. Army Corps of Egnineers plans to prevent invasive Asian carp from making it farther up the Chicago Waterway by installing technologies that include: complex noise, a bubble curtain, an engineered channel, an electric barrier and a potential flushing lock.  
Additionally, the plan calls for continued nonstructural activities like overfishing.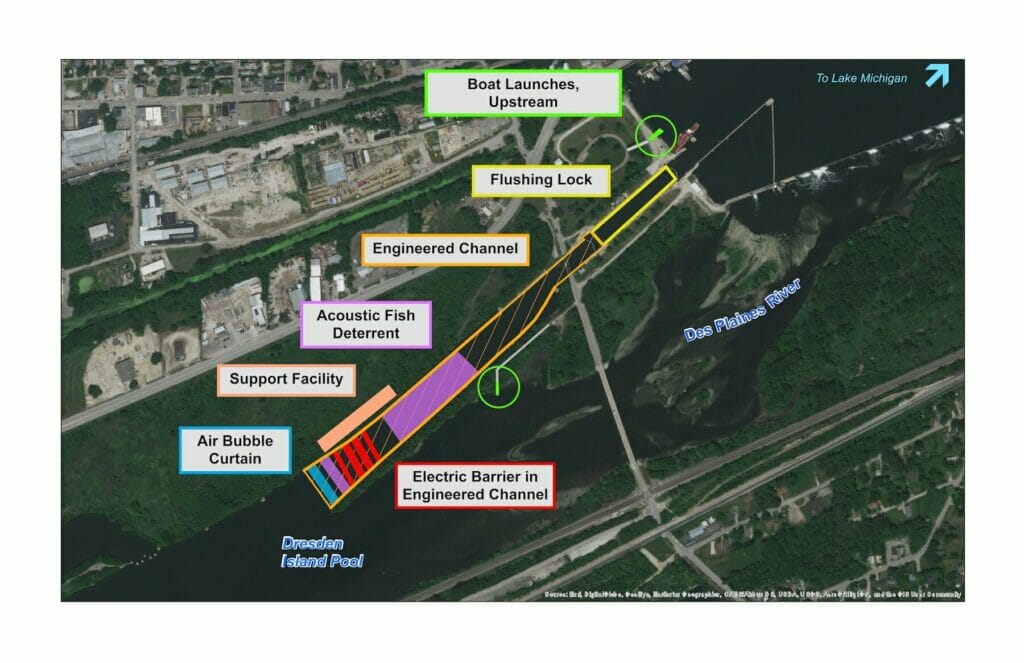 The bill adjusts the original 65/35 split to 80/20, meaning the federal government would be responsible for 80 percent of the project costs while the local sponsor, the state of Illinois, would need to cover 20 percent. This is a key change to help ensure that Illinois, or any state that wants to aid in the future, will face a reduced financial burden and can begin to plan for the associated costs of the project.   
Trout Unlimited will continue to push for a full waiver of the local portion as we still see this as a national and regional issue, not one solely to be undertaken by Illinois.
Congress has done their part and it is now up to the state of Illinois and the U.S. Army Corps of Engineers to finalize the design agreement. Once the design agreement is signed and the pre-construction engineering and design is completed, construction can begin on the barrier.
In years past, WRDA had been a vehicle for GLRI reauthorization, but this year only U.S. Army Corps of Engineers projects were included.
However, in an unusual Sunday night session, the Senate approved an already-passed House bill that reauthorized the GLRI through 2026. The bill stair-steps funding levels back to $475 million, the GLRI's original funding level in 2010.
The GLRI funds a diverse array of programs and projects. For example, the Rogue River Tree Army planted more than 16,000 trees in Michigan's Rogue watershed in 2020, an effort that will filter 1.5 million gallons of water in five years. Other projects include removing or improving barriers to fish passage to expand access to additional coldwater habitat for trout and salmon.
Reconnecting vital headwater sections of a watershed helps trout reach cold thermal refuge in summer months, access historic spawning areas and locate new sources of forage otherwise inaccessible.
Furthermore, by leveraging additional funding sources for projects in the Great Lakes region, Trout Unlimited is able to further stretch GLRI dollars, increasing the positive impact of this important investment.