"The Provo River is a classic example of the power of partnerships. When a large corporation, traditional water users and managers, state fisheries professionals, and an angler conservation group can sit down and scheme about innovative solutions that's a powerful potion."

Scott Yates, Director of TU's Western Water and Habitat Program who has spent more than two decades watching streamflow restoration efforts expand around the West.
By Jordan Nielson
The Provo River in Utah is one of the West's premier fly-fishing destinations. It has so many brown trout fish managers beg for some to be harvested by anglers for the health of the population.
As a fisheries biologist at the beginning of my career we did calculations based on population estimates and creel surveys and figured that on average every trout in the Provo gets caught seven times every year. On top of having boat loads of brown trout, and some rainbow and cutthroat trout, there is also a lot of fishing pressure from experienced anglers.
"The Lower Provo River is one of Utah's premier fisheries and is fished by nearly 7,000 anglers per mile per year," said Chris Crockett, Central Region Aquatics Program Manager for the Utah Division of Wildlife Resources. Chris also mentioned that each mile of the Provo river adds over $300,000 per year to the local economy through fishing.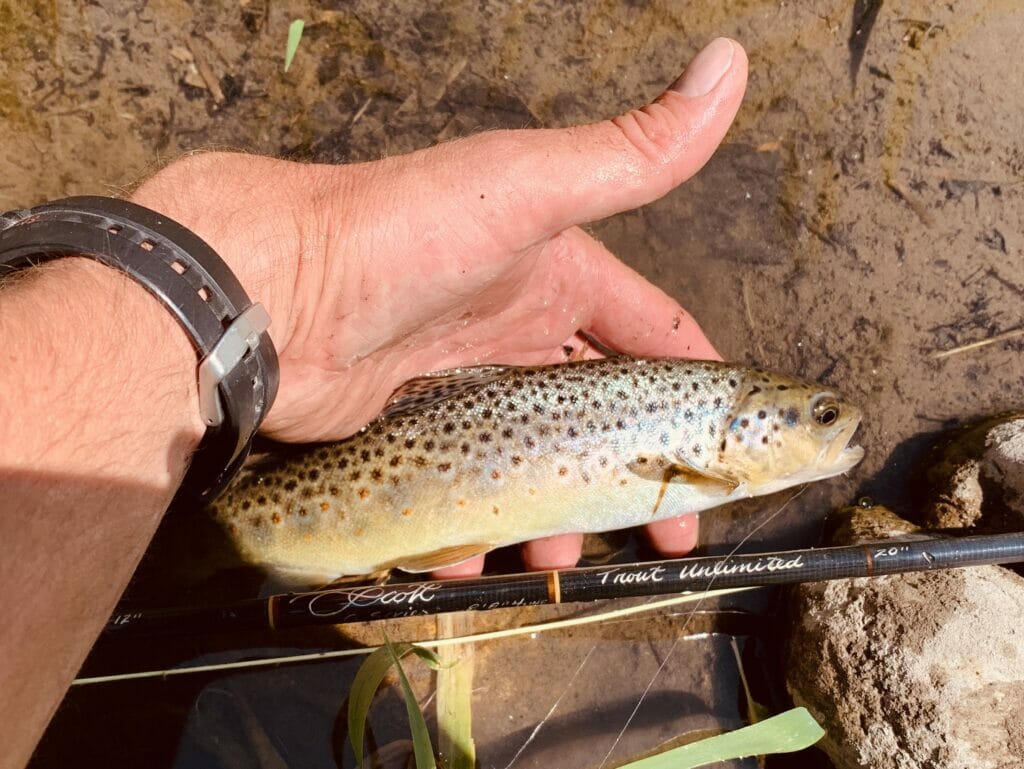 When a section of the Provo River nearly dries up from water use anglers notice immediately.
That's what Brian Wimmer, president of the Utah County Alpine Anglers Trout Unlimited Chapter, and other members found in June of 2018. A section of the lower Provo near the end of Provo Canyon was nearly devoid of water and brown trout were struggling to stay alive in a few pools.
Throughout the West, the "first in time, first in right" doctrine has been used to manage water so early-established and traditional consumptive uses like agriculture, mining, and hydro production often use the bulk of the water, and during late-summer time periods that can result in dry riverbeds.
The Olmstead Hydro-Electric Power Plant lies at the mouth of Provo Canyon and has been producing power for more than a century and has early priority water rights. In 2010 the power plant was taken offline to be reconstructed and low water was not an issue between Murdock Diversion and the Timpanogos Diversion.
Big brown trout grew in that reach of river while the power plant was under reconstruction.
The power plant came back online in 2018, which, unfortunately, was a very dry year. The Provo River water commissioner had to cut water right deliveries in half because of shortages. Normally there would be at least 7 cubic-feet-per-second flowing through the reach to meet downstream water rights but in 2018 members of Utah County Alpine Anglers found it was only 3.5 cfs.
A temporary solution was found that summer but we needed a longer-term solution. That's when a non-traditional player entered the Utah water scene: Facebook.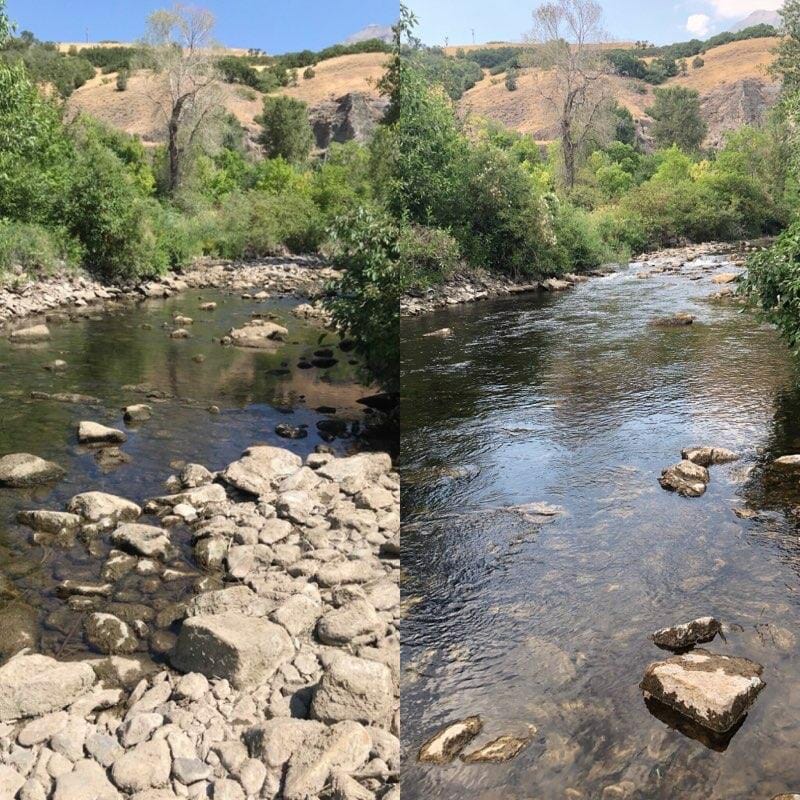 Bonneville Environmental Foundation (BEF) started searching for solutions to Provo River low flow issues in mid-2019. An organization dedicated to connecting corporate partners to flow restoration projects around the West, BFE reached out separately to long-time partner Trout Unlimited and then Central Utah Water Conservancy District probing for alternatives that could help on the Provo. Facebook was the BEF corporate partner looking to invest in projects to offset water use while also helping to promote healthier rivers and streams.
Following preliminary phone discussions, Mike Mills, June sucker biologist for CUWCD, approached a group consisting of TU staff and members, the Utah Reclamation Mitigation and Conservation Commission, the Utah Division of Wildlife Resources, and the U.S. Department of the Interior with a solution for low flows in the Provo River: a group such as TU could purchase the power that would be generated by diverting water through the power plant and, instead, keep it in the river.
Like a lot of great solutions, it was that simple.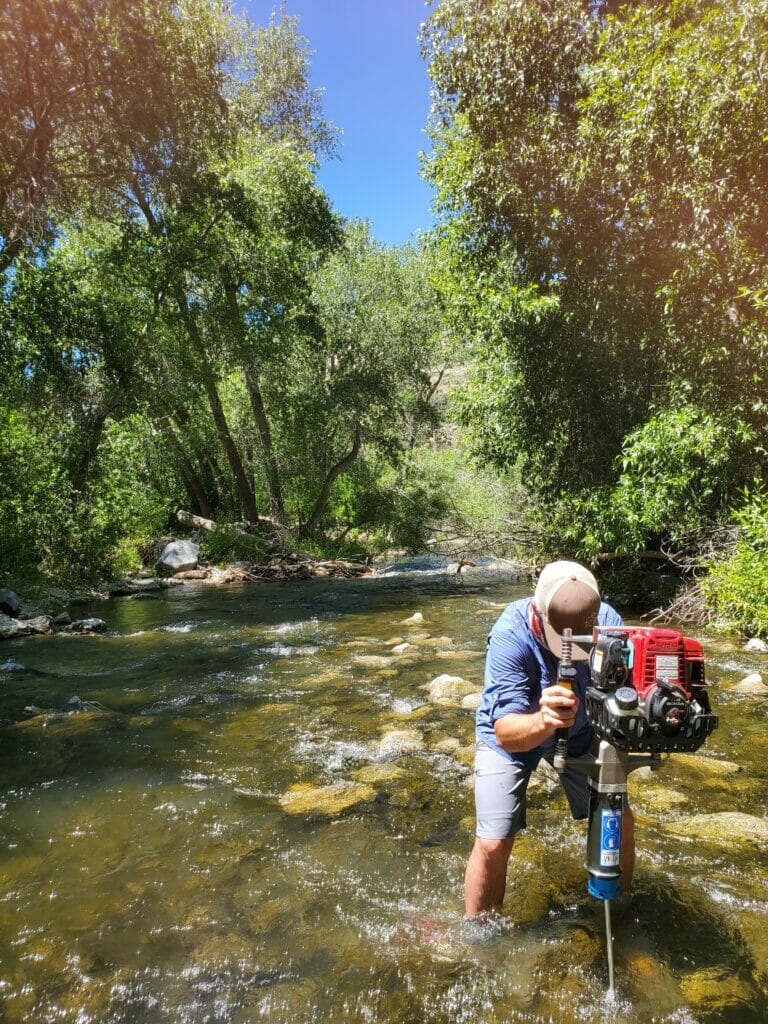 It's important to note this solution doesn't harm any Provo River water users. The water right for power generation is non-consumptive, meaning it's diverted from the river, piped to the power plant, and returned to the river a downstream. The water deal keeps flow in the historic bypass reach and doesn't take any agriculture out of production, doesn't take water away from culinary use, and only makes a tiny blip in the power production that goes on the grid.
Facebook was the initial investor in the project, providing enough funding for an additional 7.12 cfs. Their investment started a funding snowball that raised $750,000 in a couple of months to support boosting flows in the lower Provo River for a decade. Swire Coca-Cola also invested in the project through the Foundation working with TU. Facebook and Swire Coca-Cola (through Bonneville Environmental Foundation), and UDWR opted to partner with TU to manage the agreements and annual payments to the water conservancy district. The Mitigation Commission is working on a similar agreement with the district. 
"Keeping water flowing for fish and wildlife is absolutely critical to Utah's communities and ecosystems," said Edward Palmieri, director of sustainability at Facebook, which broke ground on its data center in nearby Eagle Mountain, Utah, in 2018. "This unique water stewardship project on the Lower Provo River is an excellent solution to improve flows. Facebook is proud to have partnered with all these organizations and the community to make this project possible." 
The agreement allows for partners to meet annually to decide how much flow can be dedicated to the river. In 2020 we have agreed to keep 25 cfs flowing through the Lower Provo River for the 90 hottest days of the year, 19 cfs above typical flow. That will make for some happy trout and happier trout anglers. The agreement also leaves the door open for further fundraising to boost flows.
This is not the final solution to low flows in the Provo River, but it buys us a decade to figure out a more permanent way to deal with the perennial problem.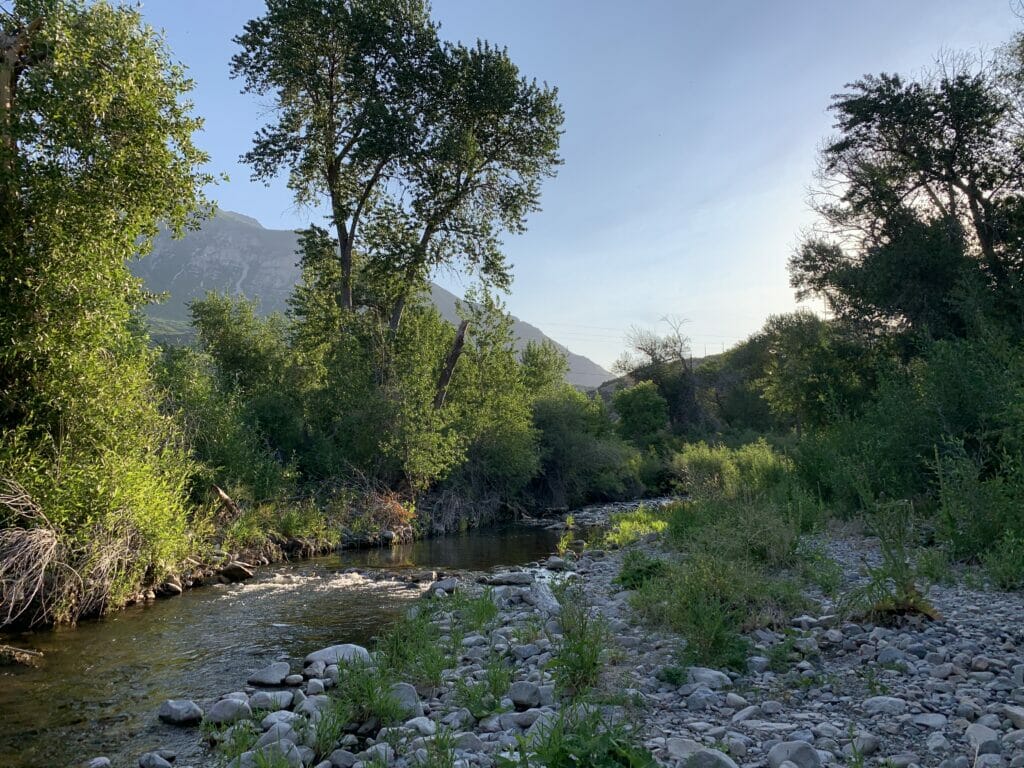 Just last week I was in this section of river setting up temperature loggers to monitor how the additional flows will affect temperature and keep conditions optimal for the trout population. My son was helping and we were distracted watching trout dart out from under banks and wishing we were fishing rather than working.
Water deals like this don't happen often in the West. It's hot. It's dry. Our populations are growing and our demand on water will continue to increase. Based on the patterns of climate change water is likely to be less abundant or to come when we can't use it or store it very well. What does all this mean and why does a deal like this matter?
The Provo River stakeholders mimicked a model of collaboration seen often but not enough in other parts of the West. We found a win-win scenario that worked within the existing system. We've worked with a water supplier willing to consider a flexible alternative to historic operations and a corporation striving to make rivers and streams around where they use water and do business healthier. That's a formidable partnership moving forward as we try to keep people happy, businesses strong, and fisheries healthy.
"The collaborative model is replicable and that's important as TU looks for these types of multi-stakeholder water solutions around the West," Yates said. "There are other opportunities in Utah and on other trout streams in the Rockies and we will hopefully learn from the Provo, track the results and apply the methods to other parts of the region."
Jordan Nielson manages a diverse array of water and habitat projects for Trout Unlimited in Utah. He is based out of Spanish Fork, Utah.