Finding new appreciation for sleeping outdoors, for water, and for the work TU is doing to restore streams
Falling asleep under the stars next to a crinkling creek is the best way to end a day.
I learned this quickly as I began two months of conservation work in Oregon with the Northwest Youth Corps last summer.
My crew spent our nights in tents and our days working with project partners such as the U.S. Forest Service, Bureau of Land Management, and Trout Unlimited to restore numerous Northeast Oregon headwater tributaries, including streams in the North Fork John Day and Grande Ronde river basins.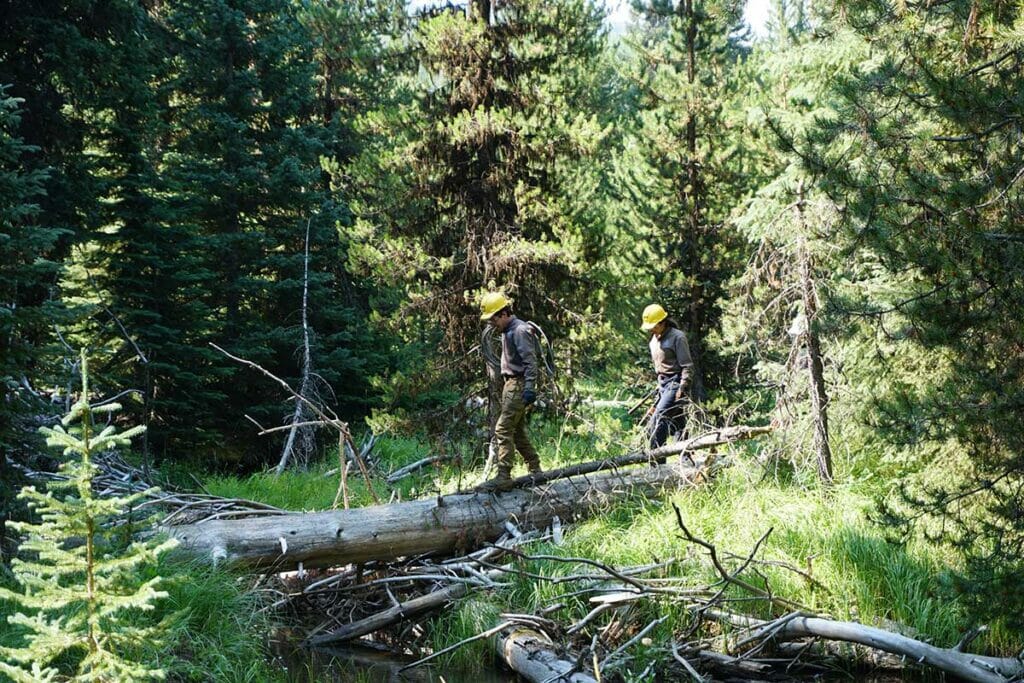 On this job I learned other lessons, too. One was that I had a newfound uneasiness around water.
I usually love water and have often danced in the rain, but living and working outside full-time changed my feelings. Not that I was afraid of H20, exactly, but I developed an aversion to certain aspects of it.
On the west side of Oregon, where we started our summer hitch, it sprinkles consistently, never enough to drench you but enough to keep your clothes damp. I also began to dislike seeing streams in my path, because often we either had to walk through them and get our work boots wet or cross a slick and perilous log bridge.
And the thought of my feet touching a fish while we were swimming—just no.
So I was a bit nervous when I learned my crew would be working on streams with TU for a month. But there is something about living next to and working on a creek that can change your perspective.
I found that after spending even a few hours on part of a stream, it would feel like I had found a little patch of this great state, fish and all, all to myself.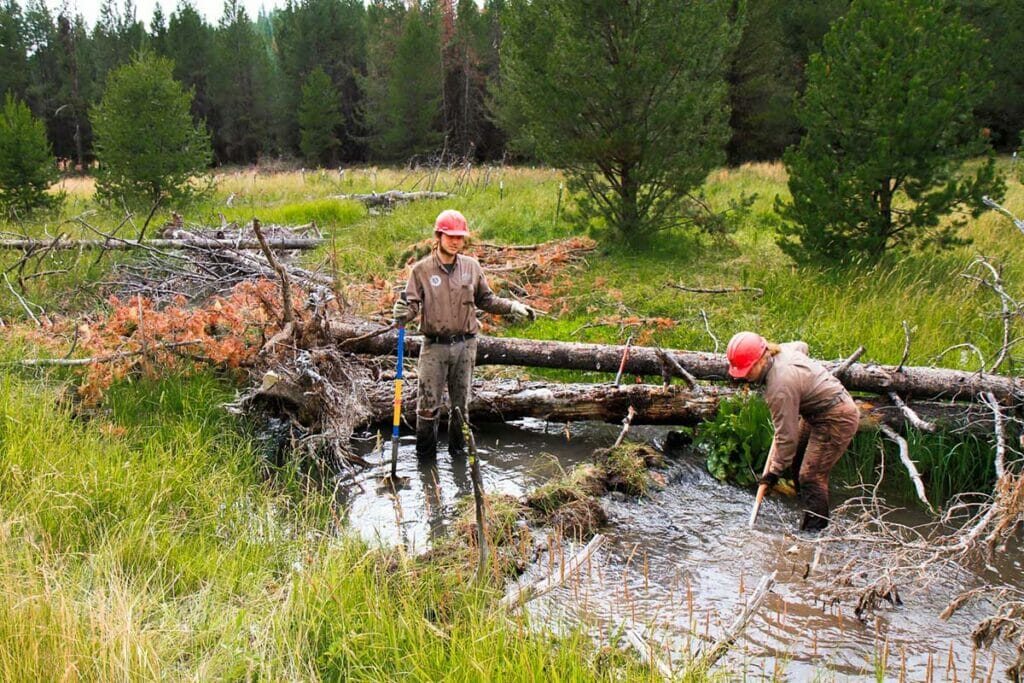 At the same time, I began to understand that waterways in Oregon face many problems. Levi Old, TU's Northeast Oregon Project Manager, pointed out three particular challenges. In the streams, channels are incised and disconnected from their floodplains. In the watersheds, wildfires loomed. And beyond, communities are disengaged from the land.
I have always cared about the environment, but in a theoretical sense more than a practical one. I only really understood the importance of the sustainability advocacy I was doing in high school and college once I was on the land and connected to it.
Pretend you're a beaver
In Oregon, our crew forged this connection through a relatively new type of restoration tool: beaver dam analogues (BDAs).
Water that backs up behind BDAs recharges the floodplain and increases the wetted width of the stream flow. Essentially, a BDA creates a porous wall of sticks, logs, and leaves that slows the flow of water in one part of the stream and retains much of this flow behind the "dam," allowing some of this backed-up water to seep into the floodplain. This beaver-like engineering helps promote channel aggradation, or in other words, prevents channels from incising into themselves and away from the natural floodplain.
In addition, BDAs enhance floodplain habitat complexity, so fish have more access to food, shelter, and higher oxygen levels.
Beaver dams and BDAs are also useful, perhaps even critical, for buffering streams and trout and salmon from the impacts of extreme wildfire. During my time in Oregon, the Bootleg Fire was raging and became one of the worst wildfires the state has ever seen. While many square miles of forests were devastated, after the burn, scientists discovered occasional patches of land that looked untouched—in many cases due to beaver dams. Where many streams became troughs of black slush, the waters near beaver dams were clear and still harbored trout.
In the weeks after the wildfires, my crew and I began to understand the direct impact we could have on the lands and waters we were coming to love and appreciate.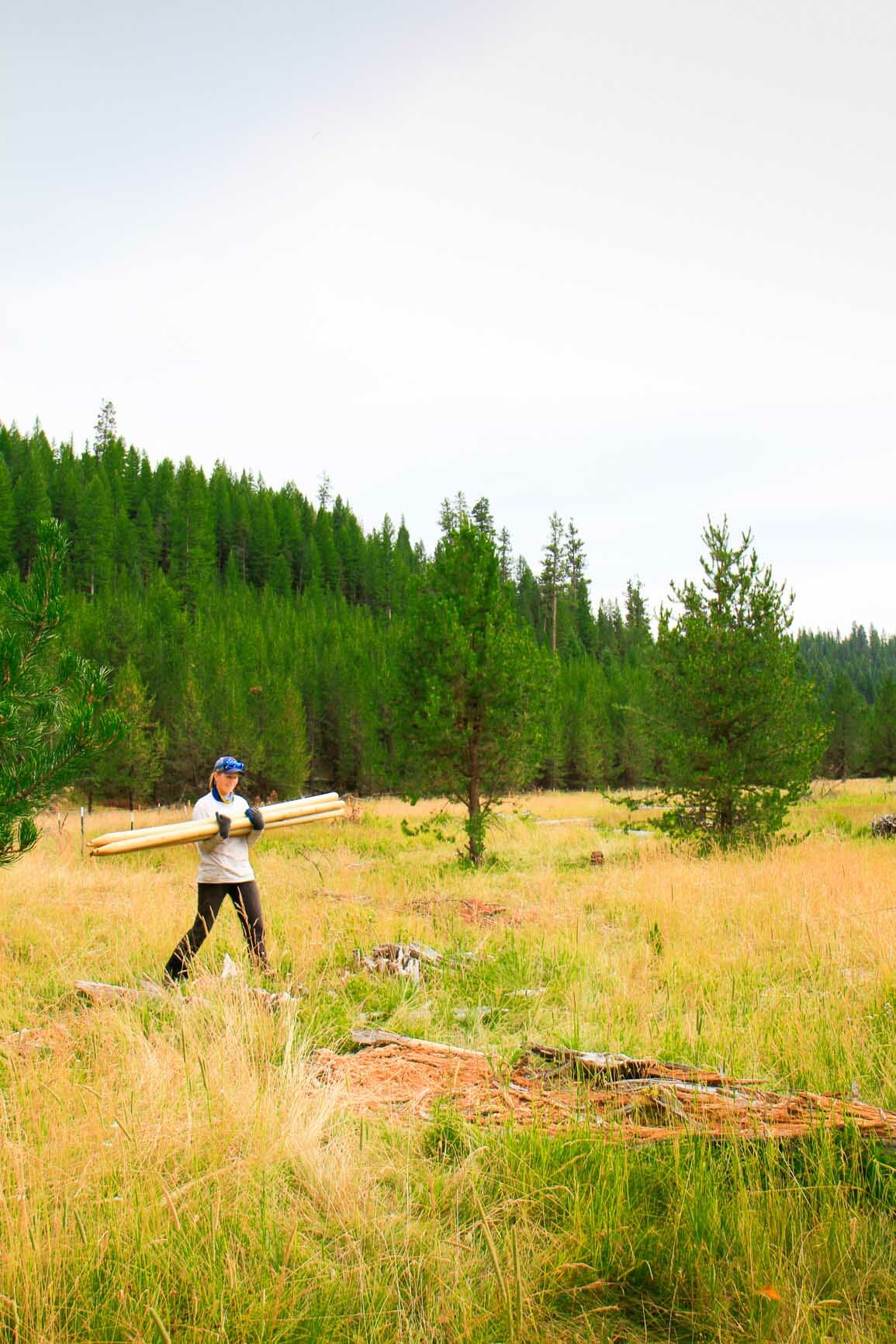 This is when we began a game: To work as effectively as a beaver, we decided, it was important that we embody the beaver. First, wake up in a beautiful meadow. Next, collect small branches and twigs and pile them in the water at a crook in the stream. Finally, gnaw on some wood so that the tree falls on top of the twigs. (For this we used the teeth of chainsaw and cross-cut saws, or even better, we sometimes used a grip hoist to pull trees, roots and all, straight from the ground.)
And voilà, a BDA!
Photo by Levi Old
Completing this work with hand crews is cheaper than with heavy machinery, and they can restore more miles of streams each year. But at least as important is that building BDAs by hand with a group of people of all ages, sizes, races, and backgrounds—many of whom haven't spent a lot of time outdoors—helps to reconnect people and their communities to the land.
My time working to build BDAs in Oregon inspired me to do more on the conservation front. This summer, rather than physically changing streams with my hands, I am helping TU staff and volunteers prepare for Congressional hearings . But I still get to promote projects like those in Oregon—and help protect the places in which I now find so much comfort.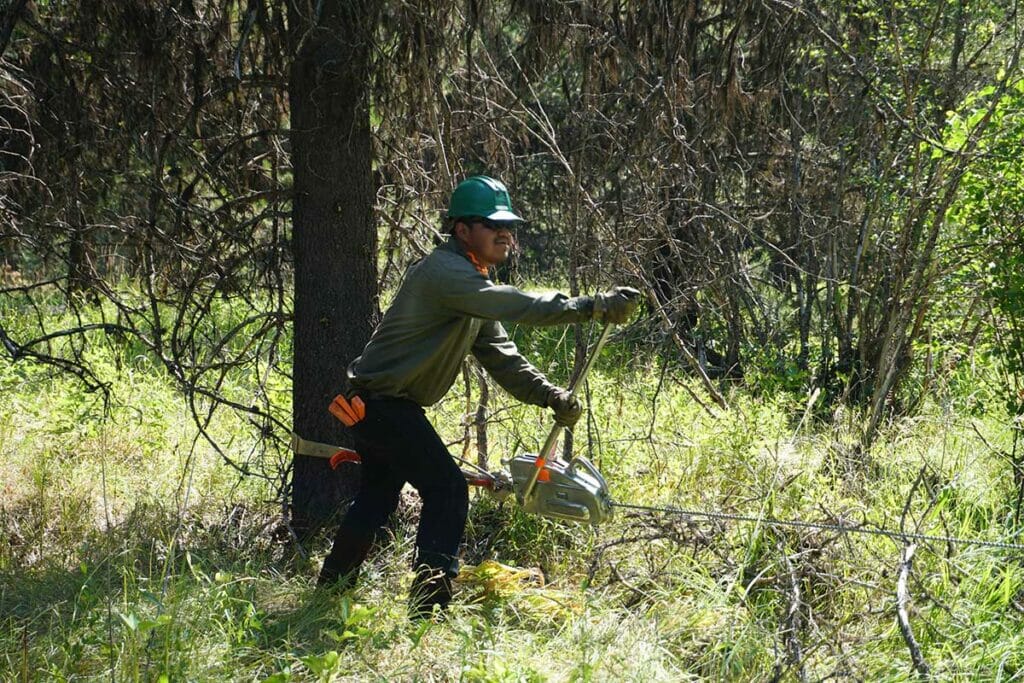 Care comes from connection. While much of the TU community has developed this through fishing and hunting, many of my friends and other people my age either don't get the chance or don't know how to really appreciate the outdoors, and therefore, they don't see the importance of protecting them. As climate change and human development continue to degrade coldwater habitats in places like the headwaters of the North Fork John Day and Grande Ronde basins, the work that TU does to promote appreciation of and connection with streams and nature around the country, and action to care for them, is more important than ever.
Lizzie Stifel is an intern with TU's Government Affairs and Communications programs. She is a student at the University of Notre Dame and lives in Easton, PA.