At Trout Unlimited, we aren't always about checking all the boxes when it comes to restoration projects, but one that just happened on the Gunnison River in central Colorado does just that.
It all started with a couple skeptical ranchers agreeing to partner with TU on a diversion rehabilitation project on a small tributary to the Gunnison River in 2019. That project's success led to mutual trust and conversations about other opportunities to work together.
One such opportunity involved updating the Gunnison Tomichi Valley Association Ditch (GTVAD) with a new head gate, trash screen, and installation of a "return" gate. The GTVAD diverts water from the main stem of the Gunnison River, about five miles downstream of Almont, Colo. The new head gate will eliminate water entering the ditch when it isn't needed, and the return gate and trash screen will reduce the numbers of fish that enter the ditch and potentially get trapped. Those benefits were enough to persuade TU to jump on board along with other partners, scrape together some funding and give the project some wheels.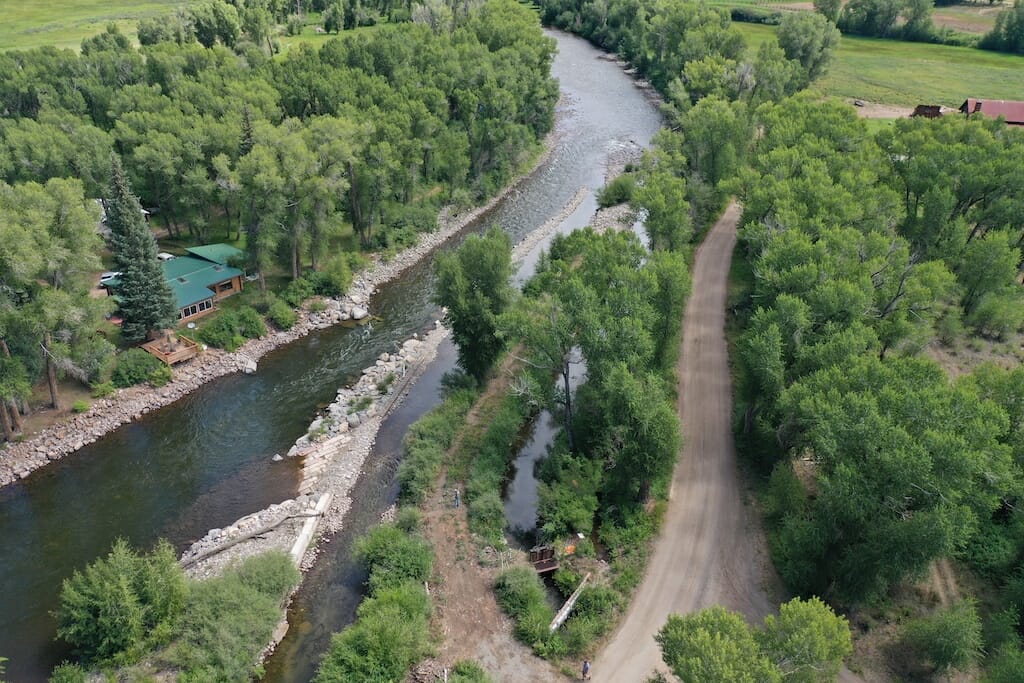 This project, positioned in the same reach as the Outcalt Ditch inlet, revealed to some difficult questions: Was the positioning of the return structure viable and how would it impact the Outcalt Ditch, located-directly downstream? If the return was built in the ideal location for GTVAD it would send water, sediment, debris and trout directly into the Outcalt ditch inlet. Would this be acceptable?
The Gunnison River and the Outcalt Ditch diversion haven't always seen eye to eye from a water flow perspective—the ditch diversion has historically been a maintenance nightmare. Rumor has it that in the 1990s the local water commissioner suggested combining the Outcalt Ditch inlet with the GTVAD diversion wing, but the stars didn't align 30 years ago, resulting in annual channel excavation to build dams of concrete blocks, boulders and cobble ever since.
Obvious habitat benefits will result from combining these ditches, so TU flagged down the Outcalt Ditch owner in town and planted the seed. With that, and significant work planning and fundraising, the stars finally began to align.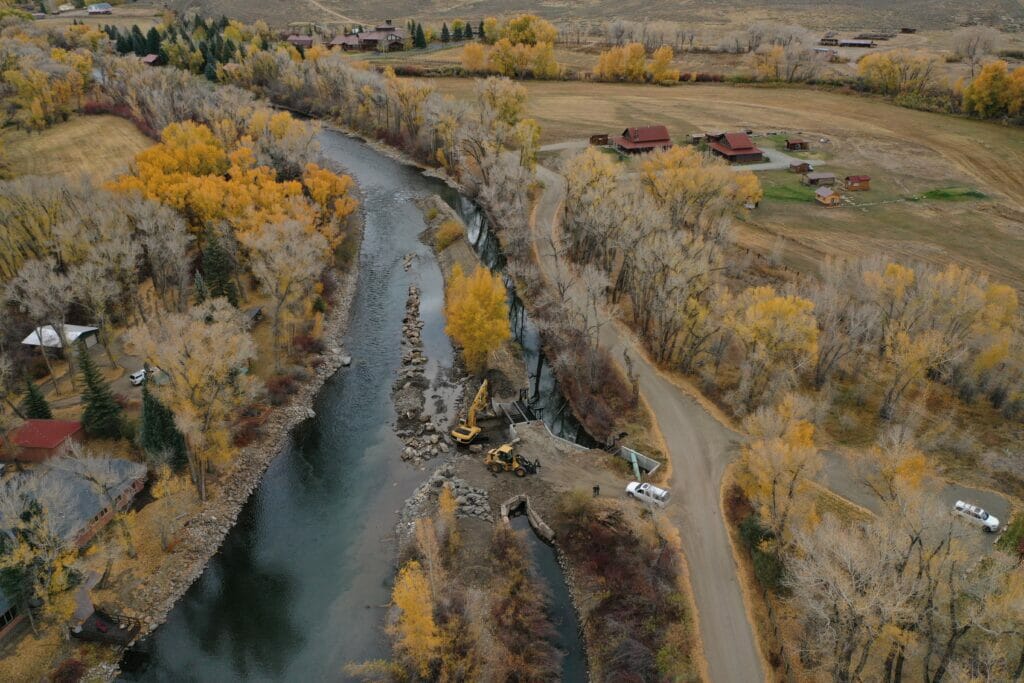 This project fit perfectly with the Upper Gunnison River Integrated Water Management Planning (IWMP) effort managed by the Upper Gunnison River Water Conservancy District. Sonja Chavez, district general manager, contributed funds for design from the IWMP pool, helped coordinate agreements between ditch owners, and pushed forward a successful grant application to the Community Partnership Fund with the Colorado River District. Construction was completed in October of 2021.
The root of the project grew from a mutual trust between community-based TU staff, two local ranchers and the local water conservancy district. This relationship led to a partnership that pulled together nearly $200,000 and included TU, the Upper Gunnison River Water Conservancy District, U.S. Fish and Wildlife Service, the Colorado Water Conservation Board, Colorado River District, Applegate Engineering, KR Welding and Fabrication and five agricultural water rights holders.
Some of the goals of this project included:
Maintaining and improving productive agriculture — support the use of pre-compact agricultural water rights and creation of stable water supplies for over 1900 acres of grass hay production in the Upper Gunnison River Basin.
Improving infrastructure — combine two irrigation diversion structures within 40 yards of each other into a single diversion off the Gunnison River and replace two antiquated and poorly functioning head gates.
Improving irrigation water management and conservation – combing two river channel diversion structures to enable water right holders to divert water more efficiently.
Creating a healthier River — reducing erosion and channelization and restore this section of river to a more naturally functioning hydrologic system.
Improving watershed health — restore a dead section of the Gunnison River to improve the macroinvertebrate and fish communities. It also supports wet meadow habitat important to the federally threatened Gunnison sage grouse.
The benefits go on. The agricultural producers will: 
Enjoy reduced costs as they won't have to maintain their diversions thus reducing irrigation labor.
See improvements in agricultural productivity through improved irrigation water management at both low and high flows.
Have improved irrigation application by creating stable water supplies and eliminating bounces within the system due to upstream diversion or the inability to divert water at low flows and having to prolong or restart irrigation.
Finally, they won't have to check on the diversion twice daily.
The river will see:
Improved health with the elimination of channel incising and annual bed disturbance association with continual manipulation of the gravel push-up dams.
Natural restoration of the macroinvertebrate and fish communities in this once dead section of river.
Improved kokanee salmon fry mortality and labor associated with fish screening.
Projects like this are beneficial to so many, and thanks to the passing of Colorado River District's 7a mill levy in 2020 and Proposition DD (tax on sports betting), water project funding is coming through at a record rate. This is one of the first projects funded by its passage of 7a, and TU couldn't be prouder to work on a project so meaningful to so many.