By Chris Collier
Following up on our road-stream crossing (RSX) tour last May, Trout Unlimited and our partners recently organized and hosted a two-day RSX Technical Workshop in Crandon, Wisc.
The workshop was organized to teach tribes, town and county governments, road managers, and conservation professionals why existing RSX practices are harming fish populations by restricting fish passage and exacerbating flood damages from severe rain events and spring snow-melt.
Based on attendance at the spring tour, we expected a successful conference to bring between 25 to 40 stakeholders togethers. Believe me when I say we were equal parts surprised and excited (and admittedly a little nervous) when over 80 people registered for the event.
RSXs may not be the first thing someone thinks of when trout habitat and flood resiliency are brought up, but road managers and conservationists in northern Wisconsin know the key role crossings play in our stream ecosystems.
The morning of Day One, we brought in several local experts to explain what happens at the intersection of streams and improperly designed crossings and what a few common signs of problem crossings are. Then we discussed what fish-friendly and flood-resilient designs look like and what goes into creating a design. By this point a lot of technical information and jargon had been thrown around the room so it was time to take the learning outside.
We loaded up and bused to a field site to put our eyes on examples of what had been shared throughout the morning. Fortunately, the rains that have been falling seemingly non-stop since spring took a break for the afternoon. Including a field portion in our workshop was key so that we could show attendees concepts that had been talked about all morning and teach them how to do quick assessments of crossing they are concerned about.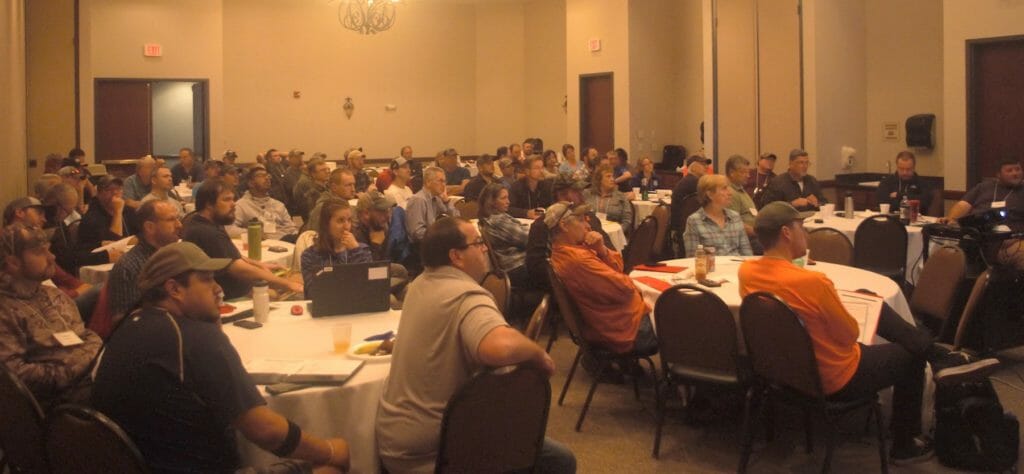 Day Two was organized to be less technically heavy and more focused on how to get projects on the ground. Local, state, federal, non-profit, and other partners presented programs they offer and/or work with to fund projects. We explored resources to help navigate permitting and the piles of paperwork that always follow funding for RSX projects.
Case studies of successful projects were presented and shortcomings in the projects were also explored. Finally, the workshop was wrapped up with a discussion on how to respond to the worst-case scenario; What do I do if a crossing fails before it can be replaced?
To see more about the event, check out this great news story by WXPR.
Trout Unlimited is committed to working with partners across northern Wisconsin to identify and replace RSXs that keep trout from moving throughout their watersheds and are in danger of failure during flood events. We look forward to working with the new partners brought together by this event.
Chris Collier is Trout Unlimited's Great Lakes stream restoration coordinator. To learn more about TU's programs in the region, including future trainings (coming in 2020), he can be reached at chris.collier@tu.org.