A couple weeks ago a buddy posted on social media a picture of himself holding a large brown trout with a brief caption: "No shame."
No additional information was necessary.
The other prop in the photo, the one in addition to the gorgeous 22-inch brown, was a spinning rod.
The fish hit a large Rapala, a wooden minnow lure. Granted, I later learned that my friend was actually fishing for muskies when the brown hit. But there was no disputing the fact he was plenty proud of his catch. He's a die-hard fly angler so I was glad to see him going public with a lure-caught fish.
The spinning vs. fly fishing debate has been around since spinning and fly fishing have been around.
Sometimes the disdain fly anglers and spin fishermen have for each other is in good fun. Like when I pull out a spinning rod on a fishing trip and tell a struggling fly fishing buddy: "You seem to be happy simply casting. Don't let my catching fish distract you."
On the flip side, my TU co-worker Chris Hunt jokingly calls me a "troglodyte" every time I send him a picture of a lure-caught trout.
There are some for whom it is no joke. That is their prerogative, albeit one with which I don't agree.
A versatile approach
Most Trout Unlimited anglers are fly anglers first and foremost but we welcome all who care about protecting and restoring trout and salmon and their watersheds. Gear preference is not a qualifier. And, the truth is, most trout anglers use a variety of appraoches even if they favor one method over another.
I grew up fishing with spinning gear, then entered a fly-fishing-or-nothing stage. These days, while I still lean heavily toward flies, I'm an unapologetic generalist.
My typical quiver for a trout float consists of a light dry fly rod, a medium streamer rod, a long Euro nymphing rod and an ultralight spinning rig. There are trips when I use all four. And trips when I use just one.
Countering an argument some fly purists might put forth, I find that fly fishing is usually more productive than lure fishing with spinning gear.
During a hatch, the advantage of fly gear is clear. The same is often the case when fishing tiny streams.
On larger rivers, when trout are tight to the bank during high flows, I believe the best way to target them from a boat is with streamers, often with a strip-strip-strip-cast-strip-strip-strip approach. A good fly caster simply will have much more success putting the fly where it needs to be.
But there can be times, at least out here in the East, when a river stretch is just too tight for streamer fishing. If you give yourself room for a backcast you're too close to the fish. That's when a spinning approach comes in. It's probably going to be tougher to make accurate casts with that minnow lure, spoon or spinner, but at least you can cast. (Always pinch barbs on lures. It will not lead to more lost fish and makes releasing fish much easier.)
Opposites attract
Interestingly, on heavily pressured waters, sometimes the most effective way to fish is to do the opposite of what everyone else is doing. On some Virginia rivers, Berkley Gulp! Minnows are popular among spin fishermen. On those rivers, a well-fished streamer can fool trout that are weary of the never-ending parade of Gulp! Minnows.
On the other hand, where regulations allow, a big lure might produce surprisingly well on a stretch of river that gets a lot of fly pressure.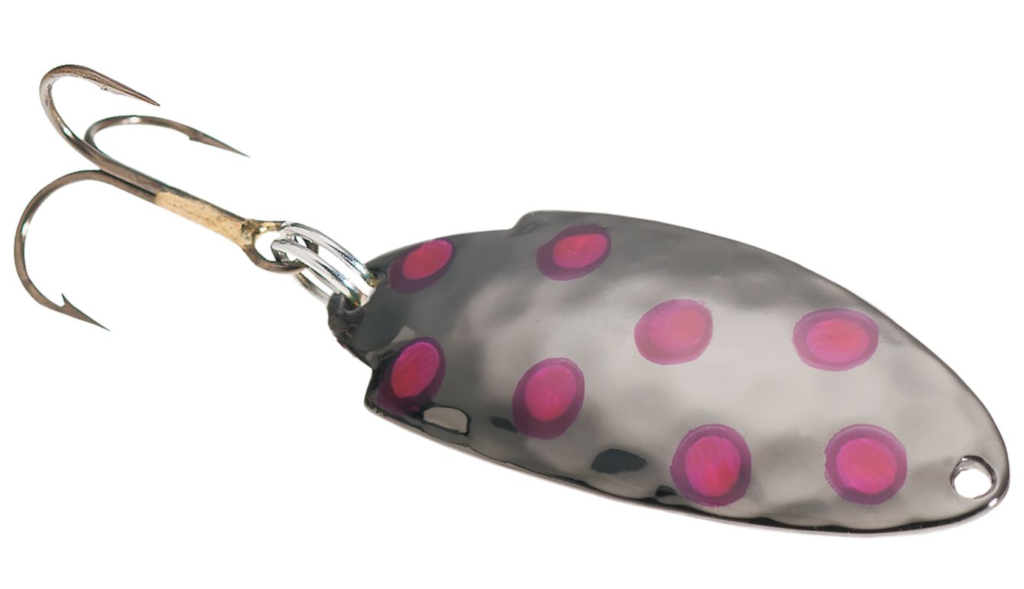 Sometimes there is no rationale for what works and what doesn't.
On two of my most recent three trips to one of my favorite Virginia rivers, tight-line nymphing worked so well there was no temptation to pull out the spinning rod. Then, on the last trip, we couldn't buy a fish with nymphs.
My buddy is a die-hard fly angler and he was a little hesitant when I handed him an ultralight spinning rig set up with a 3-inch Rapala. But he started casting anyway. And it didn't take long for the lure to attract a good-sized chaser that swiped at the lure but missed.
We didn't crush them, but we had quite a few players and put a few in the boat. Most importantly, we had fun.
"I probably need to get one of these," he admitted.
He probably does. He won't use it often. But when he does, he should use it with no shame.
Mark Taylor, TU's eastern communications director, grew up with a spinning rod in his hands in rural Southern Oregon. He now lives in Roanoke, Va.