We were headed northbound for our second wedding anniversary. We had a van full of fishing gear and were set to explore fresh water that had been on the hit list for years.
My wife, Brittney, and I were all smiles. What started as a seemingly innocent rhythmic vibration in a wheel upon rolling into Glennallen, Alaska, unfortunately escalated to a disturbing clank and a more concerning wobble that got worse with every crawling rotation. We had found home for the night — hours shy of our destination.
Brittney and I had fully changed out anniversary celebration plans less than eight hours earlier when she just happened to toss out the idea, "What if we checked out Tangle Lakes instead?"
It was surely the latest I had ever switched plans so drastically, but I was excited by the prospect and hadn't questioned the decision… until now.
The stress was high the next morning while cooking breakfast ahead of the garage opening. I didn't yet know the diagnosis but knew that being stranded for a day or two awaiting parts was in the cards. With the van at the shop we hit the highway, dogs on leash, 3-weight in hand, hoofing it to a creek we'd crossed outside of town that supposedly had Arctic grayling.
A passerby, Levi, was excited to see us fishing his local waters and was kind enough to pull over and cue us in on his personal honey hole. Under the hot mid-day sun, the hole proved better for a quick dip than catching fish. However, getting the call that the van was ready for pick-up was better than a fish in hand, at the time at least.
With new lug bolts and lug nuts and our wheel secured tight we were back on the road and thankful for the warm reception we'd received in Glennallen.
The mood pleasantly shifted as the four tires of our Astro van transitioned from the asphalt to the dirt road. Our destination was near and moose cows with fresh calves and yellow warblers were ready to greet us; a sight so magical that even Walt Disney himself couldn't script it.
Finally settled into camp, we explored the neighboring creek and adjacent ridgeline, and enjoyed dinner with a show while a momma moose and calf took advantage of the cover of falling rain to graze only 50 yards from our camp under the vibrant hues of a rainbow. These are the wildlife experiences that cannot be bought or built, and simply need to be maintained.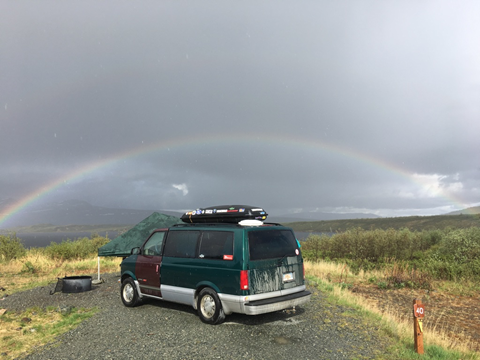 Ater an evening of rains we eagerly rose to singing birds and calm waters. A dicey forecast ahead, we wasted no time and hit the water in a canoe with grayling jumping and clouds building. Still recovering from shoulder surgery, I was little more than eye candy and dead weight in the bow of the canoe while Brittney set an impressive pace, beating the rain to destination in time to bring a couple quick fish to hand.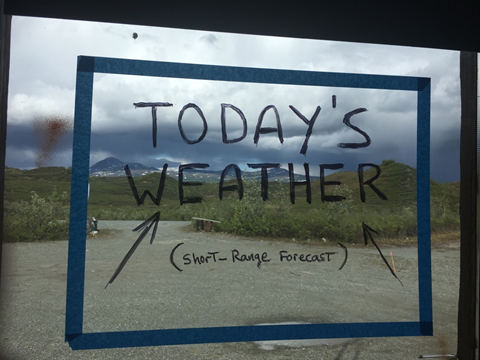 The rain hit with a fury. It was clear we weren't going anywhere anytime soon so we hunkered down under the canoe for the long-haul and began exploring the snack bag while recalling other momentous and precipitous occasions.
One such event etched into my memory is racing a massive rain and lightning storm for nearly 10 miles across one of the many lakes north of Minnesota in the famed Boundary Waters backcountry. Our crew managed to win the race, landing at camp with just enough time to haul our bags into a conveniently located abandoned ranger station and close the doors before being blown away. It's those moments, a few steps past comfortable, that never get forgotten.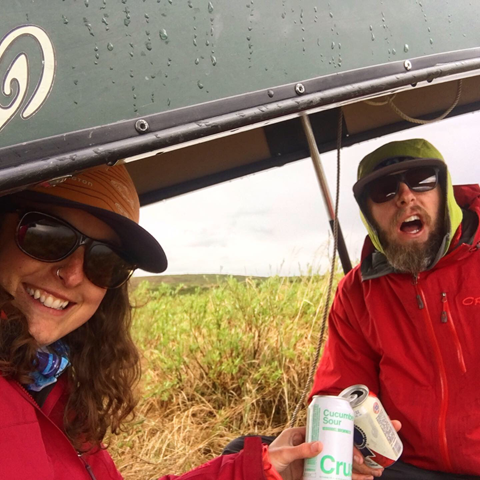 The rains subsided to a mere drizzle, but my appetite for catching indiscriminate bug munchers wasn't yet fulfilled. However it only took 12 ounces worth of casts to be content.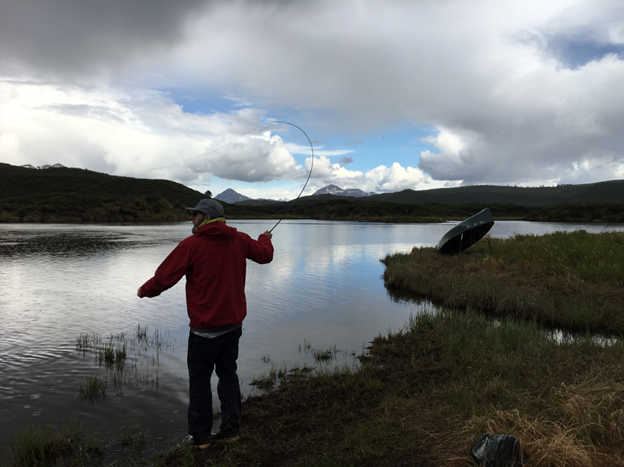 The sun punched through the clouds and we took the bait, cashing in on a sucker hole with rumbling stomachs and four miles of open water between us and a meal. The weather held and our gamble paid off. Turning the corner into the cove we'd launched we caught glimpse of the old Tangle Lakes Lodge sporting a large, freshly painted sign displaying a single taunting, salivation inducing word, "PIZZA."
This is a sign if I have ever seen one. Content with full bellies, we spent some time chatting with the owner, and currently sole employee of the lodge. Fishing stories were swapped, plans were made to return and at some point, a nearby lake featuring fly friendly mackinaw was mentioned, the news of which made my mind race and my heart kick.
That evening the clouds broke and the sun came out. Our Bureau of Land Management campsite featured an exceptional view of the lake below where, judging from the soft rings on the surface, one could easily determine there was an isolated shower of the lake if not for the occasionally overzealous grayling breaking the chironomid sipping conformity and taking to the skies with disrupting splash.
With only hours left in our trip to explore, we made the trek, waders and all, seeking truth to the lake trout rumors.
A row boat just happened to be waiting on the shore and beckoned for passengers (thank you, fellow Alaskans). It only took a few short minutes for the clouds to darken and cracks of thunder, signaling the rare Alaska electrical storm, to be heard in the distance. At this point, inclement weather had become an expected enemy.
It was clear that the last cast was near, as it seemed wise to not overly risk electrocution on my anniversary though, I for one, can understand how an angler could get sucked down that rabbit hole.
"Fly fishing addicted husband gets electrocuted on wedding anniversary" seemed like a detrimental headline for my fellow anglers balancing a burning passion and loving relationship.
In the midst of morbidly piecing together my own obituary between double hauls and strips, the line went tight and the fish began to run. With a lively bend in the 8 wt, my wife dodged the mercurial fly line zipping circles around the boat and lunged for the net. Only inches from the basket, I caught the flash of camo olive graced with a hint of gold as the laker made one last juke and spat the hook… peace!
I find myself lucky to have a union built, not only on love, commitment, trust and all the stuff wedding vows are made of, but also adventure, wild places and of course, fish.