The mountain whitefish native to the northwest U.S.
There's trout water, and then there's trout water that also holds mountain whitefish. The latter is likely healthier. 
Whitefish (Prosopium williamsoni) are often greeted by anglers with the same enthusiasm they might afford a creek chub or a sucker. The slightly downturned snout may not be as appealing as the maw of a wild brown trout or a native cutthroat, but whitefish are salmonids, just like trout and salmon. They are most closely related to Arctic grayling. 
And they're game fish, occupying the same water as trout, so long as that water is cold and clean enough. 
I see whitefish periodically here in Idaho, usually during the fall and winter, when they tend to be more active than they are in the heat of the summer. But in late August, on a quick trip to western Wyoming, I got into a pod of whitefish high in the Gros Ventre Range that provided me with an hour or so of non-stop fishing. 
And, no, you don't have to go deep with a small nymph to catch them. The first one I caught hit a size 10 'hopper. I did, eventually, switch over to a Prince Nymph, but only because I wanted to see if there were any truly big whitefish in this one fishy run. 
And there were. And, to be honest, it was tough to tell which fish fought harder—the 18-inch native whitefish or the native 20-inch cutthroat that rose to a fat hopper in the same run. 
The presence of whitefish shouldn't be greeted with disdain. The fact that these native fish swim alongside our prized trout in many of our western rivers is a good thing—they require excellent water quality to survive and thrive. When something goes wrong with the water, the whitefish are usually the first to show it, as they did in the summer of 2018 on the Yellowstone River—a parasite that bloomed thanks to low water and warm temperatures killed thousands of them.
And, in some instances, whitefish can save a fishing trip. Often, when trout are tight-lipped, whitefish are willing eaters. Considering that, by and large, they eat the same things trout do, there's no need for terribly special fly patterns or unique techniques (although a Griffith's Gnat on a sunny winter day can be deadly for whitefish rising to midges). They're worthy fighters and they can get big—here on Idaho's South Fork, 20-inch whitefish aren't uncommon. 
The whitefish here in the northwest is but one subspecies. Farther north, in Canada and Alaska, lake whitefish persist in deep, boreal lakes. Late last summer, while on a pike trip to northern Saskathewan, my uncle from Colorado nailed a 22-inch whitefish near the outlet of a lake that also sported some acrobatic grayling.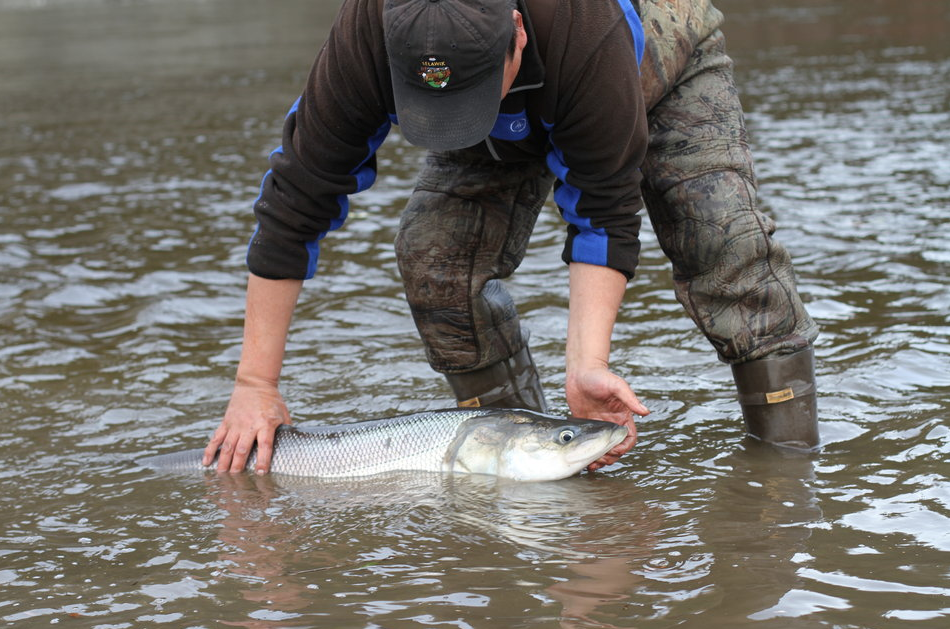 Even farther north, in the Yukon drainage, a truly massive whitefish swims. The sheefish or inconnu (Stenodus leucichthys) is the largest member of the whitefish family—often called the "tarpon of the north"— and it can grow to massive lengths and is a sought-after game fish by anglers of all stripes.
They may not have the curb appeal of our treasured trout, but don't discount a whitefish, and don't consider them "trash." They're worthy fly rod targets, and their mere presence is good news for the waters they inhabit … and for the trout we love.