"It was the best of times, it was the worst of times, it was the age of wisdom, it was the age of foolishness, it was the epoch of belief, it was the epoch of incredulity, it was the season of light, it was the season of darkness, it was the spring of hope, it was the winter of despair." -Charles Dickens (A Tale of Two Cities)
Sounds like Dickens fished the Madison last year.
Or maybe the Upper Colorado. Or the Upper Delaware. Or any number of the most popular fly-fishing destinations in America.
Look… anglers these days complaining about crowded rivers is kind of like skiers pouting over long lift lines on a powder day, or surfers beefing about not having the break to themselves when conditions are right.
Yeah, I'm the guy who coined the term "Rivergeddon," but I've also come to accept busy waters as a fact of life these days (in some places).
It's good that people—particularly families—are getting outside more.
If the pressure gets unbearable, it will eventually self-regulate. (What did Yogi Berra say? Nobody goes there anymore. It's too crowded.) And, besides, there are ways around the crowds. Hike the backcountry. Fish on still water. Fish for species other than trout. Pay for private water access if it means that much to you. Fly to Outer Mongolia if you can afford it.
The rest of us are still wrestling with the evolution of a sport we love. Whether we've reached "carrying capacity" in some spots or not, we can, and should, get better.
As my friend, author and long-time Montana guide Kimball Leighton put it: "It has been difficult to experience the 'industrialization' of fly fishing for trout over the past half century—from a cottage industry serving an almost secret few."
"Industrialization." Hmmmm.
The concern is not just that crowds ruin the experience of fishing, though of course that's part of it. The bigger worry is that this relentless pressure on the most famous rivers is starting to hurt the fisheries themselves.
And that really begs a deeper discussion about the people who are in the middle of the fray, and those who, deservedly or not, are having the fingers pointed at them most often…
Guides and outfitters.
Or, should I say, people anglers can hire to help them catch fish?
Because I'm not sure some guides are really "guiding" anymore.
Years ago, I wrote a book with my cousin Andrew Steketee titled Castwork: Reflections of Fly-Fishing Guides and the American West. It was an excuse to go fishing. It was the best education a fly fisherman could ever have: fishing, writing, and photographing for many days with 13 of the best guides in the world on some of the most iconic waters known to anglers. But mostly it was an homage to the people we thought represented the absolute pinnacle of fly fishing.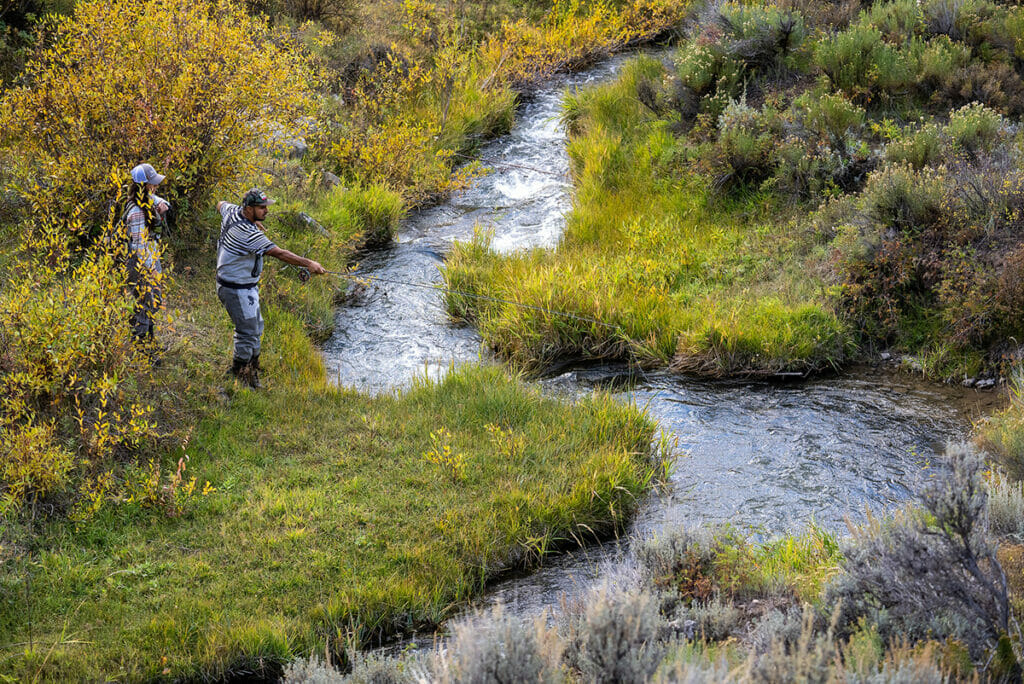 Back then, guides had to be teachers, foremost. They were also coaches, and shrinks, spiritual gurus, and shepherds of the environment. I owe both my career and my favorite pastime (them being one in the same) to the likes of Terry Gunn, Denny Breer, Patty Reilly, Tim Mosolf, Pete Cardinal, Pat Dorsey, Kim Leighton, Dan Stein, Rusty Vorous, Dave Faltings, John Flick, Bob Lamm, and Kea Hause.
Some of them, thankfully, are still out on the water. And to be sure, there are many, many, many wonderfully talented guides who are supreme stewards and educators all over the country. Too many to list (and risk omitting some), so to my trout guide comrades in Michigan, Pennsylvania, Colorado, Montana, Idaho, California, Wisconsin, and elsewhere, know I'm talking about you with deepest respect and appreciation.
But there are some guides—definitely more now than before—who seem to think all it's really about is "putting fish in the net" by any means necessary. That's the real rub, and all it takes is a few to put a hurt on the fishery, and more importantly, the experience for everyone else.
A few months ago, I asked on AnglingTrade.com whether guides like that were really "guides" or instead, "valets in waterproof pants." That stirred the pot as intended. Most of the feedback was positive. But the No. 1 rebuttal I got from the offended was, "Hey man, I'm only doing what my client wants, and who am I to deny them that? They're paying good money and I owe them what they want."
Okay, but that's not, exactly guiding is it?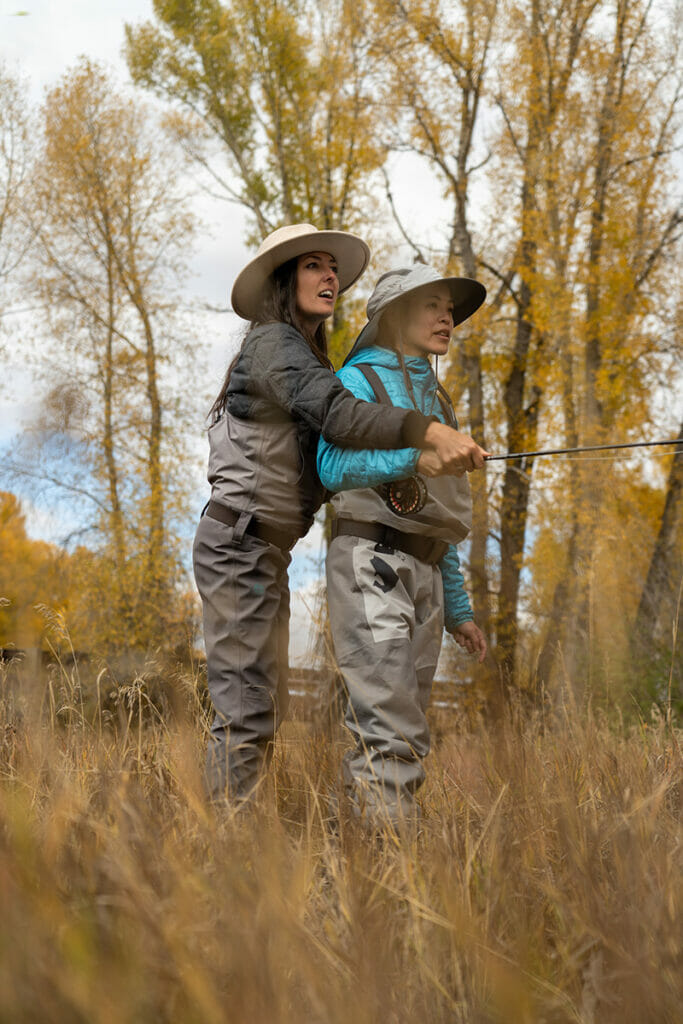 I mean, imagine if Tenzing Norgay had said to Edmund Hillary, "Sure man, whatever route you want to go is cool by me. I'll take your picture when we get to the top!"
Or Sacagawea had said, "Wherever you boys want to point the boats is totally up to you, I'll bring the net."
Okay, I'm making fun, but we are at a crossroads when it comes to commercial pressure on certain rivers, and most of what I've heard about efforts to self-regulate have sounded like Keystone Kops routines.
I don't think anyone wants resolution through more government intervention, closing seasons, handing out fines, and all that.
If we want to be sure that wild trout are not loved to death on America's most popular rivers, the best answer is for guides to be guides.
Teach people. Teach 'em how to fish, not just how to pull on fish. Tell them where to go, so they might just become Do-It-Yourself anglers, maybe even wander off to another river on their own (gasp… perish the thought!). Have the guts to not make it a numbers game, every darn time you shove off from the ramp. (And those of you who pressure guides with the pitch counter in your vest pocket, stop doing that. It's not only about you.)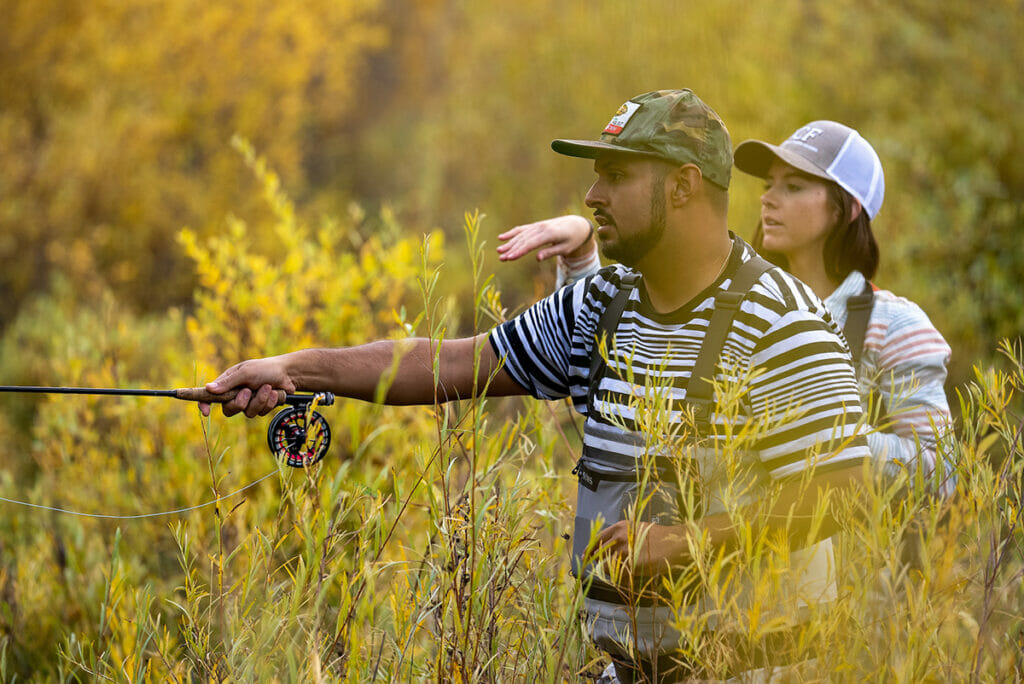 Be the heroes and role models you were in my mind when I was starting out, before I became a guide myself, and before I wrote columns like this. Inspire your peers to do the same.
Most of all, be stewards. Not just stewards of rivers and fish. Be stewards of the "conscience" of angling, and angling will prosper.
I've always said that the sun rises and sets on the fly-fishing world where guides say it does. That's never been more true than it is today.