Chancing upon this video Josh Duplechian produced to show how TU is working with the U.S. Forest Service and numerous other partners to dramatically help the Greys River reminded me of a very special road trip I took with the late, great Charlie Meyers.
It was back in 2007, and Charlie called to tell (not ask) me that we were going to drive together up to the Wyoming Range. TU was working to save that region from unchecked gas drilling (a battle we eventually won) and we were invited to a little press junket hosted by Chris Hunt, Tom Reed and others. Charlie was reporting for the Denver Post; I was writing for Field & Stream.
We did our thing for a few days, and what I remember most was that the vehicles TU had rented for the group suffered numerous flat tires. I can still see Warren Colyer cranking the jack in what became, literally, a daily ritual. But it was great fun, amazing country and the start of some friendships that still very much endure.
Before we went back to Colorado, Charlie insisted that we hang around for an extra day to fish the Greys River. He considered it one of the most underrated rivers in the West, and clearly one of the best wild cutthroat rivers in the country. So we bombed around in his Jeep Cherokee hitting a few spots, fishing four-weights and dry flies. It was magic. But, just before lunch, sure enough, we had a tire pop. We put on the spare, but it was one of those temporary "donut" tires that you're not supposed to drive fast or far on. And we were waaaaaay out in the middle of nowhere.
I suggested that we might start limping our way back toward Jackson. It was a Sunday, after all, and we were going to be hard pressed to get the tire fixed at all. And I had to be back in Colorado Monday!
Charlie, however, said, "Let's fish on." 
And so we did—for hours. Charlie just couldn't pry himself out of the river because the cutties were on an epic grasshopper bite. Only when the day cooled off did Charlie point us toward Jackson on three old tires and a little donut. Seemed like one of the longest rides of my life. But when we hit the outskirts of town, Charlie picked up his phone and called his buddy, the legendary guide and outfitter Jack Dennis.
Jack then made his own call, and 15 minutes later, the owner of the local tire shop opened his doors, put the Jeep on a lift, fixed the flat, and sent us merrily on our way.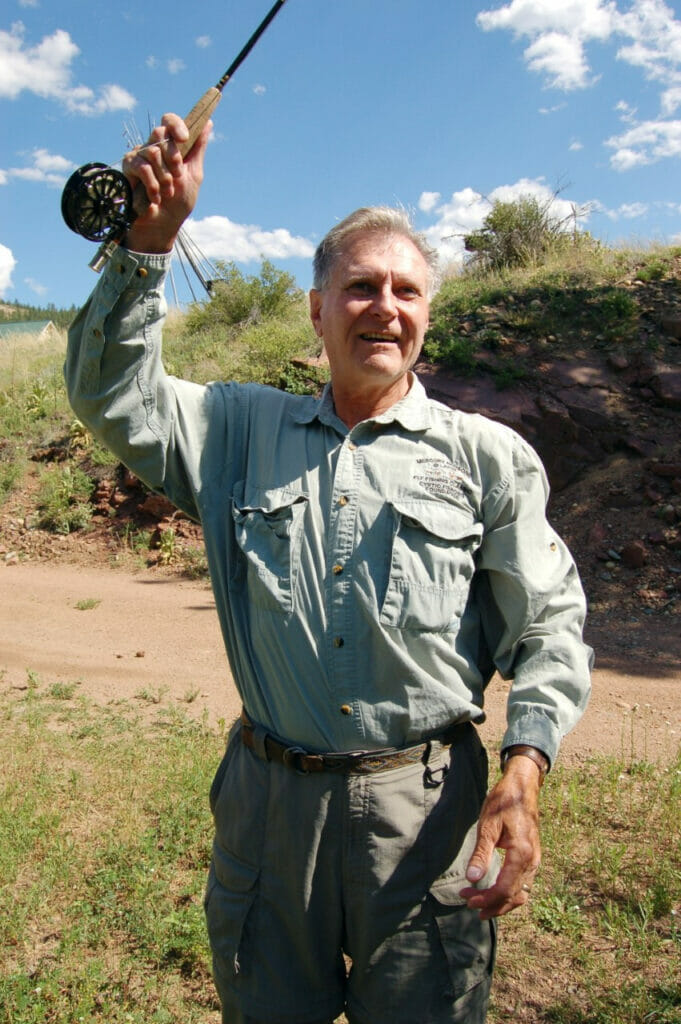 Three lessons learned that day:
1) Never leave the river when the cutthroat trout are eating hoppers with reckless abandon—the river gods want you fishing more than fixing a flat tire problem.
2) It pays to have connected fishing buddies.
3) Allow fate to steer your fishing adventures, because you never know where they'll take you.
Driving through the night, to keep ourselves awake as we took turns at the wheel, Charlie and I started kicking around our favorite simple fishing tips—and that was the start of The Little Red Book of Fly Fishing.