Articulated streamers are quickly becoming some of my favorite patterns to tie at the vise. They are deadly for big trout, bass, pike and even salmon and steelhead, and, contrary to my original impression, they're actually pretty easy to craft.
Below, Tim Flagler ties an articulated streamer designed for the lake-run salmon, steelhead and brown trout of New York's iconic and oft-fished Salmon River near the town of Pulaski. Big runs of these trout and salmon crowd into the river — they've all been naturalized in Lake Ontario over the years — and swim upstream to stage and spawn, starting in the fall and continuing through the winter. Tim attends the annual Douglas Salmon Camp each year, and he designed the Douglas Salmon Camp Swinger for this event on this particular river.
But this pattern needn't solely be for the Salmon River or for its trout and salmon. Tied in different colors, this pattern would likely work for big South Fork browns near where I live in eastern Idaho, and I'm sure, tied in chartreuse, it would be a big hit among the pike in the lakes of the North Woods. Or, if you're dead set on salmon and steelhead, this fly would be money on Alaska's Tongass National Forest, where TU is working to identify steelhead streams and provide them with the protection they deserve.
I might make a few small changes to this pattern, solely for ease of tying or even to help make the fly swim a bit better on the swing. For instance, Tim uses trailer hook wire to attach the intruder or "stinger" hook. In most instances, especially for trout and salmon, the wire isn't needed — I tie most of my articulated patterns with braided fishing line or even heavy mono. The wire, though, would be a must if this fly is intended for toothy pike or musky.
All of that said, the pattern incorporates several great tying tips for folks who might struggle at the vise with some of the techniques used in crafting this fly. For instance, attaching the trailing hook wire to the post can be confounding, but Tim's method makes it simple, as does his demonstration for tying in the hen hackle collar above the first hot spot on the fly, and the marabou collar above that. He also shows us how to make a fairly simple dubbing noodle — this is a task I struggle with, even after watching Tim do it dozens of times.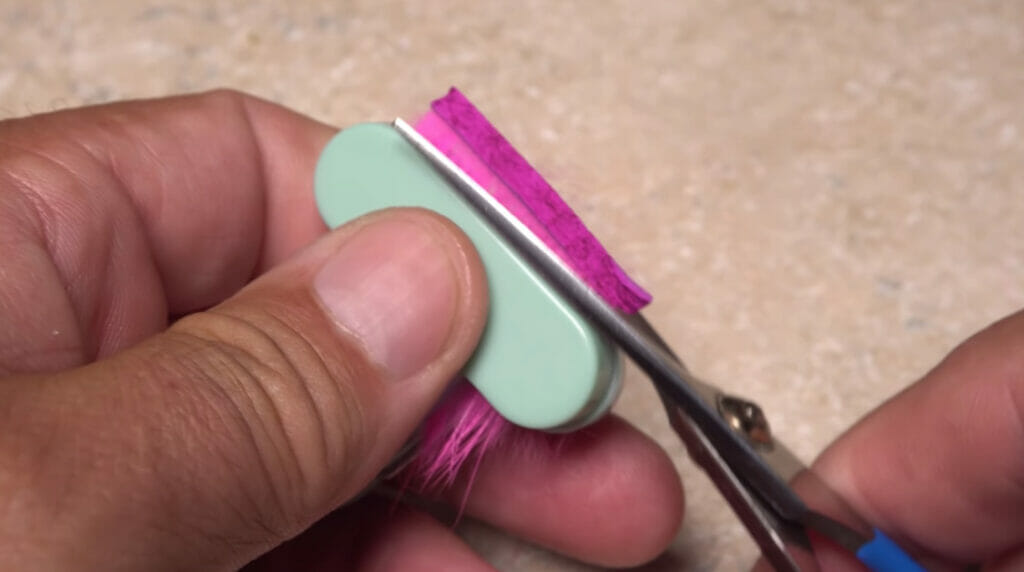 Also, pay close attention to how Tim use a fat rubber band, a hair clip and even a chip clip to tie this pattern. Everyday items can make tying big flies like this one so much easier.
While this hot-pink fly is clearly tied for anadromous fish, the pattern itself is a great all-around streamer fly for big predatory fish. I'm already concocting a bull trout trip late next summer, and I'll tie a few these flies using olive and orange, as well as black with yellow or chartreuse highlights.
No matter what materials you use, this pattern serves as an excellent tutorial on tying articulated patterns for big, predatory fish.