"Be well. Fish on."
Stewart Brown wrote those words with his finger on the rear window of a friend's dusty pick-up after a day of fishing in Colorado. It was three days before he would go into surgery for brain cancer. A few of his friends noted how much peace fishing gave Stewart through his treatment, and they helped him in his final months to found a group called Reel Recovery—an organization dedicated to helping men with cancer heal by spending time on the water.
"Cancer doesn't live here," said Rob Morton, as we sat in the shade along Wolf Creek in Kentucky at a Reel Recovery retreat. "Cancer can dominate your life. It makes old friends stop calling. It becomes an ever-present thought in your head. The thing about cancer is its psychological and emotional toll. That's how fishing helps. You just need to find something that provides even a little relief."
Mike Lubeach, volunteer extraordinaire for Kentucky Trout Unlimited, invited me to this Reel Recovery retreat. Seven men and seven "fishing buddies" plied Wolf Creek for trout.  
Mike's mom had five different forms of cancer before finally succumbing to colon cancer in 1998. From that moment on, Mike made it his life's work to figure out how to help people with cancer find solace through fishing. Casting for Recovery is a phenomenal program for women with or recovering from breast cancer, but no analogue had existed for men.
"We must do more to help people feel less isolated, to feel supported," Mike said. "Fishing is a 'lure' to get guys to talk and open up."
Mike's group was staying at Lake Cumberland Resort State Park. Almost all the participants had never fly fished. Their fishing buddies stood at their shoulders coaching and offering flies and encouragement.
The one exception was Landon, aka "Lando," Dickerson. While others took refuge from the heat in the shade, Lando kept working the water.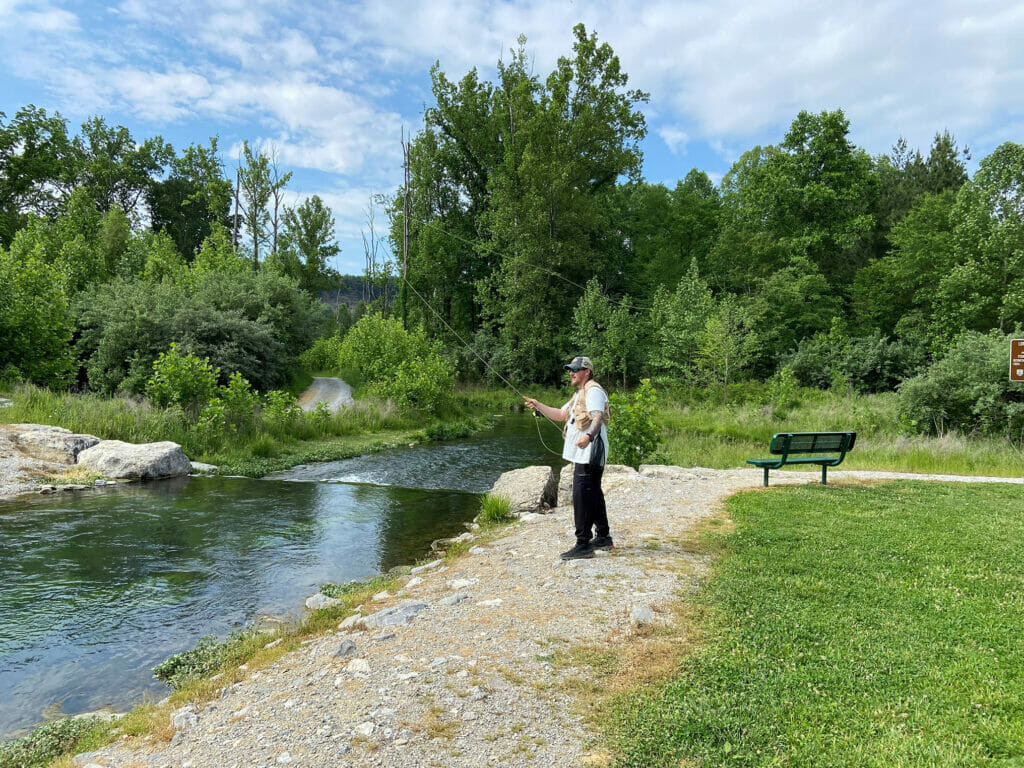 He told me how he grew up bait and spin fishing, but after he was diagnosed with non-Hodgkin's lymphoma and finished chemotherapy, he found refuge in fly fishing. "Trout anglers are so helpful, and trout always live in beautiful places. It is a sport that changed my life. I started fishing a month after my treatments ended, and I haven't stopped. Fishing makes me relax. It helps me slow down."
Lando told me that after his treatment a friend said, "you should look up Mr. Lubeach, and check out Reel Recovery."  
Lando then asked me, "how many people are dealing with cancer, thinking about suicide? I cannot wait to give some money and time to Reel Recovery. We must do more to help each other out."
On the first evening of the retreats, facilitators help the strangers to break the ice. Ted Larrison, has been to over 30 Reel Recovery retreats, including nine in a single year. He was diagnosed with cancer in 2009, and started volunteering with Reel Recovery the year after when he went into remission.
"My job is to help the guys form a bond with one another," Ted told me. "The first evening, everyone tells their cancer story. I get them to open up by asking everyone to tell me about their first car. What we really want is for them not only to talk about their diagnosis, but also how their family and friends reacted. The stigma of cancer has diminished over the years, but it is still hard for men to discuss, and to open-up about their fears, families, and hopes for the future."
The participants at the retreats wear fishing vests signed by previous Reel Recovery participants. I saw names and places from 10-15 years ago on the Wolf Creek participants.
Ted told me a story about a man in northern Michigan who attended a Reel Recovery retreat last June and was absolutely enthralled by fly fishing. He said, "I cannot wait to get home, and get my daughters into this!"
Ted then said, "He passed away before Christmas." We both had to catch our breath after that one.
Reel Recovery includes a closing ceremony that includes a "circle of strength." The men lock arms, and then turn around and their buddies have gifts for them.
Ted told me, "Even tough Marines break down at that point because of the generosity and love. Guys will just open-up and break the 'man rules.'"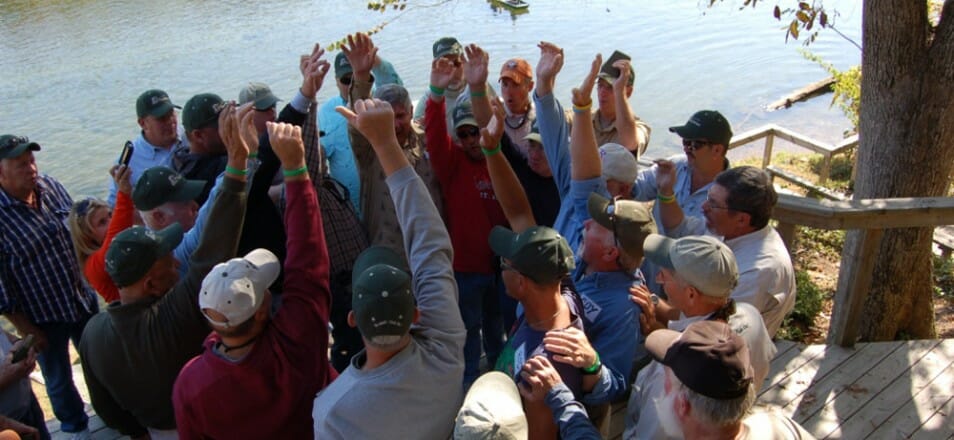 He finished by saying, "helping a guy to catch his first fish? It's no different than a father teaching a son to fish."
I walked down to the river and talked to Lando about double hauling. Little did I know what I was in for. Lando stood two soda cans one on top of the other, 20 yards away, and then proceeded to beat me in an ad hoc accuracy casting contest.
We packed up the tables, chairs and snacks for the anglers and headed back to the lodge. Mike asked for a moment, and called Stan Golub, one of the founders of Reel Recovery who was with Stewart Brown on that Colorado fishing trip 20 years ago.
I thanked Stan for allowing me to be a small part of one of Reel Recovery's 380 retreats over the past 20 years. Stan remarked, "what most amazes the men with cancer is the love and compassion of their fishing buddies. Pure strangers come to love and care for them. The whole of what we do is so much greater than the sum of the parts."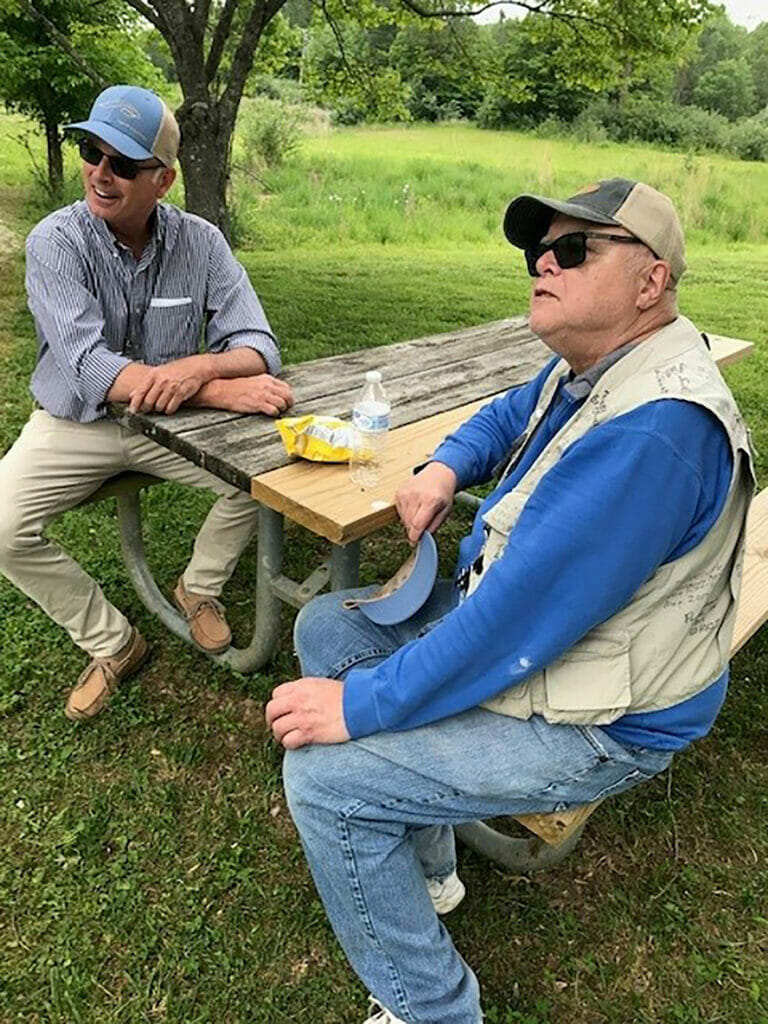 TU volunteers are the lifeblood of so many programs that help people to heal, whether it is Reel Recovery, Casting for Recovery, or Project Healing Waters. Last year alone, TU members donated more than 600,000 hours of service to the places they live, love, and fish. You all are what my Jesuit high school teachers would call "men and women for others."
I thank you for that.