In 2020 Trout Unlimited, in partnership with the Huron-Manistee National Forest, ran a program that employed interns on three Wild and Scenic Rivers.  The interns represented both Trout Unlimited and the Forest Service, informing river users of the regulations, providing information on coldwater resources as well as Wild and Scenic designations and Leave No Trace principles. 
Interns were stationed at river landings to check permits (where required) and educate river users on rules, regulations and responsible river ethics as they prepared to get on the river. Interns targeted busy segments of the river and sometimes traveled in kayaks to make additional contacts.
In addition to their duties on the river, interns also joined with TU and Forest Services staff to complete various land/water management activities including river cleanups, water quality monitoring programs and a restoration project. Funding for this project was provided by a grant from REI through the National Forest Foundation.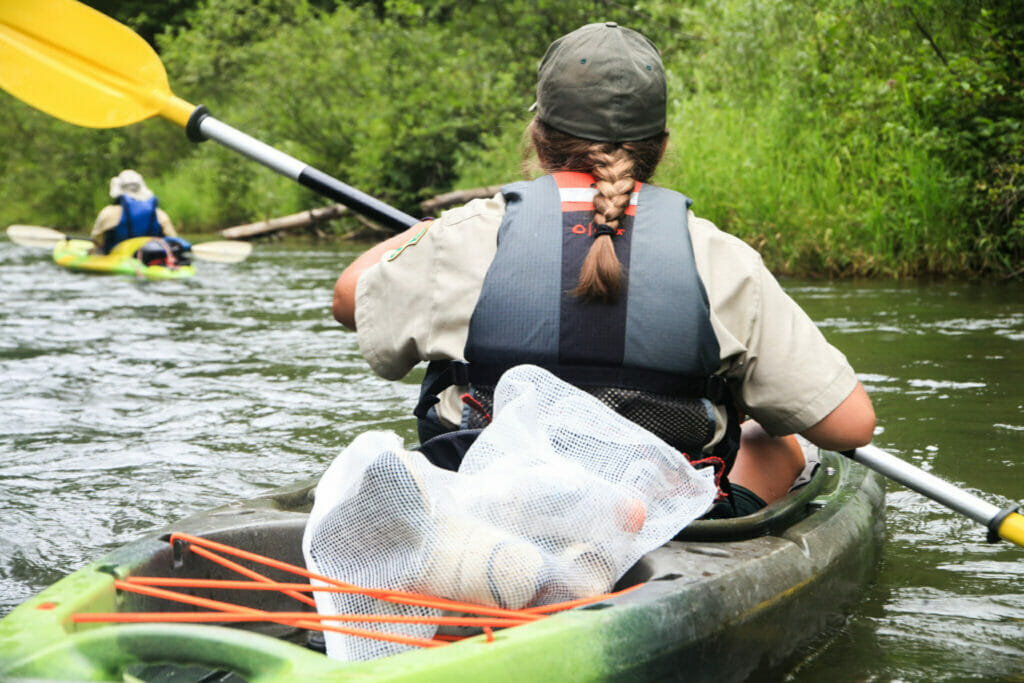 Project accomplishments include:
More than 10,000 public contacts on Wild and Scenic Rivers
Participation in seven stewardship events that included river cleanups, land and water stewardship events and ecological surveys and cold-water restoration.
Support of cleanup efforts on 311.5 miles of designated Wild and Scenic River
Overall the project was deemed a great success and TU and the Forest Service hope to continue it into the future.
Here's what three of the interns had to say about their experiences:
The Pere Marquette river watershed holds a very special place in my heart. I grew up fly fishing and paddling the Pere Marquette and it was a very rewarding experience to be on the water for the Forest Service and Trout Unlimited. This program was very impactful in curbing misuse, litter, permit violations, and other alcohol-related issues. Our team of interns made a big difference being on the river every day and forged many bonds with members of the community and with each other.
– Dylan Taylor, River Intern on the Pere-Marquette River
I got to meet so many different people from all over the state. Whether they were here multiple times this summer or came for their yearly kayak/canoe trip, it was great to hear their stories. We did a river clean-up in the Pere Marquette with them. That was one of the most fun experiences I had this summer. We did nothing but float and pick up empty cans, fish hooks, and any other plastic waste we found. We turned it into a little challenge to see which group could pick up the most cans. (My group won!) It was really nice to be able to show these people the river I spent countless hours on this summer, pointing out cool things that we found along the way. 
– Emilee VanWye, River Intern on the Pere-Marquette River
I loved my experience working as a River Intern. I got to spend my days enjoying the beautiful national forest. What better job could I ask for? I loved the people I worked with. Everybody was extremely nice and very helpful when necessary. I would absolutely recommend anybody apply for this position. Even with the pandemic happening we were still able to make the most out of a terrific season. 
– Alyvia Peedle, River Intern on the Manistee River 
For opportunities with future internships on these wild and scenic rivers, please contact Jeremy Geist at Jeremy.geist@tu.org