By Ed Ostapczuk
Science of genetics and DNA continues to evolve, and a New York chapter of Trout Unlimited is using such science to study wild brook trout in a small stream in the Catskills.
The Ashokan-Pepacton Watershed Chapter is conducting a Catskill heritage brook trout study, in partnership with the Ashokan Watershed Stream Management Program (AWSMP).
Late this past spring wild brook trout from a tributary of the Ashokan Reservoir (Esopus Creek watershed) were captured via angling methods.
Fin clippings were taken from each fish caught by chapter members. All trout were released unharmed, minus a tiny portion of their caudal fin.
The primary objective of this study is to determine if the fish genetics from this tributary are consistent with documented New York state heritage brook trout strains.
As part of the overall project, the chapter applied for a $500 Stream Management Implementation Program (SMIP) grant from the Ashokan Watershed Stream Management Program.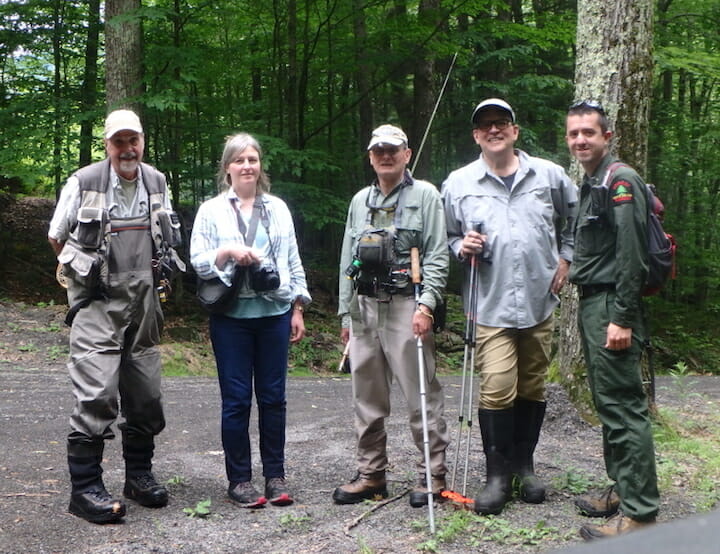 The intent is to build a study partnership with an organization that works collaboratively at maintaining the health of streams in the Ashokan Reservoir watershed.
The chapter also obtained a License to Collect or Possess Scientific Application (LCPSCI) to undertake the study from the New York State Department of Environmental Conservation.
Spencer A. Bruce, Ph. D., a postdoctoral research associate at the State University of New York at Albany, is currently analyzing the fin samples. Dr. Bruce is noted for his work in analyzing the genetics of New York state brook trout.   
If the analysis proves that the trout genetics are consistent with documented New York state heritage brook trout strains, the chapter hopes to work with the New York Department of Environmental Conservation Region 3 fisheries staff to develop a plan and procedures to recognize the importance of Catskill heritage brook trout, and to protect these native trout so that their genetics are not compromised.
Ed Ostapczuk joined Trout Unlimited in 1969 and is one of the Ashokan-Pepacton Watershed Chapter's many avid volunteers and leaders.