By Jake Lemon
Scientists and anglers throughout the country rely on USGS gaging stations for real-time streamflow and water quality data. Often these stations are located near the mouth of larger rivers forcing data users to extrapolate to understand what is happing in smaller coldwater trout streams.
Now, rapidly emerging technologies in open-source electronics are allowing volunteer groups to collect valuable real-time water data.
Developed by Stroud Water Research Center, the Mayfly Sensor Station is a low-cost, easy-to-use water monitoring station designed to collect continuous data, often taking measurements every five minutes. Data is then uploaded to an online database via cellular signal for real-time access to current stream conditions.
Trout Unlimited is working to increase deployment of the stations throughout trout country, including in the Great Lakes region.
The Mayfly Sensor Stations are solar powered and can be connected to a variety of environmental sensors. TU has deployed stations measuring temperature, depth, conductivity and turbidity, with plans to add other sensors soon.
Data is sent from the station to an online database at www.monitormywatershed.org via 4G cellular signal, though there are other data communication methods that can be explored in areas without 4G availability.
This effort is part of the EnviroDIY, a community of do-it-yourself environmental monitoring. Founded by Stroud, the community collaborates on the development of open-source hardware and software solutions for observing the environment, with a focus on water monitoring. The group is working to support an explosion of real-time monitoring by creating monitoring resources that are low-cost, easy to learn and easy to use.
In 2019, TU secured funding for a pilot project in Kent County, where a 2-day workshop was held in July, in partnership with the Stroud. The workshop was designed to educate folks on how to build, deploy and maintain the Mayfly Sensor Station, as well as interpret data.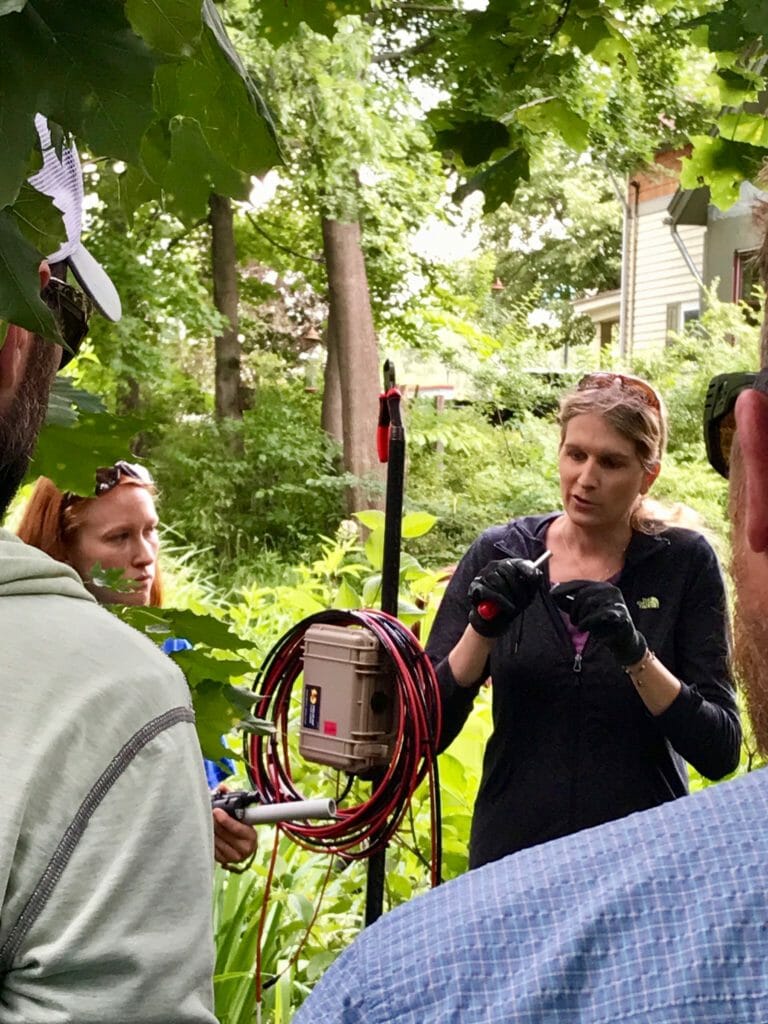 Attendees representing TU chapters, local government, the US Forest Service, watershed associations, schools and other non-profit conservation organizations attended, with the goal of deploying nine stations, six in Kent County, two on the Pere Marquette and one on the Upper Manistee.
Each station is adopted by an organization responsible for ongoing care and maintenance. Groups adopting the stations are seeking to identify pollution incidents and emerging threats to watersheds as well as develop long-term baseline conditions. The stations also provide useful data to anglers and other recreationists, such as real-time identification of thermally stressful conditions to coldwater fish, which can lead to voluntary fishing moratoriums.
Moving ahead, TU is seeking resources to build the necessary capacity to be a key service provider, bringing this technological capacity to our chapters and partners throughout the country. This includes building the stations in-house and providing training and technical support to volunteer groups adopting the technology.
The Mayfly Sensor Stations have the potential to dramatically expand the availability of quality real-time water data, and TU is poised to play a key role in identifying areas where there is a need for this type of data, and to support groups that adopt and deploy stations.